Tomasz Zajda - Fotolia
To create a real-time data analytics system, 49ers huddle with SAP
The San Francisco 49ers teamed with SAP to develop a real-time analytics platform on SAP Analytics Cloud and SAP HANA that enhances the fan experience at Levi's Stadium.
The wait to get into San Francisco 49ers games at Levi's Stadium may be a little shorter this season thanks to...
Continue Reading This Article
Enjoy this article as well as all of our content, including E-Guides, news, tips and more.
some real-time data analytics.
The NFL's 49ers teamed with SAP to create Executive Huddle, an event management system built on SAP Leonardo and SAP Analytics Cloud that gives the 49ers' business strategy and analytics team real-time data analytics and visualizations from a variety of data sources, to understand and respond to events at the stadium as they happen.
The Executive Huddle project began several years ago when the football team decided it wanted to improve the fan experience at the stadium. At the time, the 49ers lacked the tools to do anything about it, said Moon Javaid, vice president of business strategy and analytics for the San Francisco 49ers.
Enhancing the stadium experience
"When I started with the 49ers five years ago, we had no business strategy team, no data warehouse, no analytics. So, one of the first things we focused on was fan feedback and fan sentiment in trying to improve customer experience," Javaid said.
The organization knew fans enjoyed watching games from the comfort of their homes -- it's easy to grab food, for example -- and wanted to ensure a similar experience for fans at the stadium. Over the next two years, the organization conducted surveys and focus groups and made hundreds of changes to the stadium, from better lighting in parking lots to a "Ring of Honor" for past team greats. But the team understood that the experience would be even better if they could incorporate real-time data analytics for stadium events.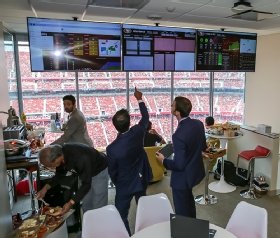 In 2016, the organization tasked Javaid's business strategy team to develop a real-time data analytics system that could improve the customer experience for events. First, they implemented 100 touchscreen terminals from HappyOrNot that allow fans to rate their satisfaction on a "smile-or-frown-face" scale.
"We had 200,000 button pushes in the first year, which proved that fans were really doing it and provided a lot of data. But more important [was] that we could execute on these operationally," Javaid said. "If there were dissatisfied areas, we could go to the key stakeholder, and they could go solve the problem."
For example, the organization improved crowd-control methods for fans entering or leaving the stadium, but the data from HappyOrNot was not in real time, so problems could not be resolved as they were happening.
Making real-time data actionable
The next step was to develop a system to take this information and data from a wide variety of other sources and make it available for operational and business analysts to take action. At the same time, the 49ers organization, which is a longtime SAP customer, learned about SAP Leonardo and other HANA-based analytics products, Javaid said.
In previous years, my game days were running around the stadium trying to solve some of these issues on the phone.

Moon Javaidvice president of business strategy and analytics, San Francisco 49ers
"Within two weeks, we were sitting with SAP in Palo Alto, [California,] fleshing out what the Executive Huddle would look like," he said. "I spent a full year considering other technologies, but this is extremely challenging to do, and there aren't that many [similar] technologies out there."
Putting together a system that uses real-time data was not easy, said Mike Flannagan, senior vice president of SAP Leonardo and SAP Analytics, who worked with the 49ers to develop Executive Huddle.
The first challenge was technical. The 49ers used eight different business systems that were older technologies and not designed to be accessible for using real-time data, Flannagan explained.
The second challenge was figuring out what to do with the real-time data once analysts had it.
"We had to figure out how to put it together so that it makes sense," he said. "The 49ers had sophisticated reporting that they were already doing ... It was much easier to go from something that they already had a framework around, because at least they knew what KPIs [key performance indicators] they used to run the business and what levers they needed to pull."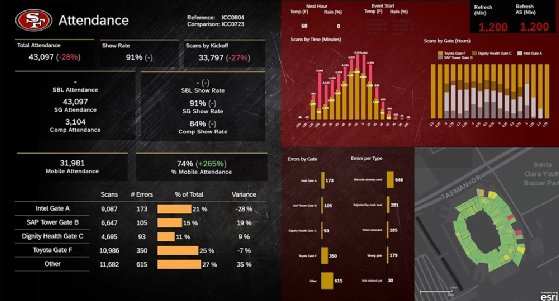 From a stadium suite to the ticket gates
The Executive Huddle system uses three technologies, according to Flannagan:
The foundation is the SAP HANA database, which processes and stores the streaming, real-time data.
The SAP Cloud Platform layer integrates the data from various sources and has services to push out notifications.
SAP Analytics Cloud is the presentation layer, where the data is visualized through SAP Digital Boardroom.
Executive Huddle operates from a suite at Levi's Stadium, and the applications can be accessed from mobile devices. It takes data from nine sources throughout the stadium -- including attendance, parking, food and beverage concessions, retail, ticketing and social media -- which is then analyzed and displayed on screens with dashboards that show various KPIs.
Operations officials can monitor data as it happens and respond to any issues that crop up, such as long lines at a particular gate. Analysts can also drill down to specific stadium areas and benchmark the real-time data against data from previous games or seasons to get context on the operations.
Identifying and resolving issues when they happen
This approach has improved stadium event operations, according to Javaid.
"In previous years, my game days were running around the stadium trying to solve some of these issues on the phone, which made for a very hectic game day," he said. "Now, we sit in that room and look at patterns of data with really powerful visuals, are able to identify potential areas of concern [and] then get it out to our stakeholders. For example, if I notice a specific concession stand's sales are considerably lower than they have been in the past, I can ask what's going on, and they typically report back quickly on what the issue is."
The Executive Huddle was tested during the 2018 NFL preseason games, and it has been fully operational for all regular games this season, Javaid said. However, it's still early in the transition to the Executive Huddle, and Javaid said he sees more work ahead.
"The platform that we have is game-changing, but we're also just at the start of having real-time analytics," he said. "We have this very powerful tool and base, and we believe we can add in more streams. It's not that we've built a product and we're done. This is just the start of us working together in a holistic fashion, and we're going to continue to innovate with SAP on this product in the next three to five years."