James Thew - Fotolia
EY 'people experience' strategy taps firm's process skills
The accounting and consulting firm is integrating a mix of shared services, bot-enabled workflows, SuccessFactors HXM and Qualtrics employee engagement for its global workforce.
London-based EY knows more than a little about systems integration. Integrating disparate systems has been EY's strategy of choice for helping clients "build a better working world," to paraphrase the company motto.
The consultancy and Big Four accounting firm, also known as Ernst & Young, applied its experience in systems integration and business process management to the employee experience of its 300,000 workers by putting in place a complex blend of HR technologies, shared services and "people experience" strategies. It took the lessons learned from a massive HR transformation initiative, dubbed Project Symphony, to its HR advisory services for clients and productized the resulting architecture, branding it the People Experience Transformation Platform (PX360).
EY's people experience platform started out as a means, not an end, in an evolving strategy that began around five years ago as a more narrowly focused effort.
"The conversation we were having ... was more around employee engagement," said Penny Stoker, global leader of HR services. "How do we drive engagement, and what is the experience that people need to have to be more engaged?"
Those questions led to questions about the digital aspect of the employee experience, such as how to make HR and other business processes as easy and enjoyable as possible for employees whose average age is in the late 20s, so they can better serve clients.
"We had a group of folks who are much more used to carrying on their life on a phone or some type of mobile device, and our systems just could not address that need," Stoker said. "We knew we needed to replace them."
To come up with answers, EY took a methodical approach to analyzing and improving the employee experience. The firm applied the iterative, problem-solving technique called design thinking to the challenge. It identified typical employee "personas" and career journeys to build a holistic view of the employee lifecycle, and asked employees what they felt and thought about the processes and people they encountered at key touchpoints.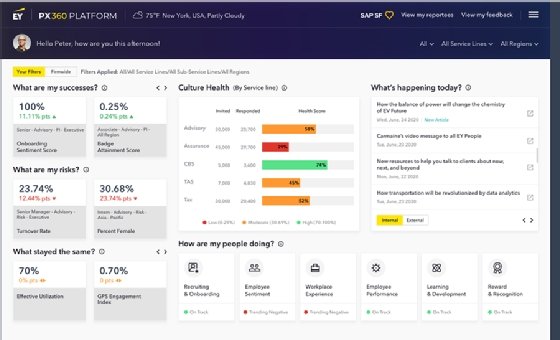 SuccessFactors HXM at the center of people experience initiative
EY is carrying out its people experience strategy in tandem with a major overhaul of its human capital management (HCM) systems. In mid-2017, the firm started rolling out SAP SuccessFactors modules for learning, performance management and onboarding. The biggest piece -- SuccessFactors Employee Central -- will go live in November, with recruitment to follow in mid-2021.
The firm has also deployed an IBM Watson chatbot and uses SAP Jam for collaboration and learning. By the end of this year, it plans to pilot an intranet designed to give employees a single location to open SuccessFactors and ask the chatbot to execute tasks.
The company uses data distribution hubs to integrate SuccessFactors with "downstream" systems for talent acquisition and other HR functions, said Faiyaz Rushd, senior manager at EY. The hubs keep track of global standards and rationalize, normalize and manipulate data before sending it downstream.
The hub approach was also key to the firm's consolidation of its global HR systems on SuccessFactors -- a massive undertaking that involved winnowing some 2,300 applications down to 751, Rushd said.
"We have very few direct integrations with those applications -- and that makes us agile to a great extent, because it then takes the pressure off the transactional systems," he said.
A workflow layer has AI and bots that assist users and automate business processes, according to Rushd. EY is working with robotic process automation (RPA) vendors UiPath and Blue Prism to automate the movement of data so employees don't have to handle that task.
The goal of all this process automation technology is improved efficiency and a better people experience, Stoker said.
"Sometimes you just don't want people in some of these core systems," she said, because they're built for administration and not easy to use. "Let's make it easy for folks to get stuff done and let something else put the information in the core system to the extent that we can."
Qualtrics handles surveys, analytics on people experience
To keep current on employee sentiment, EY uses the Qualtrics experience management (XM) platform for annual employee surveys, as well as for recruiting and onboarding surveys, running it from inside SuccessFactors. The next step is to have the surveys triggered automatically by major events in the employee journey, such as job interviews and notices of hire.
Vijay Nidumolu, an EY managing director of customer experience and digital transformation, said it is important to survey employees frequently and account for differences in the people experience. Doing so helps EY management be more aware of how employees in different departments are responding to policy changes, for example.
"The needs of people across these service lines can be different, and what makes one person happy can be very different from another," Nidumolu said. "We use Qualtrics to more actively listen and do more in the moment."
Stoker said the company is starting to try to understand the business impacts of the people experience. Further integrating Qualtrics with EY's business systems will allow it to more accurately correlate experience data with operational data -- X's and O's in Qualtrics parlance -- and make changes to improve both sides of the equation.
She said the company already has analytics that show that when members of EY's client engagement group work more effectively as a team, business outcomes improve. "It's kind of intuitive, but we have some of the data," she said.
Doing more to correlate experience with operational outcomes will be a complex undertaking, according to Maya Smallwood, employee experience leader of EY's global people advisory services.
"There's a lot of data that doesn't generate out of SuccessFactors in our transactions," Smallwood said. "A lot of experience data comes from what we do as we go throughout our days, whether we're serving clients or working with colleagues, and it's those data sets that are extremely valuable to pull into that X realm and correlate."
Embedding Qualtrics sentiment analysis technology throughout EY's business systems should make it easier to spot those relationships.
"When there are business decisions made, when there are operational changes or when there are external events, we can grab some sentiment data and really understand whether there are business or revenue impacts and whether there are engagement or productivity impacts that are tied to the way people are thinking and feeling," she said.
Striking a balance
The standard advice warns against neglecting corporate culture and the physical environment, the two other major contributors to employee experience along with technology. Stoker said it calls for striking a fine balance between the technical and nontechnical elements. "It's always easy to get really excited about the latest bright, shiny toy," she said. "What we really wanted to do was focus on the overall experience."
Just getting the systems implemented was one of the biggest challenges, she said. It helps to have a mix of perspectives on the implementation team, as does chunking things into manageable pieces.
The other big challenge of EY's people experience strategy has been the change management needed to upskill the HR staff on data and analytics, Stoker said. "We're not traditionally the most analytical people in the world."