James Thew - Fotolia
A primer on Employee Central Service Center
SAP has created Employee Central Service Center to simplify how HR issues get resolved. Here's a look at who it's for, how it works and what it can do.
Employees are used to getting quick, personalized information from their consumer technology, and they bring those same expectations to their HR experiences.
SAP SuccessFactors Employee Central Service Center is meant to help companies meet those expectations through better HR service delivery. Employee Central Service Center is a portal for employees to search for HR information and create HR tickets to make data changes, request leave or benefits information, and more. It also enables employees to interact with HR service agents who are part of a centralized shared services team. And it gives those agents a secure one-stop-shop way to manage, respond and resolve tickets and requests from employees.
Accessible from anywhere inside SAP SuccessFactors, Service Center requires a separate subscription from Employee Central.
Employee Central Service Center key features
Employee Central Service Center comprises two standard components and an optional one:
the Ask HR application, which is built on SAP Cloud Platform;
the ticket system/HR agent workspace, built on SAP Service Cloud; and
an optional external knowledge base.
Integration with Employee Central is standard as part of the product.
Ask HR -- the portal to Employee Central Service Center
Employees who are signed in to SAP SuccessFactors can see an Ask HR link in the upper-left corner of the screen. Clicking on this link takes employees to the Employee Central Service Center application. The first screen is a search panel. Employees can search for a particular topic, such as time off, and the application will return localized search results.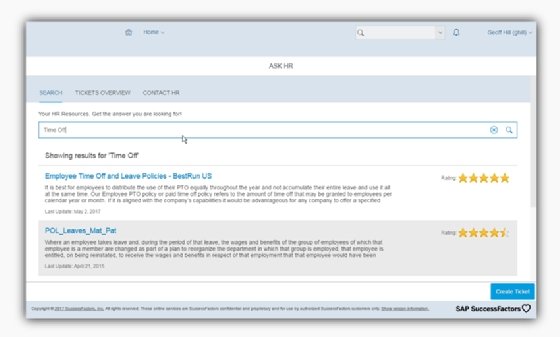 If employees don't see a satisfactory answer, they can click on the Create Ticket button. They can also choose to reach out to HR directly by clicking on the Contact HR link.
Ticket system/HR agent workspace
Employees can view their tickets in the Tickets Overview tab. Here, they can check ticket status and read any updates. Employees can also create new tickets from here, and their information will prefill into the ticket. The ticket will then be routed only to the appropriate team based on the topic, such as leave, payroll or personal data changes. This is especially important when dealing with potentially sensitive personal information.
When an employee emails the HR service delivery email address, these emails are automatically converted into tickets. If the email comes from a private email address of an employee that has not yet started or has left the company, an HR service delivery agent can manually convert this email into a ticket. If employees call the HR service delivery team, the agent taking the call can quickly create a ticket in the system on their behalf.
Tickets are designed so the HR service delivery team can manage and take action on them. Communication between the employee and the HR service delivery agent -- or multiple agents for more complex cases -- occurs inside the ticket. If required as part of the ticket, the HR service delivery agents can look up the employee's profile in Employee Central directly from the ticket to check data or make changes; this access is subject to permissions. HR service delivery agents can also search for tickets similar to the one they are working on and can use Solution Finder to look for relevant policy information that may resolve the ticket. The HR service delivery agent can then view the employee's previously submitted tickets to look for a pattern in the type of questions raised by the employee and, therefore, find a solution more quickly, as well as help determine future knowledge base articles.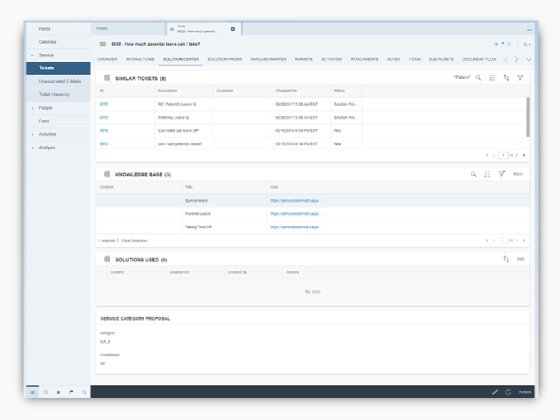 Checklists exist to guide HR service delivery agents through the issue resolution process. HR can create as many checklists as needed to support the different types of requests that HR service delivery agents need to support. HR service delivery agents can also use email templates, which include answers for responding to employees in a quick and standardized way. Any tickets that are not responded to within a certain time frame -- typically defined by a service-level agreement -- will be escalated according to configurable workflow rules and notifications to receive the required attention.
The system gives the employee the option to take a survey once an issue has been resolved or a ticket closed. This feedback is visualized in the analytics dashboard provided in Employee Central Service Center, along with key performance indicators (KPIs), such as a summary of all tickets, tickets by source, tickets by category and more. These KPIs or ones HR builds can help identify any bottlenecks or service delivery quality issues.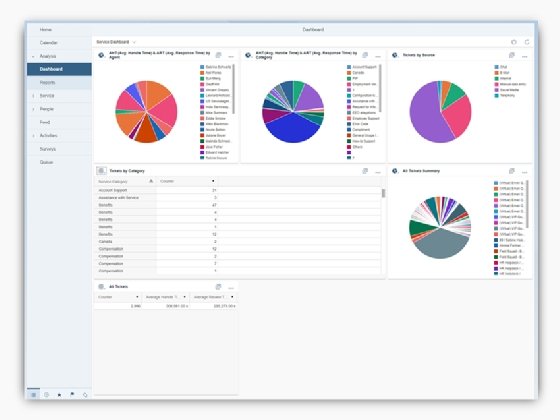 Optional knowledge base
HR can use a knowledge base to store various types of information, such as policies, procedures, documents, videos and anything else that might benefit employees when searching for HR information.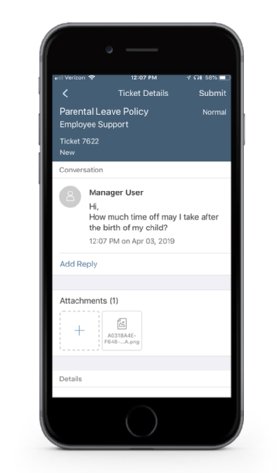 Employee Central Service Center enables out-of-the-box integration with enterprise collaboration system SAP Jam, the Advanced Plus edition and the SAP Knowledge Central by MindTouch solution extension, which provides content sharing analysis. IT or HR can choose to integrate into Employee Central Service Center any knowledge base applications that support search results system OpenSearch.
Mobile capabilities
Employee Central Service Center is available throughout the SAP SuccessFactors Mobile application, which offers most of the desktop version functions. Employees can create, view and edit tickets -- including adding any attachments to provide context and facilitate processing -- as well as reply to questions from the HR agent. Likewise, employees can also search through all of the tickets they have created, and when viewing a list of their tickets, they have the option to filter the list by various categories. Employees also have the ability to email or call the HR service center from their smartphone or tablet device. Currently, the mobile app does not support searching the knowledge base.
Dig Deeper on SAP implementation