Definition
talent acquisition
Talent acquisition refers to the process employers use for recruiting, tracking and interviewing job candidates, and onboarding and training new employees. It is usually a function of the human resources (HR) department.
Talent acquisition often includes standalone software or modules in larger human capital management (HCM) systems that help automate the recruitment and hiring cycle. Products in this software category are sometimes called recruitment management systems.
Talent acquisition is often seen as a strategic approach to the early stages of talent management, the process employers use in hiring, deploying, training and evaluating the performance and compensation of employees (see Fig. 1).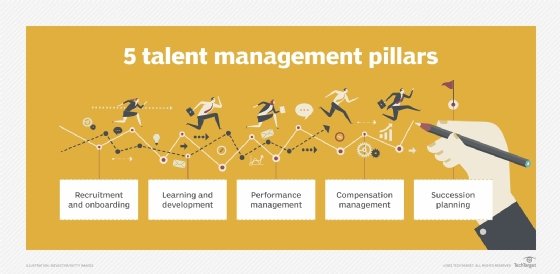 Why is talent acquisition important?
Talent acquisition is important because finding and hiring the right people is a crucial element of an organization's business plan and it directly affects the company's future success. Without the right employees, a business is likely to struggle with poor productivity, bad decision-making and unmotivated staff. These factors make it difficult for a business to remain stable in a competitive market.
Furthermore, talent acquisition is forward-thinking. Instead of simply hiring a candidate to fill a current opening, a talent acquisition team considers what the potential employee's career path could be within the organization. As a result, talent acquisition ensures the organization hires people who could eventually become managers and senior managers within the business. Therefore, talent acquisition becomes less about filling open positions, and more about creating a long-term strategic plan for future job openings.
An effective talent acquisition strategy also decreases risk throughout the business because it reduces the chances of an unsuccessful hire. This, in turn, saves time and money that could otherwise be wasted on training bad hires, while also improving productivity.
Talent acquisition strategy
Talent acquisition processes often incorporate six steps:
lead generation and sourcing
Recruiting
Interviews and assessments
Reference checking
Final hiring decisions
Onboarding
Teams can choose from a wide variety of talent acquisition strategies. Some common examples include the following:
Create a strong brand. Ensure the company's website, culture and social media profiles appeal to both the customer and potential job candidates. Branding is often done by the HR, marketing or communications departments. It can be a huge element of attraction for the most talented candidates.
Make job descriptions as detailed as possible. Candidate requirements should be specific, outlining exactly who the ideal candidate is. This increases the likelihood that the company will find what it's looking for.
Expand company outreach. Different skill sets and positions require talent acquisition teams to use different methods for sourcing talent. Instead of using general-purpose job sites like LinkedIn or Monster, the company should use specialized job boards, networking events and academic programs. Once the right methods are found, teams should focus on cultivating relationships with the top talent in each group. This will increase both the pool of potential candidates and employer brand awareness, making it easier to attract new candidates in the future.
Use data analytics to improve acquisition. Talent acquisition can be treated like a marketing campaign because providing a positive candidate experience and convincing candidates to join the company is just as important as convincing consumers to buy available products or services. Data analytics can reveal where the top talent within the company came from; whether certain questions are preventing candidates from completing applications; and whether adding a video on the company culture will increase application submissions. Overall, data analytics help guarantee that all posted job descriptions and career pages are attracting the right types of people to the company.
Talent acquisition software
Employers -- including large, medium and small companies, as well as nonprofit and government organizations -- have a variety of talent acquisition technologies from which to choose if they move to automate the hiring process.
Some employers opt for talent management suites, such as Oracle Taleo Cloud. These systems are typically delivered from software as a service (SaaS) platforms and offer talent acquisition, performance management, compensation management and learning management modules.
Other big talent management vendors include SAP, with its SuccessFactors software; IBM Kenexa; Cornerstone OnDemand; SilkRoad; and UKG (formerly Ultimate Software and Kronos). Many startups and smaller vendors also offer integrated talent management systems.
Another route employers take is to use dedicated talent acquisition or recruiting software from vendors such as Recruitee, JazzHR and MightyRecruiter.
Job boards
Another talent acquisition option is job boards, or job marketplaces, such as SimplyHired, ZipRecruiter and Indeed, on which employers post open positions. Longtime participants in this niche include Monster and Glassdoor.
At least one vendor -- Hired -- reverses the process, providing job-boardlike systems on which job candidates can accept offers of interviews from employers.
In addition, major social media and technology players, such as LinkedIn and Google, are also in the market with strong job-matching, business networking and job-search offerings. Talent acquisition specialists and recruiters increasingly use these platforms as part of a social media recruiting strategy.
Onboarding
After a candidate is hired and becomes an employee, employers have digital alternatives to the traditional paper-based post-hiring process, often called onboarding, the next major step in talent acquisition.
Employee onboarding encompasses online benefits enrollment, welcome emails and team introductions, and signing on to employee engagement and wellness programs.
Major HR technology players such as Cornerstone OnDemand, Oracle and SAP provide onboarding features, as do smaller HCM suite vendors such as Zenefits and Namely, as well as ERP vendors such as NetSuite.
Talent acquisition vs. recruitment
While talent acquisition and recruitment share a similar goal -- to fill open positions -- they are separated by various differences. The biggest difference is that recruitment focuses on the present moment within the company, while talent acquisition focuses more on the future of the company.
In other words, recruitment is more invested in filling an open position as quickly as possible, while talent acquisition gives more consideration to the company's goals and takes the time to find the qualified candidate who best fits the business needs. To gain this broader perspective, talent acquisition teams analyze the current skills of prospective employees, as well as their potential future development and role within the company culture.
Other smaller differences extend from this one major difference. They are as follows:
Talent acquisition usually requires significantly more time and planning than recruitment.
Talent acquisition uses metrics and data analytics to improve the recruiting process and make better, more informed hiring decisions.
Talent acquisition depends on teams understanding the different roles and segments within a company, as well as the skills and experiences needed to succeed in each area. Recruiting pays less attention to these details.
Talent acquisition spends more time discovering the best places to find talent for specific jobs and then building relationships with people in each of these areas. Recruiting is more likely to use a general-purpose job search site and does not spend as much time on relationship management with potential or previous candidates.
Finally, while the recruitment process is reactive and linear (see Fig. 2), talent acquisition is cyclical and strategic. Recruitment focuses on fulfilling a current need, while talent acquisition focuses on creating a talent pipeline in anticipation of future needs.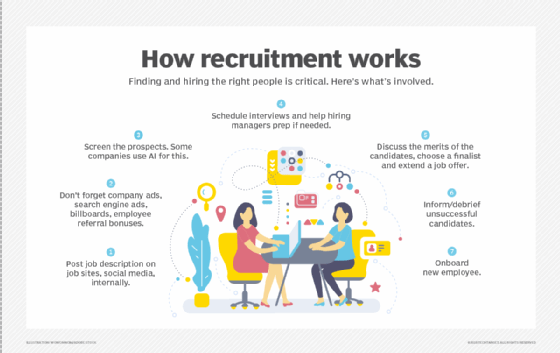 Talent acquisition specialist job description
A talent acquisition specialist can be described as an HR professional who focuses on sourcing, identifying and hiring specific types of employees. Talent acquisition specialists are often hired by companies in competitive job markets that are actively growing and changing, such as tech, healthcare and finance.
Responsibilities of a talent acquisition specialist include:
building a qualified and diverse team of employees;
organizing and attending recruitment and networking events, conferences and job fairs;
anticipating each department's annual and quarterly hiring needs.
working with hiring managers and HR to determine staffing needs;
creating job descriptions and interview questions tailored to each specific job opening;
determining the selection criteria for open positions;
analyzing candidate resumes and applications;
providing managers with feedback on the submitted resumes and applications;
finding potential talent through online channels, such as LinkedIn, Facebook and professional networks;
planning interview and selection procedures, which include everything from the initial screening interview to the job offer;
building relationships with potential candidates and previous applicants;
collaborating with management to ensure hiring procedures are ethical and fair;
performing introductory interviews with candidates to gauge their interest level, personality and salary expectations; and
guaranteeing the onboarding process is successful and that new hires quickly complete the necessary paperwork.
Requirements for a talent acquisition specialist often include a bachelor's degree in a field related to human resource management -- ideally with a specialization in talent acquisition or management -- and at least five years of previous HR experience. Knowledge of the full recruitment lifecycle, Microsoft Office applications, resume databases, professional networks and social media platforms is necessary.
Most companies prefer applicants with direct experience in job screening and hiring practices, and some organizations also look for candidates who demonstrate proficiencies using an applicant tracking system (ATS) and human resource information system (HRIS). Companies may also look for applicants who are familiar with labor unions, state laws, regulations and practices, as well as contracts, such as service-level and nondisclosure agreements.
According to Glassdoor, the average base pay for a talent acquisition specialist is $58,643 a year.
This was last updated in
December 2020
Continue Reading About talent acquisition