What is recruitment?
Recruitment is the process of finding, screening, hiring and eventually onboarding qualified job candidates. The recruiting process can be relatively straightforward, but advances in technology, a tight labor market and a workforce pool that might span five generations can make the first step -- finding potential candidates -- particularly challenging. Recruitment is a key part of human resource (HR) management and supported by the hiring manager and others involved in the hiring process. Skilled recruitment efforts will make a company stand out and be more attractive to potential employees, a strategy that can directly impact a company's bottom line.
Why is recruitment important?
Employees are the lifeblood of companies, so finding and attracting the best candidates possible is of utmost importance. A poor recruitment effort can result in unfilled jobs and a loss of revenue, while successful recruitment will bring in the right candidates on a timely basis, ensuring a business is able to continue to move forward.
Also, in a competitive hiring market, employee retention can be tricky, but an effective recruitment strategy can minimize that risk by ensuring the right people are hired into the right roles.
When recruiting is done well, your workforce is engaged, employees are in the most suitable position for them to succeed, your organization thrives, you can attract better candidates, you have good ratings on sites such as Glassdoor, you can reduce turnover, you can build a talent pipeline and more.
How does recruitment work?
To ensure an organization's recruitment activities are well thought out, effective and efficient, an organization may develop a recruitment strategy. The recruitment strategy may cover items such as the size of the organization, the overall economy, the competition for similar candidates, the attractiveness of the organization, labor laws and other legal considerations.
Generally, the hiring process is similar across organizations; however, the number of steps in the process and its associated tasks may vary. For example, one organization may ask candidates to do a pre-hire assessment, whereas the next does not.
The following are typical steps in a hiring process:
Conduct a job analysis to determine what is needed in the position.
Develop a job description, if one doesn't exist, based on the analysis, including the following in it:

necessary skills and competencies;
experience;
education; and
position-specific requirements, such as the ability to lift heavy objects on a regular basis.

Evaluate the job by comparing it to other positions in the organization to determine the overall value of the position. This can be done using a point system. The end goal is to ensure the compensation is equitable, based on comparable positions.
Get the job description approved.
Develop a job posting, which is similar to the job description but written with a marketing slant that takes advantage of the employer brand to help attract candidates.
Using your applicant tracking system (ATS), post the job posting. It is often posted internally on the company's Intranet or web portal to notify employees and on the organization's external career site, job boards and social media.
Educate everyone involved in the hiring process to ensure they are aware of the laws and company guidelines they need to follow. Examples may include not asking candidates their age, marital status or other personal information that is not directly related to the job they will perform.
Screen the resumes that have been submitted to your recruiting software.
Perform a first interview, possibly by phone to confirm basic information and gauge the interest of the candidate.
Develop and share interview guides to help hiring managers conduct good interviews.
Perform a second interview with the hiring manager or hiring team. In small organizations, interviewees may also meet with the CEO or executive director.
Send a pre-hire assessment to the candidate. This can be a personality type test, a coding test for software development roles and so on.
Perform reference checks with current and former employers and personal references.
Carry out background checks, such as validating the candidate's education, or do a criminal history check.
Have the candidate take a drug test, assuming it is legal in your jurisdiction and required for the position.
Negotiate the contract, including salary or hourly rate, number of vacation days, bonus eligibility, and potential other items offered by the company or requested by the candidate.
Send the offer to the candidate for review and sign-off.
Hire the candidate, and move them to the onboarding process.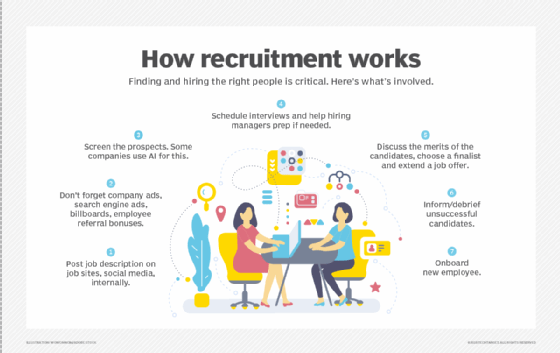 Sources of recruitment
When looking to fill open roles, employers have two options: Look internally, or hire from the outside. Both have advantages and disadvantages.
Internal candidates need little to no onboarding as they are familiar with the company and you are familiar with their past performance. However, moving an existing employee into a new role leaves the old role to fill.
On the other hand, external candidates can bring fresh eyes, enthusiasm and skills to a company, but it is vital to ensure new employees will be a good fit in the company culture.
Types of recruiting techniques
Although some companies still rely on a "We're Hiring" sign on the door, many companies tackle recruitment the way they do marketing -- with a multi-tiered approach. Recruitment marketing can include everything from promotion on social media to billboard ads, public relations (PR) campaigns and even bonuses to current employees for successful candidate referrals.
Here are recruiting techniques to help your talent acquisition team attract qualified candidates:
Internal recruitment. Post open positions on your internal career site so current employees can apply.
Retained recruitment. Hire a third party to fill open positions. You pay an upfront fee for the recruitment work and may pay an additional fee once a candidate is hired.
Contingency recruiting. Similarly, this option involves using a third party to recruit on your behalf, but you only pay a fee if a qualified candidate is hired.
Staffing recruiting. This type of recruiting also involves a third-party recruiter but is often used to fill short-term or temporary jobs.
Outplacement recruiting. This type of recruiting is sometimes offered to employees who have been involuntarily terminated. The service, in addition to other services offered by an outplacement company, are there to support former employees with their job search.
Recruitment process outsourcing (RPO). In this case, the organization completely outsources its recruitment function to a third party. The primary goal is to reduce the cost of the recruiting process.
Temporary recruitment professional. You may want to hire a temporary employee or consultant to help your recruitment team occasionally rather than hiring a full-time recruiter.
Career fairs. Whether in person or virtual, these events give your organization an opportunity to meet qualified candidates and market your employer brand.
Campus recruiting. Participating in campus recruiting events can help in recruiting new grads or co-op students.
Employee development and succession planning. Developing employees and preparing them for a new role is an excellent opportunity for the employees and reduces the risks associated with external candidates.
Partnering with outside organizations. You might do this to attract a more diverse workforce or support underrepresented communities, such as immigrants and minorities.
Networking. Meeting other people in the community provides an opportunity to share information about your organization.
Social media. Posting open positions on Twitter, Facebook and LinkedIn is a popular choice. Search engine ads that pop up in response to a query are another option.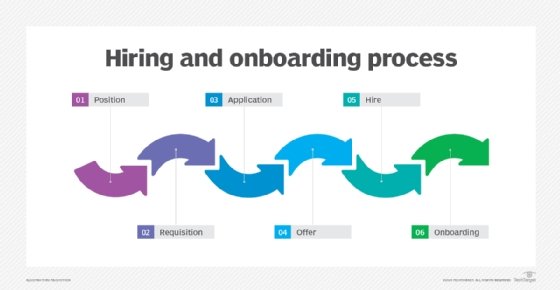 Latest trends in recruiting
As recruiting has become more competitive, many vendors have developed recruiting software, such as recruitment management systems (RMSes) and ATSes, to automate the recruiting process. These systems enable the talent acquisition team to simplify the application process, improve the candidate experience and employ the systems for interview scheduling, among many other benefits.
Some organizations are turning to artificial intelligence-powered screening tools to help more quickly identify potential candidates, assess strengths and weaknesses, and come up with questions that can speed the decision-making process.
Some organizations with a large number of high-turnover positions have begun processing applications via mobile texting, providing applicants with a much simpler method to apply for open positions.
To showcase the employer brand and attract top-rated candidates, organizations are tailoring their recruitment activities. For example, recruiting for an entry-level position may include posting the position on your website and a job board, such as Indeed. When recruiting for an executive position, you will likely use additional methods, such as hiring an outside recruiter or identifying passive candidates who have the skill set you require.
Large employers can also use other strategies, such as brand advertising, which showcases a company's perks and benefits and promotes the culture and work styles. They might also highlight a strong Net Promoter Score (NPS), which is a popular measure of customer loyalty. To attract certain groups of employees, such as millennials, a company may stress the social value or importance of the work being done.
Effective recruiting best practices
Recruiting can be a challenging task, especially when you're trying to find qualified candidates for positions that are in high demand.
Here are some tips on how to effectively attract new candidates:
When selling the benefits of the company to candidates, it's important not to oversell, since it can lead to new-hire turnover.
Don't just post and hope. Actively search for qualified candidates, including passive candidates who are not currently looking for work. Platforms such as LinkedIn have greatly enhanced a recruiter's ability to find candidates who may be great for a position.
Keep candidates warm, even if you don't hire them, because another position may open tomorrow that they would be well suited to fill. An ATS or RMS can make this easier by sending regular communications to candidates.
Tailor your communication with candidates, even if you are using automated replies. For example, you may have a simple automated email that goes to all applicants who don't meet your minimum requirements and a different one for candidates who have been interviewed.
Focus on recruiting people who have hard-to-find skill sets and competencies, and then train them for job-specific tasks. This will help ensure you find candidates who will fit with your organization's culture and bring the right mindset to the job.
Take advantage of your brand. If your organization has great brand recognition or is recognized for doing great things, use that information in your recruitment marketing.
Get to know the business and its leaders so you can better support them and provide candidates with a better experience during the hiring process.
Ensure that all the data related to the hiring process, including each candidate's resume and interview notes, is stored in one location so it's available to everyone involved in the hiring process and accessible in case of lawsuits or audits.
This was last updated in
August 2022
Continue Reading About recruitment