Getty Images/iStockphoto
LinkedIn unveils generative AI-based tools for B2B marketers
The professional network's new products let marketers create ad copy, message other company Pages, and post different types of ads to attract buyers throughout the buying process.
LinkedIn has new generative AI tools for B2B marketers to connect faster with other businesses on the professional network. The tools, unveiled on June 7, include a generative AI-supported copywriter to suggest text for ads.
Generative AI in advertising
"The use of generative AI for ad copy suggestions is an innovative approach that is not yet commonly seen in other marketing tools," Nucleus Research analyst Cameron Marsh said.
The copywriter, AI Copy Suggestions -- which will create suggestions in the ad creation flow of Campaign Manager, LinkedIn's advertising platform -- is available now in limited alpha in North America, according to LinkedIn.
As an online community, Microsoft-owned LinkedIn has both explicit and implicit standards for how to communicate. These standards influence what type of content can be used, IDC analyst Gerry Murray said.
"Using AI specifically trained on the community gives marketers higher confidence that their messaging will be both relevant and appropriate in tone, timing, targeting, and meaning," Murray said.
LinkedIn and other platforms like it must answer to the growing demands for frictionless, scalable, measurable services, especially when it comes to machine-generated communications, he said.
"Brands cannot afford to have AI hallucinations damage their reputations on any platform," Murray said, referring to the new term for inaccurate or false generative AI results.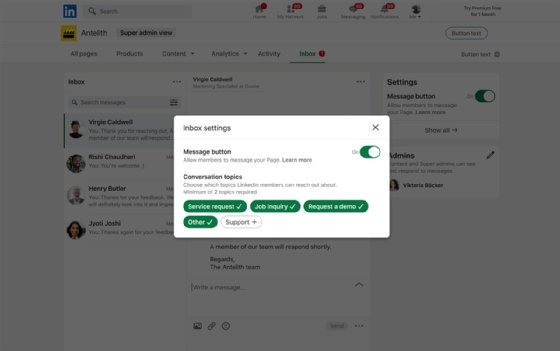 Easier ways to communicate
The other new tools from LinkedIn include Pages Messaging to let companies direct message each other from their brand's LinkedIn Pages, in-stream video ads to reach broader audiences across the network, and Conversation Ads and Thought Leader ads to attract buyers at different stages of the buying process.
In-Stream Video Ads are generally available. LinkedIn also started rolling out Pages Messaging for single-admin Pages in May 2023 and said it will enable messaging for multi-admin Pages later this year. Pages Messaging will be available globally, according to LinkedIn.
Conversation Ads and Thought Leader Ads will be generally available in August, according to LinkedIn.
The use of generative AI for ad copy suggestions is an innovative approach that is not yet commonly seen in other marketing tools.

Cameron MarshAnalyst, Nucleus Research
"The new ad formats and the ability to directly message a brand page on LinkedIn can offer more personalized and direct engagement opportunities, which can be more effective for B2B marketing," Marsh said.
Looking at the new tools in terms of LinkedIn's overall business strategy, they demonstrate how the networking website highly values B2B marketers as part of its community, Marsh said.
"By introducing new AI tools and ad formats, LinkedIn is not only keeping up with current trends and demands in B2B marketing but also strengthening its position as a critical platform for B2B marketers," Marsh said. "This could help LinkedIn attract more businesses to its platform and drive its revenue growth."
But these new products from LinkedIn are not a panacea for all online marketing challenges.
"These services do not fully solve the problem of knowing which 5% of buyers are in-market at any time, so there is more work to be done," Murray said.
Mary Reines is a news writer covering customer experience and unified communications for TechTarget Editorial. Before TechTarget, Reines was arts editor at the Marblehead Reporter.