ServiceNow Orlando update adds tools for human and virtual agents
ServiceNow Orlando update and new partnerships builds on strategy of reaching into new verticals such as telecommunications and banking.
ServiceNow Orlando, the latest biennial Now Platform update, adds both AI and language-support tools to enable customer service workflows among its 800 new features.
The features extend a virtual agent framework released 18 months ago, and give users more fully developed tools to enable more efficient routing and resolution of tickets by humans, as well as self-service bot assistance, said Farrell Hough, ServiceNow's senior vice president of customer workflows.
One example is an AI-driven analytics tool in the ServiceNow Orlando Now Platform update that examines data generated by tickets handled by virtual assistants. It then finds patterns to predict emerging issues and tracks the most efficient solutions.
"Our virtual agents are driving a better self-service experience," Hough said.
ServiceNow has become a powerful low-code platform that simplifies workflow automation between applications in complex IT environments, said Gartner analyst Thomas Murphy. Often, large enterprise users deploy the ServiceNow platform -- which includes a customer support application that runs on its overall platform -- in conjunction with Salesforce and Microsoft Dynamics 365 CRM systems.
"It's enabling digital optimization on a large scale," Murphy said. "Doing the same things I've always done on paper -- or wherever I'm doing them -- but performing them with the best efficiency."
ServiceNow also caters to midmarket customers who might have a small in-house customer service operation overseeing a large contract staff, Hough said.
ServiceNow Orlando first under McDermott
The company, which made its name in IT service management and has branched out into customer service and field-service management, also inked deals with Accenture and Deloitte. ServiceNow will work with Accenture to extend into the telecommunications vertical and with Deloitte to move into banking. Specific tools for those industries will be released in the coming months, said Kevin Murray, vice president of product and industries marketing at ServiceNow.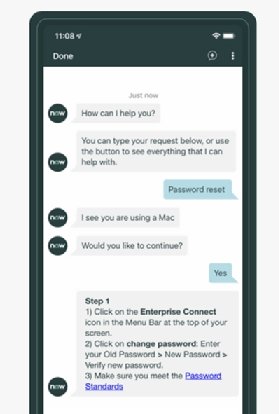 In all, Murray said ServiceNow plans to extend into 10 verticals by midyear as it chases a $10 billion annual revenue target, more than double its current number. Some of the verticals it will tackle include media, tech and manufacturing. The plan was hatched before former SAP CEO Bill McDermott abruptly resigned and quickly resurfaced as ServiceNow's CEO last October, but he is doubling down on that strategy, Murray said.
"What Bill has really brought is dialing into those industries," Murray said. "Stay tuned for that."
Gartner's Murphy added that McDermott's experience in selling B2B software better suits the strategy than his more B2C-oriented predecessor John Donahoe, who previously had served as president of eBay and left ServiceNow to become CEO of shoe retailer Nike. Coming out of SAP, a $34 billion annual revenue company, the growth-minded McDermott probably sees the $10 billion target for ServiceNow as a good start, he added.
"While the path to $10 billion is what they're focused on now, he's thinking about the path to $40 [billion]," Murphy said.