James Thew - Fotolia
ServiceNow CSM navigates pandemic, partners with Adobe
ServiceNow connects its Customer Service Management environment to Adobe Experience Manager to improve support experience through deeper personalization.
ServiceNow Customer Service Management now integrates with Adobe Experience Platform to give contact center and field service users a more detailed, personalized picture of the customers they assist.
Adobe Experience Platform users who employ ServiceNow Customer Service Management (CSM) for contact center and field service management can flow data between the two platforms. On the Adobe side, updated service data enriches real-time customer profiles; on the ServiceNow CSM side, it gives human and virtual agents a more complete picture of a customer's product evaluations and purchases to personalize service interactions.
The companies made the integration generally available this week, along with a second integration with Adobe Experience Manager (AEM), which runs on its marketing cloud. The ServiceNow CSM integration with Adobe Experience Manager ports service content into Adobe's marketing cloud, making it available to a user's prospective customers.
While the integrations are brand new, many ServiceNow customers use the Adobe marketing engine, said Michael Ramsey, vice president of product management for customer workflow products at ServiceNow.
"It's still early," Ramsey said. "But we have a large crossover in terms of our customers using AEM to create and manage content for their websites and web properties."
The partnership furthers new CEO Bill McDermott's vision to grow ServiceNow beyond its staple IT service management customer base, said Gartner analyst Thomas Murphy. Now, the company looks to expand connections between service departments and others such as marketing and finance, give those other departments relevant business data and automate workflows between them.
"ServiceNow is continuing to grow out from their core of working with IT," Murphy said. "Now, they're bigger than that."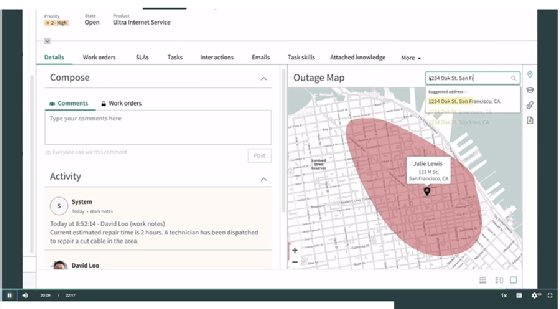 Pandemic changes customer service
The Adobe integrations, announced at ServiceNow's Knowledge 2020 virtual user conference, accompanied demos of how government-sector users utilized the ServiceNow platform to develop customer service apps to automate problem-solving.
Two examples included Washington state's COVID-19 rapid response app, and digitizing Tennessee's food pantry and unemployment application processes to eliminate long lines and reduce coronavirus exposure.
Demand for service has absolutely skyrocketed, in every industry, with completely new requirements.

Farrell HopeSenior vice president of customer workflow products, ServiceNow
"Demand for service has absolutely skyrocketed, in every industry, with completely new requirements," said Farrell Hope, senior vice president of customer workflow products at ServiceNow in her customer service workflow keynote at Knowledge 2020.
ServiceNow recently introduced upgrades to it chatbot, just in time to address ballooning contact center volumes among ServiceNow CSM users since economic turbulence related to stay-at-home orders have not only increased calls, but also intensified the conversations in sectors such as travel and financial services. Online self-service volume among ServiceNow CSM customers spiked 30% from February to March, according to Hope.
Ramsey said the figure was an average, which indicates some users were increasing self-service usage by a lot more than that. Many ServiceNow users who were already using the chatbot increased their capabilities quickly once the pandemic started, Ramsey said. Many who were not using it suddenly needed to, as new use cases quickly emerged.
"These customers were experiencing some of their highest volumes when they had access to the least amount of people," Ramsey said, noting that customer service operations were busy provisioning agents for remote work during that period.
Gartner's Murphy said that while the pandemic economy might be increasing demand for customer service in the short run, ServiceNow customers who already had implemented the platform and were locked into subscriptions were the main beneficiaries. While that might turn into more revenue for the company in the long run, he pointed out that ServiceNow reduced financial forecasts for the next two quarters in its recent shareholder call, as it encounters what ServiceNow CFO Gina Mastantuono characterized as financial "headwinds."
Dig Deeper on Customer service and contact center