kentoh - Fotolia
ITSM software market: Insight for channel partners
Need advice on how to approach the IT service management market? This article aims to help channel firms refine their strategies around ITSM technology.
For customers, selecting and implementing ITSM software can be a difficult and complex process.
As the IT service management market evolves under the influences of cloud computing, AI technology and other industry trends, new products have emerged that bear little resemblance to traditional options.
Jesse White, president of Intact Technology, an IT operations management consulting firm headquartered in Greenbelt, Md., said modern ITSM offerings, such as ServiceNow and Cherwell Software's platforms, belong to an entirely different class compared with past systems. He noted these modern ITSM systems let customers advance their operational maturity at an unprecedented pace.
White said many customers today are offloading their legacy systems, which tend to be complex and expensive to manage. "The overhead associated with managing a BMC Remedy system, as an example, can be millions of dollars," whereas managing Cherwell can demand fewer resources.
"The cost reduction [of modern ITSM systems] versus some of the legacy systems is huge," he said.
ITSM software as part of a platform
ITSM software is often just a starting place for additional service management implementations.
Many customers, for example, "dip their toe into ServiceNow starting with ITSM" and then branch into ServiceNow's HR service management (HRSM) and customer service management (CSM) offerings, said Kim Liston, practice director of enterprise service management at CareWorks Tech. Based in Dublin, Ohio, CareWorks Tech operates a ServiceNow implementation practice, as well as managed services provider and staffing divisions.
The cost reduction [of modern ITSM systems] versus some of the legacy systems is huge.

Jesse WhitePresident, Intact Technology
"One of my personal passions is customer service, so I am hoping to see an explosion in the CSM market," Liston said. "We have invested very heavily in training and certifications in CSM because my gut is telling me [the CSM market] is going to explode."
Matthew Peeples, vice president of worldwide channels at Cherwell, emphasized that his company goes beyond simply ITSM technology by providing its partners "a platform play."
The Cherwell platform, Peeples said, has branched into several service management areas, such as HRSM and project and portfolio management. He said one of Cherwell's goals is to enable partners to become experts in the platform so that they can "create their own functionality" and vertical applications.
"We are giving partners the ability to dream beyond where they might have always been predominately focused in the IT world," Peeples said.
Cherwell upgrades its channel strategy
Cherwell Software recently ramped up its presence in the channel with a new global partner program. Unveiled in April, the program formalized the channel resources it had previously offered and introduces three tiers to sort partners based on their Cherwell investments.
Part of the program's objective is to engage a new set of partners, according to Peeples. Cherwell's legacy program had focused on traditional consulting and professional services companies that only did delivery of the Cherwell software. The vendor now wants to enlist partners that can do "top-of-the-funnel sales and marketing activity" and that "bring opportunities to us that we are not finding on our own," Peeples said.
"We are not going away from our old partners. We definitely need them, and there is a healthy place for them here in the new program," he noted.
Intact Technology's White said his company has made significant investments in its partnership with Cherwell over the past 12 months. Those investments have included training, as well as developing "unique offerings around the Cherwell platform," he noted. Intact Technology will continue to invest in its Cherwell alliance under the new channel program.
"The shift definitely moves us into more of a mature channel strategy," Peeples said.
What do customers look for in an ITSM product?
When it comes to product features, a TechTarget survey of 449 tech buyers revealed that service or help desk features were most important, cited by 28% of respondents. Meanwhile, 26% of respondents cited IT self-service features, service-level management and configuration management, respectively. Other top features were capacity management at 24%; change and release management at 22%; and asset management at 21%.
While TechTarget's data found embedded AI-powered or machine learning-based algorithms desired by only 9% of the respondents, Intact Technology's White doesn't discount the feature's future appeal.
The use of AI and data analytics in modern systems could "solve age-old ITSM problems that people have had to solve manually," he said. He noted that AI capabilities could help reduce operations costs and regulatory issues.
"[AI] is a growing [purchase] driver without question," White said.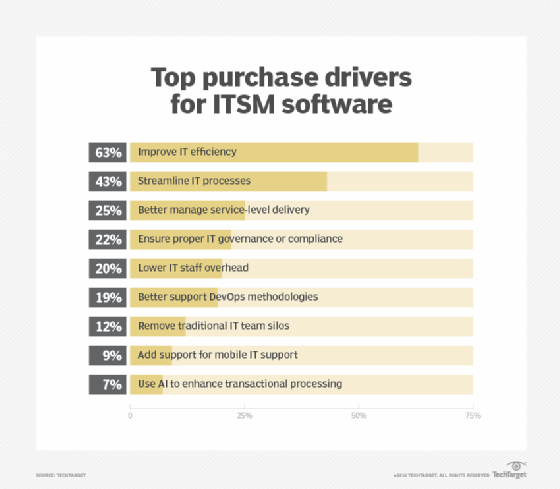 White also identified UI and UX as crucial ITSM software features. He said UI and UX are important for the millennial workforce. Having to use "antiquated service management systems to do their jobs" can create frustration and employee dissatisfaction.
"For the first time in the last couple of years, you have seen employee retention and engagement to be a driving force in [buying] service management systems with a more modern UI and user experience," White said.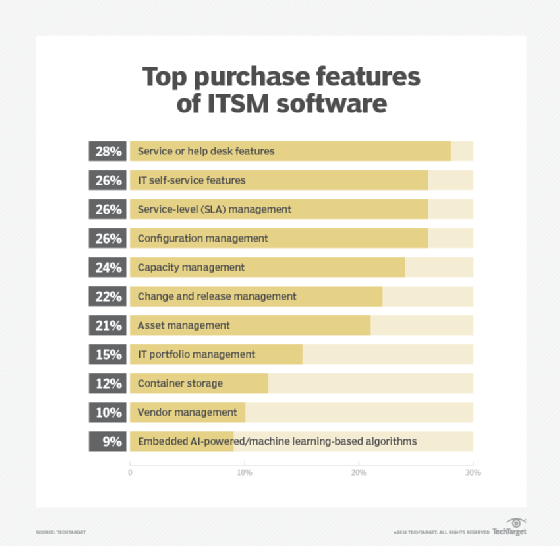 Despite all of an ITSM platform's features, it's worth noting that, even after a customer implements an expensive ITSM product, much of the system can remain unused. White said Intact Technology offers its ITSM customers a post-implementation managed service. The managed service aims to roll out additional capabilities and extract value from the ITSM system, he said.
"All of these platforms -- ServiceNow, Cherwell, any of the big guys -- by the time people are done implementing [the technology], they are maybe using 20% of the capability" they paid for, White noted.