James Thew - Fotolia
Salesforce adds customer service management features
Salesforce adds AI-powered features to enable contact center workforce management and agent staffing models for call volume, as well as email and messaging channels.
Salesforce plans to move more deeply into the contact center with Service Cloud Workforce Engagement, a bundle of new features currently in pilot.
The feature suite enables AI modeling to forecast contact center staffing needs. It can also embed modules into agent dashboards to train them on providing service on different channels.
Customer service management leaders need tools that can predict not only the number of customer calls that come in, but also the volume of other customer engagements across asynchronous channels such as chat, email and social media, said Melissa Matross, senior vice president of product management at Salesforce.
As agents typically have differing skill and training levels in covering different channels, getting the right mix of them to cover anticipated needs has become difficult -- especially during the pandemic, which has taxed customer service management in several verticals, such as travel and banking. The predictive models can take into account goings-on from other parts of a Salesforce user's business, such as marketing campaigns that drive sales and, likely, customer service tickets.
Salesforce Service Cloud Workforce Engagement also includes capabilities to train agents to engage customers on new channels via Trailhead. The idea is to diversify a contact center's workforce skill set -- and make staffing easier -- by pushing training modules to individual agent dashboards, which they can take on during downtime to add skills.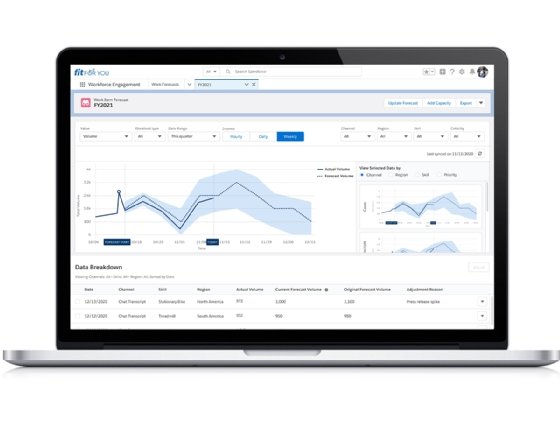 Salesforce annexes new territory
Some contact centers predict call volume and workforce planning on spreadsheets or by looking at the previous year's staffing. Many more deploy contact center applications from companies such as Nice inContact, Genesys and Five9, which already provide some form of automated staffing prediction tools.
In order to annex territory currently held by those contact center stalwarts, Salesforce will have to prove Service Cloud Workforce Engagement's ease-of-integration benefits to existing users. It will also show what more it can do by tapping into data sources the contact center specific applications don't, said Nicole France, an analyst at Constellation Research.
That said, France added, it's an interesting approach for Salesforce to use data across from its sales, marketing and e-commerce platform -- as well as Tableau data visualization and Einstein AI capabilities -- to solve the problem of content center workforce capacity analysis. Going beyond that, it could give Salesforce users an edge by making agents enrich the customer journey in new ways.
There's a real opportunity here for Salesforce to connect some of its knowledge bases, as well as its broader elements of customer interaction.

Nicole FranceAnalyst, Constellation Research
"There's a real opportunity here for Salesforce to connect some of its knowledge bases, as well as its broader elements of customer interaction," France said. "Agents could not just be taking on customer service queries, but actually engaging with customers with a more holistic view of the customer relationship -- and that could include informing customers of different offerings, up to and including closing additional sales."
Ripping and replacing current staffing software with Salesforce's new package could be a tough sell to contact center managers who have spent years honing their staffing and service models to meet rigid performance metrics with their current technology stack.
Access to data from across the Salesforce platform can give contact centers a more accurate staffing picture than without, Matross said. That can help managers predict customer service volatility in times such as 2020's pandemic.
"In today's world, things are changing very rapidly," Matross said. "We allow managers to manipulate the data as they did in the past [to forecast capacity needs], but they will have a more current and accurate picture of it."
Salesforce Service Cloud Workforce Engagement is currently in pilot. It is scheduled for release in the first half of 2021. Pricing is not yet available.