Getty Images/iStockphoto
Zoom releases work management tools for the contact center
The video conferencing vendor expands its CCaaS offerings with its Workforce Engagement Management suite, which includes forecasting and scheduling tools for agents and managers.
Zoom added workforce optimization and workforce management tools to its contact center portfolio.
The video conferencing vendor on Monday released its Workforce Engagement Management suite to fortify its offerings for Zoom Contact Center, its contact center as a service (CCaaS) platform.
The Workforce Engagement Management suite is a fitting and predictable addition to the Zoom Contact Center as Zoom expands its CCaaS offerings, according to Metrigy analyst Beth Schultz.
"It's a must-have, essentially, as contact center managers look to improve the agent experience, while increasing overall performance," Schultz said.
Adding contact center essentials
Zoom is adding tools necessary for a full-featured CCaaS offering. In the world of CCaaS, these tools are nothing new. But they are essential for Zoom if it wants to become a considerable competitor in the CCaaS market, according to Commfusion analyst Blair Pleasant.
"Quality management, workforce forecasting, and scheduling and workforce engagement management tools are key elements of a contact center solution," Pleasant said.
Such capabilities have traditionally been provided by a third-party vendor such as Verint or Nice, she said. But that is changing.
Zoom is showing that it's serious about being a contact center player by adding on important elements for a complete solution.

Blair PleasantAnalyst, Commfusion
"More recently, CCaaS vendors have been adding their own capabilities to provide a more integrated and complete solution," Pleasant said. "Zoom is showing that it's serious about being a contact center player by adding on important elements for a complete solution."
Monitoring work performance
Zoom Quality Management's tools for workforce optimization let teams use generative AI and automation to review interactions between agents and customers, analyze and summarize these exchanges, and pinpoint areas of improvement.
Adding to workforce efficiency, Zoom Workforce Management's tools are aimed at predicting the number of agents needed at a given time.
These tools include forecasting capabilities, which use AI models to predict call volumes based on historical data in Zoom Contact Center. A new scheduling tool also uses forecast data to automate recurring schedules that can be changed easily.
Such tools are standard for contact center software, according to Schultz.
"Contact centers need both the predictive capabilities available via forecasting as well as the ability to easily optimize day-to-day scheduling," she said.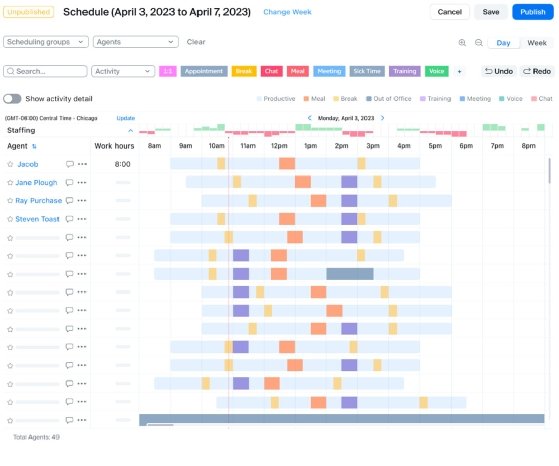 Also for its Workforce Management suite, Zoom released capabilities for intraday management, which keep account of staffing levels needed throughout the day. These capabilities surveil call center schedule adherence, which measures compliance for when and how long agents are scheduled to work.
By monitoring adherence in real time, managers can react quickly to unexpected staffing changes or shortages.
"These are standard components and important capabilities for Zoom to offer for contact center managers as well as agents themselves," Schultz said.
Mary Reines is a news writer covering customer experience and unified communications for TechTarget Editorial. Before TechTarget, Reines was arts editor at the Marblehead Reporter.