Definition
workforce analytics
Workforce analytics is a combination of software and methodology that applies statistical models to worker-related data, allowing enterprise leaders to optimize human resource management (HRM).
The technology has grown more sophisticated in recent years, with the analysis it produces going beyond hiring and adjusting department structures to include whether such moves provide a return on investment (ROI) for the organization's bottom line.
Importance of workforce analytics
Workforce analytics software falls under the broad umbrella of people analytics -- also known as HR analytics. While the terms are sometimes used interchangeably, people analytics is a broad term that refers to all aspects of acquiring and managing employees, while workforce analytics is often more narrowly focused on workforce-planning issues.
As with many aspects of HR, the ideas behind workforce analytics have shifted greatly as a result of technological innovation that offers far more insight into employee data. In that respect, modern workforce analytics digs deeper, wields more influence and presents itself more visually than previous incarnations.
Such next-gen features allow HR departments to provide information that executives may have never considered before, which in turn leads to greater potential to prove ROI on human capital management (HCM) decisions, such as hiring and labor planning.
Benefits of workforce analytics
Workforce analytics applications can help enterprise leaders to develop and improve recruiting methods, make hiring decisions and keep the best workers with the company. In addition, workforce analytics can help managers do the following:
Predict the probability of an individual employee's success.
Identify the need for new departments and positions.
Determine which departments or positions can be reassigned or eliminated.
Identify and quantify physical risks to employees in specific positions.
Identify and quantify factors that influence employee engagement and job satisfaction.
Analyze and predict current and future technological needs.
Assign and delegate responsibility for tasks and goals.
Optimize the enterprise's organizational structure.
Help the enterprise to identify, encourage and cultivate its future leaders.
Workforce analytics tools
Large enterprise technology vendors tend to place their workforce analytics products within ERP systems or HCM suites. Other vendors offer stand-alone workforce analytics tools. The offerings can be on premises and in the cloud.
Regardless of the product, most of the models and algorithms behind workforce analysis tools offer the following features:
Automate the collection of data from multiple sources and verify the quality of the data.
Use standard workforce metrics to explain data.
Present information in appealing formats, such as dashboards and personalized reports.
Use predefined indicators to monitor continuous performance management data.
Some workforce analytics software allows direct integration into enterprise financial applications, which lets companies tie such analytics into long-term operational plans.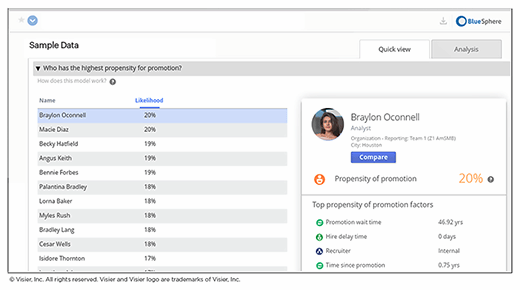 In the near future, more workforce analytics products will rely on machine learning to improve their accuracy and ease of use.
A sampling of vendors that sell workforce analytics software includes SAP, Visier, ADP, Oracle, Workday, Sage, Ceridian, Kronos and Ultimate Software.
Workforce analytics examples
Companies that found success with data-driven HR have shared useful case studies.
For example, in 2017, a life sciences research organization used workforce analytics tools to examine head count, diversity and employee performance as a way to augment the company's organizational setup.
Meanwhile, a hospital using a workforce analytics product was able to discover that open job requisitions had doubled to 500 over a two-year period, and as a result, the time to fill those available positions had increased. Armed with this data, the hospital hired more recruitment staff to deal with the requisition surge.
Other HR managers have used workforce analytics to monitor employee engagement -- bolstered by near-real-time data -- rather than listening in on water-cooler talk to judge the mood of an office.
Predictive workforce analytics
Like with many forms of business forecasting, predictive analytics has myriad applications within HCM planning.
For example, examining turnover rates may help companies predict which departments shoulder the most risk of key employees leaving -- perhaps allowing HR managers to get ahead of the problem.
It is clear in reading about, or talking to, professionals who have examined predictive workforce analytics that the most valuable HR data projects are ones that seek to solve actual challenges or answer real questions that a business faces. Simply producing a set of numbers from predictive workforce analytics holds little value to company executives, because there is often no action to take.
This was last updated in
November 2017
Continue Reading About workforce analytics
Dig Deeper on Core HR administration technology