vali_111 - Fotolia
Emerging Genesys cloud strategy makes Amazon friend and foe
Amid a leadership change, Genesys retools cloud strategy, adds partnerships with Infosys, Adobe and others as its relationship to Amazon and AWS veers toward 'co-opetition.'
Contact centers have slowly embraced cloud technology during the past decade, but the COVID-19 pandemic shifted them into overdrive as even massive contact centers with no remote work policies had to quickly support work-from-home agents.
One such company is Genesys, an estimated $3 billion annual revenue contact center technology vendor. It had to meet the new demands of the pandemic and rejigger its Genesys Cloud strategy during a period of C-suite upheaval that went on for more than a year. It started with CEO Tony Bates taking the helm in May 2019 and progressed to the early September hiring of Brian Swartz as CFO, who most recently held that position for Cornerstone OnDemand and Zulily.
Genesys finds itself increasingly challenged by Amazon Connect, an emerging force in the Contact Center-as-a-Service marketplace. Meanwhile, Genesys also co-sells Amazon's AWS contact center and cloud services to accommodate customers that want to push their on-premises technology stacks to the AWS cloud and integrate AWS services such as the new chatbot self-service tools and live call analytics, commingled with Genesys systems to streamline workflows.
The relationship between Genesys and Amazon is a business quandary many big tech companies experience as they engage in co-opetition. The situation is a product of Genesys' diverse global customer base, some of which cling to on-premises technology infrastructure, some demanding all-cloud implementations, and still others mixing and matching as they aspire to be in the cloud at some future point, said Dan Miller, lead analyst at Opus Research.
Meanwhile, forward-thinking customers demand Genesys support for multiple cloud providers. Late last month, Genesys accommodated that with an open, multi-cloud architecture that containerizes Genesys Engage, its enterprise customer engagement application suite. Customers can run it on premises or in the private cloud of their choice, including AWS, Google Cloud and Microsoft Azure.
"Two and a half years ago, Genesys started saying they were 'cloud-first,'" Miller said. "They acknowledged that there is an installed base of on-premises contact centers they are supporting, but that companies are moving their contact center infrastructure into the cloud, which branched out into the multi-cloud strategy."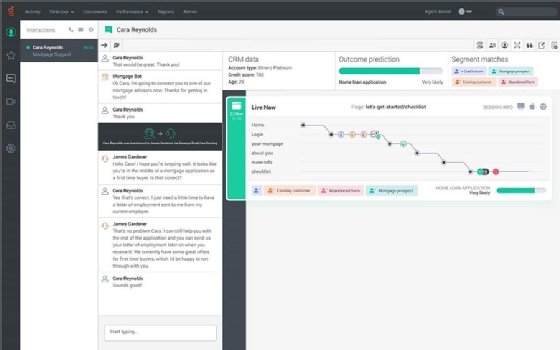 Then came the pandemic
COVID-19 and social distancing forced contact centers -- including the centers packed with agents and supervisors -- to support remote work. Peter Graf, executive vice president and chief strategy officer of Genesys, said the company has seen not only new cloud systems purchases, but also rapidly scaled-up support for remote agents by some of its 11,000 customers.
[Many of our customers] were not able to bring their employees back to the office, so we have enabled hundreds of thousands of agents to work from home in a matter of days.

Peter GrafExecutive vice president and chief strategy officer, Genesys
"Many of our customers were running Genesys on their premises and they weren't ready -- or they didn't have the license keys -- to run their system in a remote fashion," Graf said. Genesys had to get creative in supporting its customers' pivot to remote work by giving away license keys to keep them from grinding to a halt. "They were not able to bring their employees back to the office, so we have enabled hundreds of thousands of agents to work from home in a matter of days."
To meet the challenge of Amazon and other competitors in the CCaaS and communication platform-as-a-service market, such as Twilio and Nice, Genesys also diversified its integration portfolio. Last week, Genesys forged a partnership with Adobe, which enables Genesys' customer service data systems to plug into the Adobe Experience Platform, including a platform for real-time customer profiles.
For Adobe Experience Platform customers, the Genesys integration keeps the marketing and customer analytics sides of a business apprised of a customer's activity on the service side, and vice versa. Genesys also integrates with dozens of CRM platforms to accomplish the same data flow between sales and service. The lion's share of Genesys customers connect to Salesforce, SAP and Microsoft Dynamics, Graf said.
Genesys hopes that forging new integrations -- and even partnering with AWS -- will keep the company competitive and fend off CCaaS competitors from chasing after their cloud business, Miller said. It's a similar strategy that the company's other longtime on-premises contact center rivals such as Mitel, Avaya and Cisco have taken.
"Avaya's new cloud story isn't any different from what Genesys is doing; it's almost word for word [the same]," Miller said. "Each of the incumbents has a story to answer that question: Who do I look to that is credible with a cloud-based offering?"
Note: The original article has been updated to reflect that Genesys co-sells AWS services.