Definition
contingent workforce
A contingent workforce is a labor pool whose members are hired by an organization on an on-demand basis. A contingent workforce consists of freelancers, independent contractors and consultants who are not on the company's payroll because they are not employees of the organization. Organizations can hire a contingent worker directly or from a staffing agency. Such workers are usually added on an ad hoc basis to a company's workforce and work either on site or remotely. They generally receive fewer, if any, benefits and less pay than full-time workers, according to the U.S. Department of Labor, and are less likely to be protected by labor and employment laws.
The contingent workforce is an important element of an organization's workforce strategy as it provides additional agility and flexibility. Over 40% of the U.S. workforce is now made up of contingent workers, according to a report by the U.S. Government Accountability Office. The rise of the gig economy is also fueling the growth of the contingent workforce.
What is a contingent worker?
A contingent worker is a worker who is hired on a temporary or fixed-term contract basis to provide specific services for a specific project or period of time. Contingent workers are not employees and, therefore, do not receive the same rights and benefits as permanent employees. A contingent worker does not receive paid time off or health insurance, pays their own taxes and Social Security and often has limited interaction with the services and communications provided to employees.
Once a contingent worker's contract ends, they will leave the organization, unless they are given a new contract or contract extension. Any extension or new contract will be similar in nature to other contracts issued to them.
Examples of contingent workers include the following:
Independent contractors. Individuals who operate through a company and provide specific work products, such as construction workers or accountants.
Freelancers. Self-employed individuals, such as journalists and photographers.
Consultants. Individuals who operate through a company and provide specialized or expert advice and services, such as IT consultants or management consultants.
Contingent workers vs. employees
Contingent workers are not employees, although they do form part of the workforce. Employees work directly for the organization with an employment contract and are paid through payroll. The organization also pays Social Security taxes and often provides benefits. In contrast, contingent workers work for the entity that contracts with the organization, although some contingent workers contract directly with the organization, but they use a Statement of Work or other contractual agreement that is not an employment agreement.
Because contingent workers are not employees, organizations can't control or direct how they do the work. The contractor defines how the work is performed, which can sometimes clash with how the organization wants it to be done. This is a key difference between contingent workers and employees and influences how the two are classified.
Why hire a contingent workforce?
Hiring a contingent workforce can help alleviate staffing issues, such as when no one is available to hire for a specific role, to cover short- or long-term absences or to provide a specific set of skills for a limited time and where the organization does not have a long-term need. Hiring a contingent worker can also be cheaper than hiring a full-time employee, especially if the organization doesn't need their skills after the engagement ends.
Contingent workers are usually hired through vendor management system (VMS) software. However, sometimes they are hired directly or through a staffing agency or consulting firm. Organizations sometimes build up a talent pool of temporary workers that they can use when specific needs arise.
What are the advantages of a contingent workforce?
Cost savings is one of the major benefits of hiring contingent workers. Organizations save on the administrative costs associated with hiring and maintaining full-time employees. By hiring contingent workers, they do not have to make contributions to Social Security and unemployment compensation or pay payroll taxes. They are also not required to provide contingent workers employee benefits.
Flexibility is another benefit of a contingent workforce. Organizations can hire contingent workers on an on-demand basis and then terminate their employment once the work requirement is met.
A contingent workforce also helps businesses offset a skills gap. Contingent workers provide a large pool of experienced candidates who are already equipped with the skills required to execute a project efficiently.
What are the disadvantages of a contingent workforce?
There are challenges associated with hiring contingent workers. It can be difficult to find a contingent worker who can not only do the job, but adapt quickly to the corporate culture. Companies are also often skeptical of sharing inside information with these non-permanent workers.
Organizations can also face legal and compliance issues from worker misclassification. If an organization declares someone a contingent worker when they should be classified as an employee, the company runs the risk of paying hefty fines. Organizations must be aware of their industry's regulations on contingent workers before developing a strategy for hiring them.
With more organizations relying on the contingent workforce, businesses must be prepared to meet the challenges and demands of managing it. It is therefore important to implement standardized processes for hiring and developing a contingent workforce.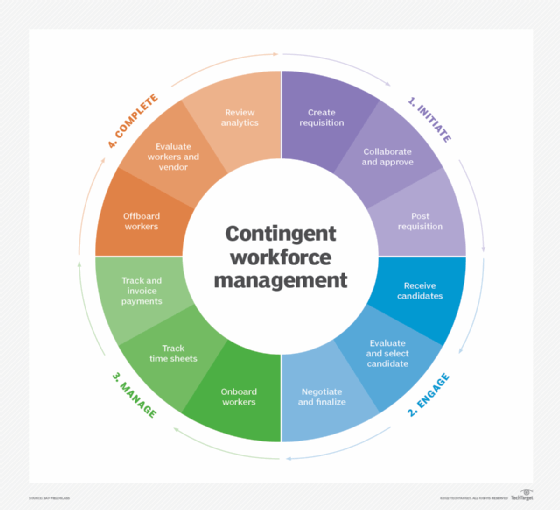 What is contingent workforce management?
Contingent workforce management is the process of managing the contingent workers in an organization. Typically, it involves processes related to worker assignment, provisioning equipment and system access, developing and enforcing policies and guidelines, and enrolling contingent workers in any training or compliance programs their role might require.
Some human resource information systems allow organizations to store contingent worker data so they can be viewed in the org chart and access systems such as the learning management system.
As mentioned, a VMS is specialized software for managing a contingent workforce. In 2022, Everest Group named Beeline, PRO Unlimited, SAP Fieldglass and VNDLY as VMS leaders. Some procurement and supplier management platforms support sourcing of contractors along with product and services, and some have a distinct VMS module. Workforce management software is another category that sometimes supports managing a contingent workforce.
This was last updated in
September 2022
Continue Reading About contingent workforce