9 best practices for a positive candidate experience
Competition is high to recruit and retain top talent. By giving job seekers a positive candidate experience, a company can stand out and fill positions.
Finding the right people to fill open positions comes down to the candidate experience.
The candidate experience encompasses all the possible feelings, perceptions, thoughts and emotions as an applicant goes through the recruiting process.
The candidate experience also includes non-deliberate interactions with potential employees, including the company's website, its career site and reviews on sites such as Glassdoor and Indeed.
After the Great Resignation, many companies are looking to hire new talent, and this phase is known as the Great Rehire. But the candidate experience should not be an afterthought, as the competition for talent is high. The unemployment rate is low, with the U.S. Bureau of Labor Statistics reporting an unemployment rate at 3.6% and job openings at 11.3 million as of May 31, 2022.
Here are nine candidate experience best practices to consider when recruiting new talent.
1. Use the right technology
Getting the right technology to screen applicants is the first step. To help process large volumes of resumes, organizations should consider an applicant tracking system.
The candidate experience encompasses all the possible feelings, perceptions, thoughts and emotions as an applicant goes through the recruiting process.
The right technology for applying, accommodating those with disabilities, and managing time and responses will make the candidate experience significantly better.
Some of the latest technologies can also improve the hiring process, including the following:
Recruitment marketing with AI. Using automated recruitment marketing with AI will help find the right channels to reach the top talent, including social media sites such as LinkedIn.
Robotic process automation (RPA) bots. RPA bots can help companies improve the recruiting process by reaching out to candidates, performing screenings and updating candidates on their status. When searching RPA bot services, find one that can carry natural conversations. Keep recruiters involved so they can provide input on the process and how the chatbot can respond to questions.
Video interviews. Video interviews on platforms such as Skype, Zoom or Teams can also help the process move quicker. The average recruiter fills positions within 30 days, according to a survey by Jobvite. Moving the process along more quickly by interviewing online is a great way to stay in front of top talent before they move on to other opportunities.
2. Personalize communications
Candidates do not connect with generic messages -- especially when an email starts with "Dear candidate." Personalizing emails with names, position title and referral names can go a long way. Start personalizing emails from the beginning to build a relationship. Using a template can help keep recruiters organized and plug in the right information, including the current stage of recruitment.
Recruiters can automate follow-up emails for higher response rates and to stay in front of applicants.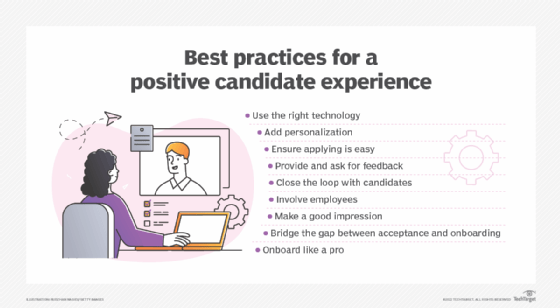 3. Ensure applying is easy
Each step of the application process should be easy for candidates, or it will turn them away. Allow potential employees to either upload a resume or fill out application questions instead of both. Also, allow applicants to save their progress if they can't complete it in one sitting.
Add a time frame for the initial response after the "We've received your application" email.
Recruiters should also be sure the applications process is accessible for all applicants. Websites and applications should include alternate text, closed caption videos and content presented in various ways to accommodate people. Assistive technologies can make applying easier for those with disabilities.
4. Provide and ask for feedback
Providing feedback is essential, whether it is negative or positive. Ninety-four percent of job seekers want feedback from their interviews, but only 41% have received it, according to a LinkedIn Talent Solutions report. The candidate can feel positive about their interaction or learn how to develop needed skills for the next interview.
Improve the candidate experience by reaching out after the interview. Recruiters should send candidates a satisfaction survey to find areas for improvement and what the company does well to optimize recruitment for future candidates. Asking for feedback shows the company is open to suggestions, which can provide a positive image.
5. Close the loop with candidates
After choosing a candidate, don't forget to let the others know their status. A company's brand can be damaged if candidates don't hear back one way or another. Regular communication can keep candidates engaged. For example, Foot Locker improved its candidate experience through updated talent management systems and automation. However, it's just as important to notify those candidates who will not move on to the next step of the interview process.
Displeased people may leave negative posts on sites such as Glassdoor, Yelp, Vault and Indeed that future job seekers will see. Even if someone isn't a good fit for the current position, they may be a great option for another opening in the future. Let them know that their resume will be archived for future positions and encourage them to reach out if they see another open position.
It's also important to assign applicants a single contact to guide them through the entire hiring process. By having a single point of contact assigned to each candidate, it ensures timely response without any delay during hand offs.
6. Involve employees
Businesses should involve more than the hiring manager in an interview to encourage open and honest communication. Consider connecting candidates with current employees to ask questions. This could be in person or using a messaging app, such as Slack or Teams, to address any questions. By talking to other employees, the candidate can get a feel for the employee experience within the organization.
Consider an ambassador program for committed employees to help them recruit new talent. This includes a referral program with incentives -- such as bonuses. Involve employees by sharing their stories on social media and proactively seeking out employee reviews on career sites such as Glassdoor and Indeed.
7. Make a good impression in various scenarios
While only one person is chosen for a position, companies can still offer a great candidate experience to others that did not get the job.
For people not selected, give them feedback such as more experience or training on a certain tool is needed. Few companies take them time to provide this feedback, and it can improve the candidate experience.
If there are negative reviews, find out what the problem is and address it. Reach out to former employees to find weak points and get feedback on how to improve them. Candidates can spot fakeness, so be transparent and offer an honest relationship by sharing plans to address any weaknesses.
Recruiting remote employees is different as technical problems during the interview are common. Be sure to make the candidate feel comfortable by discussing the platform ahead of the interview. Recruiters can also plan a few simple questions to help make candidates feel less awkward at the beginning of an interview.
When hiring remote employees, it may be hard to make a great impression. Recruiters might also consider giving candidates a tour of the office so they can see what the company looks like.
8. Bridge the gap between acceptance and onboarding process
After deciding on a candidate, it's time to close the gap between the final interview and the onboarding experience to make the recruit feel like a part of the business. During this time, the candidate may have second thoughts or receive additional job offers. By making an employee feel like they belong, they are 50% less likely to quit, according to coaching firm BetterUp. Start this connection as soon as the offer is accepted.
Keep in touch with them and send information to keep them excited. Send a checklist for the first day. Before they start, keep them involved by having digital team interactions or sending company merchandise.
Businesses may also have managers and co-workers reach out and introduce themselves before the first day. They can send welcoming emails, create a video or send a card to show they are excited for the new employee to start.
9. Onboard like a pro
Onboarding is still part of the candidate experience. Businesses should make all the necessary preparations before the person arrives. Hold a meeting with all the staff members to ensure everyone knows what to do on the new employee's first day and discuss ways to make sure the person feels welcome.
Only 12% of employees feel their employer does a great job onboarding new employees, according to a Gallup poll. Effective onboarding starts before the employee's first day. Online software can handle processes such as benefits, training and other paperwork, leaving more time for the hiring manager or recruiter to handle the personal side of onboarding such as executive introductions, office tours and team introductions.
Employees with a negative onboarding experience are twice as likely to look for a new job, according to a report by Digitate. Having planned preboarding and onboarding programs can have a significant effect on an employee's decision to stay. Nearly a third of employees quit within their first six months of employment, according to a BambooHR study, so be sure to create a successful program to help the employee feel welcomed and valued from the start.
Businesses should also consider pairing each new employee with a mentor to help with small questions going forward.
Dig Deeper on Human resources management