Definition
chief human resources officer (CHRO)
What is a chief human resources officer (CHRO)?
The chief human resources officer (CHRO) is a top-level management executive in charge of an organization's employees. The CHRO is responsible for running an organization's human capital management and other HR technology systems.
Increased competition for employee talent has elevated the importance of the HR function in companies, nonprofits and government agencies. The rapid development and adoption of HR software and increased government compliance requirements have also contributed to HR's growing importance.
As a result, organizations have raised the status of their senior HR leader to the level of C-suite executives, such as the chief information officer, chief finance officer (CFO), chief marketing officer and chief operating officer, with more or less equal access to the chief executive officer (CEO). Sometimes, instead of CHRO, organizations use titles such as vice president of human resources or chief people officer.
Responsibilities of the CHRO
The CHRO has responsibilities in several main areas. They include the following:
Develop a talent and training strategy. One of the CHRO's chief tasks is to design and carry out a talent strategy that encompasses recruiting, hiring, developing and retaining employees. That strategic planning process includes HR disciplines such as talent acquisition and management, succession planning and employee training using learning management systems. The CHRO should have a strong understanding of the difference between good and great talent, and be able to foster a self-renewing stream of leaders. In this part of their job, CHROs in larger enterprises often lead initiatives related to the selection and use of talent management software.
Oversee salary and compensation structure. CHROs play a lead role the decision-making involved in setting employee compensation rates and making sure the organization stays competitive with pay, bonuses and benefits.
Oversee HR staff and assets. The chief human resources officer oversees a range of people on the HR team who help business managers hire and manage the people in an organization. They also manage the compensation and benefits programs. The CHRO role is key in selecting and overseeing an organization's benefits software suite and software systems to administer healthcare and other insurance plans, as well as retirement and other benefit programs.
Manage company culture. CHROs oversee HR policies related to employee engagement, perks, recognition and wellness programs. Engagement programs are a popular management strategy that are increasingly reliant on specialized, mobile-optimized software. These programs aim to increase employee satisfaction, productivity and retention. The CHRO is also responsible for all aspects of employee relations, including labor relations, collective bargaining and handling grievances, complaints and discipline.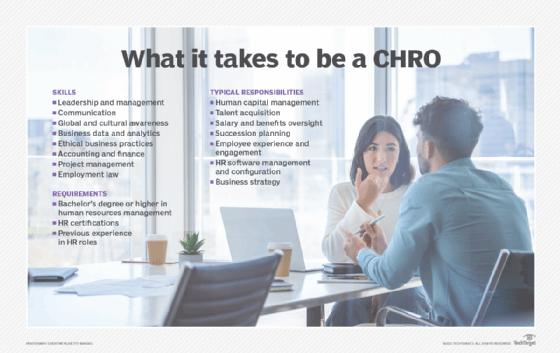 Career path for CHROs
There is no clearly defined career path for CHROs. They often rise in an organization through positions in which they get experience recruiting, managing, assessing and coaching people.
CHROs who do rise through traditional HR roles often hold the following types of positions earlier in their careers:
HR assistant or similar entry-level HR positions assist with basic HR programs, such as onboarding new hires, answering employee questions and benefits paperwork.
HR specialist is skilled at a specific HR job, such as benefits or talent acquisition. These positions usually require a bachelor's degree.
HR business partner or manager oversees policies, procedures and compliance for a specific business unit or department in an organization.
HR director has similar responsibilities to managers but may oversee a larger team. A master's degree is sometimes necessary for this position.
HR leaders who don't come from a traditional HR background may switch over from other top management positions. These include other C-level positions such as CFOs and chief technology officers. Other jobs with a mix of tech, business and management knowledge could generate potential CHROs.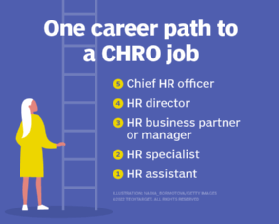 Some business experts recommend that CHROs look for CEOs who see human capital resources as just as important as financial capital to the organization's success. Such CEOs are often looking for frank counsel on how to structure the workforce. CHROs and their HR departments are sometimes referred to as strategic partners to CEOs and other C-level employees and business managers.
Some large enterprises hire and more quickly promote younger workers in order to stimulate innovation. As a result, aspiring CHROs may find that their career paths are shorter, and they do not necessarily have to come out of traditional HR roles.
What salaries do CHROs make?
Salary estimates for top HR job titles fall within a wide range tied to the size of the organization. As of this writing, Glassdoor described the salary range for a CHRO from $82,000 to $501,000 per year, with average base pay at $166,000 and an average of $30,000 in additional pay.
Salary.com puts the expected salary between $180,000 and $390,000 per year, with an average salary of $250,800. In general, CHROs make six figures.
How to become a CHRO: Key skills and experience
CHRO job descriptions include a range of required skills. The following are among the more important ones:
Analytical. CHROs should have a clear understanding of how to use data and analytics about talent to advise CEOs and other company executives on business strategy and change management, including workforce management.
Leadership. Top HR professionals should have experience in managing teams and budgets. They should also understand business analysis. In addition to HR leadership and expertise, they should be trained in ethical business practices and be skilled in leadership, relationship management, communication and global and cultural awareness.
Certified. CHROs should consider completing a Society for Human Resource Management certification or Human Resource Certification Institute certification.
Performance-oriented. CHROs are responsible for helping an organization's workforce contribute directly to business goals and the overall financial performance of the enterprise.
CHROs are responsible for maintaining and configuring enterprise HR software systems. Learn how to choose an HR software system that addresses specific business needs with this step-by-step guide.
This was last updated in
March 2022
Continue Reading About chief human resources officer (CHRO)