tiero - Fotolia
Tableau roadmap features improved browser capabilities
Tableau's plans for 2021 include providing an end-to-end analytics experience on the web that mimics what users are able to do within the vendor's platform.
The web browser features prominently in Tableau's product roadmap for 2021.
On Tuesday during the keynote session at its virtual user conference, Tableau unveiled its first collaboration with Salesforce since being acquired by the CRM giant in June 2019. It is an integration with Salesforce's Einstein Analytics expected to be generally available early in 2021.
But Tableau revealed far more about its roadmap, and primary to its plans in the coming months is enabling users to engage with Tableau wherever they work.
Tableau first introduced Tableau Online as part of Tableau 2018.1, giving users the ability to begin their analysis in their web browser by connecting to databases and uploading text and spreadsheet data. But users couldn't remain in the browser for all of their work with Tableau; eventually, they had to go into the Tableau Desktop environment to finish..
That will change in 2021 when users will be able to do all of their data analysis in the web browser, the vendor revealed.
"Tableau is going all in in the browser," Francois Ajenstat, chief product officer of Tableau, said on Monday during a media briefing before the conference. "All of the capabilities our customers know and love about Tableau are going to be in the browser next year."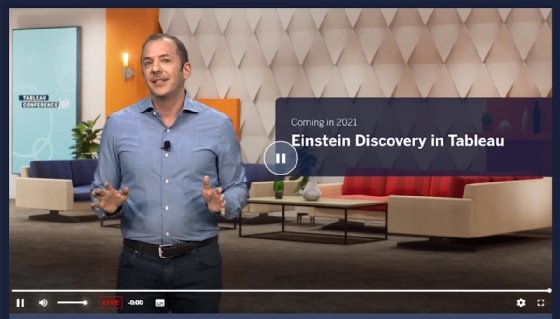 And they'll be able to remain in one environment without having to eventually shift to Tableau Desktop.
"We want to give you the best of Tableau right in the browser, no desktop required," said Ellie Fields, senior vice president, product development. "Next year, you'll be able to have an end-to-end browser experience so users can analyze data anywhere."
Part of that ability to work entirely in the browser will be a tool called Personal Space, which Tableau has on its roadmap for 2021.
Tableau is going all in in the browser. All of the capabilities our customers know and love about Tableau are going to be in the browser next year.

Francois AjenstatChief product officer, Tableau
Personal Space enables users to work on the web with their data but keep it private until it's ready to be shared. They can access their work from any device yet keep it from being viewed by someone else until it's complete.
"It's a safe place where you can explore and create, and share when you're ready," Fields said. "And for admins, keeping unfinished work … means less clutter on your server. This kind of governance is critical to supporting a data culture."
Other features being added to Tableau to help users working in their browser include an autosave function and a tool called Collections where users can group and curate related content.
Enabling analytics in the browser is just one aspect of Tableau's roadmap.
Ajenstat said the roadmap is focused on three themes: empowerment (which he defined as delivering analytics for everyone), data management, and expanding the augmented intelligence and machine learning capabilities of the Tableau platform.
As demonstrated by its integration with Einstein Discovery, a tool that uses AI and machine learning to fuel predictive modeling and recommendations, much of the advanced AI and machine learning power will be added from Einstein Analytics, which is being rebranded Tableau CRM.
Future integrations, meanwhile, will center around data preparation capabilities that can read and write to both Tableau and Einstein Analytics and developing connectors so content can be moved back and forth between the two platforms.
"In a nutshell, [collaboration with Salesforce] means we can innovate faster than we could alone," said Adam Selipsky, president and CEO of Tableau. "We can tap into the sophisticated AI and machine learning capabilities Salesforce has built."
Beyond integrating with Einstein Analytics -- now Tableau CRM -- Ajenstat said Tableau will also begin integrating with MuleSoft, a data integration vendor Salesforce acquired in 2018, and Datorama, an AI marketing software vendor Salesforce also bought in 2018.
Using MuleSoft, in particular, is something Boris Evelson, principal analyst at Forrester, said he has been waiting for since it can help Tableau and Einstein blend together.
"Next, I expect the data connectivity and data ingestion functionality of both tools to start converging based on Salesforce's MuleSoft data integration platform," he said. "Part of that may be data preparation functions of both platforms being able to write back to each other. The nirvana of integration will be some kind of common data catalog, semantic layer or knowledge graph spanning both platforms."
In addition to further integrations with various Salesforce platforms, Tableau plans to offer an integration with Slack, further enabling users to analyze data within their workflow rather than forcing them to toggle between websites and applications.
With the integration, Tableau users will get Slack notifications about their data, and then have the ability go into the notification itself to see why the alert was triggered or click on a link to the dashboard to see their data.
Finally, in the area of data management is Tableau Prep for the Browser, a tool that blends with the theme of empowerment and will be available as part of Tableau 2020.4, unlike most other features Tableau has on its roadmap that won't be available until 2021.
"If you think about everything that's happened this year, all the crises and all the all the changes, one thing that hasn't changed is our focus on innovation," Ajenstat said. "In fact, this year we've accelerated our innovation."