Fotolia
Tableau 2020.3 highlighted by new data prep capabilities
A new data preparation tool and enhanced predictive modeling capabilities highlight analytics software vendor Tableau's third-quarter platform update.
A new data preparation tool and enhanced predictive modeling capabilities highlight Tableau 2020.3, the business intelligence software vendor's third-quarter platform update.
Tableau revealed the new features on Wednesday and they are now generally available.
The unveiling of Tableau 2020.3 comes more than a year after the Seattle-based analytics and BI vendor was acquired by Salesforce in June 2019 for $15.7 billion and about nine months after the deal closed and the two were allowed to start collaborating. But despite the ability to work together and the sense that the two enterprises can complement one another, there's still no clear evidence of product development between the two.
"I don't see any Salesforce-specific progress in 2020.3, but work is definitely underway to better integrate the analytical options within the Salesforce portfolio," said Doug Henschen, principal analyst at Constellation Research, noting that last month Salesforce introduced a marketing-specific integration between AI marketing software vendor Datorama and Tableau.
That integration is similar to one that Looker, which was acquired by Google four days before Tableau was bought by Salesforce, revealed last week with the Google Marketing Suite in its most recent platform update.
I don't see any Salesforce-specific progress in 2020.3, but work is definitely underway to better integrate the analytical options within the Salesforce portfolio.

Doug HenschenPrincipal analyst, Constellation Research
"These sorts of integrations are the kind of thing you can do pretty quickly," Henschen said. "More challenging will be bringing technology from one vendor inside that of the other."
Similarly, Dave Menninger, senior vice president and research director at Ventana Research, said he still doesn't see evidence of much collaboration between Salesforce and Tableau.
"The release includes a variety of improvements across different aspects of the product, but they are almost entirely independent of Salesforce," he said, later adding, "I have to admit, I've been somewhat surprised at the lack of integration activities from Salesforce and Tableau."
While analysts see no evidence yet of significant collaboration between Tableau and Salesforce, Ryan McShane, Tableau's director of product marketing, said that becoming part of Salesforce has sped up the vendor's development pipeline.
Regarding the new features in Tableau 2020.3, Write to Database is a new feature in Tableau Prep Builder that aims make the data preparation process more governed and scalable, as well as easier with a drag-and-drop interface. In addition, it's designed to make data preparation more integrated into an organization's existing IT infrastructure.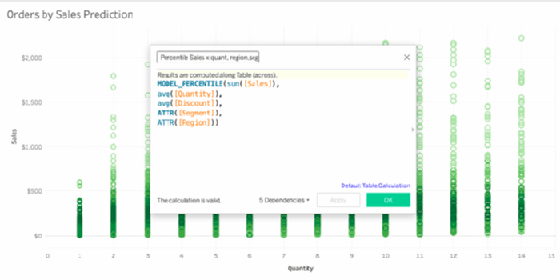 Organizations can store cleaned and prepared data from Tableau Prep Builder in the database of their choice -- whether on premises or in the cloud -- and then access the data at any time for any purpose. That includes for something as advanced as machine learning or simply for data visualization analysis in Tableau.
"The Tableau Prep improvements of writing back to other databases will significantly expand the value of Tableau and Tableau Prep," Menninger said. "Tableau Prep can now be used for multiple data sources and targets, but more important to me is the ability to integrate outputs from the analytic process into other business processes and operations."
Tableau 2020.3 also includes new predictive modeling functions that enable users to build and update models without leaving Tableau and eliminate the need for third-party extensions and complex coding. Spatial File Union, meanwhile, is a new tool that makes spatial joins more simple by combining geographic data and comparing data from the same location over a period of time.
In addition, Tableau 2020.3 includes new tools for Tableau administrators to deploy Tableau across their organizations; new mobile apps for iOS, Blackberry and Android; a series of new partner-built connectors that enable integrations between Tableau and Dremio and Yellowbrick, among others; and improved native connectivity with SAP HANA.
"It's a solid update offering three important improvements," Henschen said, referring to Write to Database, the predictive modeling capabilities and the tools that enable Tableau administrators to more easily deploy Tableau throughout their organizations.
"The [administration] feature will make it easier for organizations to be flexible, offering access to Tableau to new users without permanently locking up available licenses," he continued. "This should help organizations avoid 'shelfware' and make the most of their available licenses. It will be particularly valuable as deployments and use cases expand."
Menninger, meanwhile, said Tableau 2020.3 shows that Tableau continues to value product development, even if the vendor hasn't recently been on the cutting edge of innovation.
"There are many features in the release demonstrating that Tableau is continuing to invest in R&D," he said. "There is no one area that is completely new and innovative, but they have improved previously introduced innovations."
According to McShane, customer feedback was the primary driver behind the new features in Tableau 2020.3, as it is with most of Tableau's product innovation. Next for Tableau, he added, will be a focus on deeper integrations with Salesforce, including the addition of some of the predictive capabilities in Salesforce's Einstein Analytics to Tableau.
"We're going to add more features around analytics, self-service, enterprise, cloud, and of course around Salesforce," McShane said. "The future is bright."