Worawut - stock.adobe.com
Looker, Google unveil first collaboration since acquisition
Six months after Google's acquisition of Looker finally closed, the two unveiled their first collaboration during Google Cloud's virtual user conference.
It didn't take long for Looker and Google to find ways to combine forces.
Looker, a cloud-based BI vendor founded in 2012 and based in Santa Cruz, Calif., was acquired by Google in June 2019 for $2.6 billion. The two entities, however, were prevented from collaborating until the purchase received final regulatory approval in February 2020.
Six months after the two vendors were permitted to start working together, Looker unveiled its latest platform update -- and first since officially joining Google Cloud -- on Thursday during Google Cloud Next 2020, Google Cloud's virtual user conference that began in July and extends into September.
And among the new features is full support for the Google Marketing Analytics Suite.
Salesforce's acquisition of Looker competitor Tableau, meanwhile, closed in November 2019, and though Tableau's third-quarter update will be released later this month, to date Salesforce and Tableau have yet to release anything they've worked on together.
"Our intention with this announcement is to show our continued investment in our core product, but also that we are taking advantage of opportunities that are now available to us as part of Google," said Pedro Arellano, head of product marketing at Looker at Google. "We're now encountering all these opportunities to work with different Google products and find integration points."
Looker offers what it calls Looker Blocks, essentially prebuilt pieces of code organizations can use to quickly build an analytics stack. Among them are blocks tailored for different business uses, such as sales, marketing and customer experience.
Looker's support for the Google Marketing Analytics Suite is a set of new blocks designed for Google's customers. The blocks were created in concert with Google engineers, and include Looker Blocks for Search Ads 360, Looker Blocks for Display and Video 360, Looker Blocks for Google Analytics 360 and Looker Blocks for Campaign Manager. Each of the blocks, meanwhile, include machine learning capabilities from Google BigQuery, the tech giant's cloud data warehouse.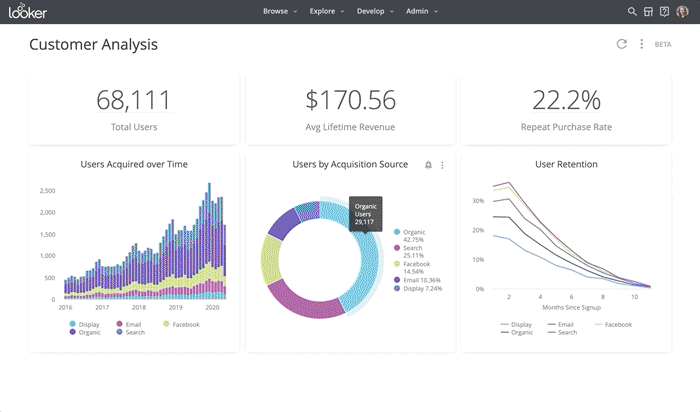 As far as being a starting point for the collaboration between Looker and Google, Doug Henschen, principal analyst at Constellation Research, said the Google Marketing Analytics Suite was a smart spot to begin.
"The new Looker Blocks for the Google Marketing Analytics Suite are an obvious place to start on tighter integration with the rest of the Google Cloud Platform," he said. "Looker has long used its blocks to support tighter integration with partners. The new blocks will obviously make it easier for Looker users to tap into and analyze data from the Google Marketing Analytics Suite."
He added, conversely, that users of Google Data Studio will now have reasons to consider Looker since Data Studio is essentially just a data visualization and reporting tool, while Looker is a full-fledged BI platform that enables semantic modeling, data and analytics reuse and enterprise-grade BI capabilities.
Our intention with this announcement is to show our continued investment in our core product, but also that we are taking advantage of opportunities that are now available to us as part of Google.

Pedro ArellanoHead of product marketing, Looker at Google
Support for the Google Marketing Analytics Suite, however, marks just the first collaboration between Looker and Google.
Before the end of 2020, Arellano said there will be greater integration between Looker and BigQuery. In 2021, Looker plans to work with Google on improving the augmented intelligence capabilities of its platform, including natural language processing.
AI, meanwhile, is a capability Henschen said Looker has been lacking relative to some of its competitors -- ThoughtSpot, for example, recently partnered with VoiceBase to improve its natural language processing capabilities and natural language query is a central part of Sisense's spring update -- that have made AI features key pillars of their platforms.
"The one 'modern' area where the platform still needs to step up is on augmented analytics," Henschen said. "Natural language generation, natural language query, and ML- [machine learning] and graph-generated suggestions and recommendations for data discovery and analysis are getting to be commonplace across BI and analytics platforms, but I haven't seen a lot from Looker on these fronts."
Regarding future collaboration between Looker and Google, Henschen added that Looker was already integrated with BigQuery -- along with other cloud data warehouses -- in a way that went well beyond simply running on top of a database. So while there will be even further integration, Looker and Google can focus their collaboration efforts on other areas.
"The next round of integration might include nice-to-have integrations with other Google data and data analytics services, perhaps including [Cloud] Dataprep, Data Catalog, Cloud Composer and Dataproc," Henschen said.
Beyond collaboration with Google, Looker's platform update includes a host of features centered around delivering a better BI experience so users can more easily reach insight, improving the performance of Looker's capabilities to make them faster and able to handle greater scale, and adding more tools for application developers so they can customize their BI tools and embed BI capabilities into their organizations' workflows.
In terms of improved performance, among the new features are aggregated awareness to speed up queries and help reduce the cost of queries, faster data downloads so users can stream query results more quickly and connection pooling to reduce query latency.
New features for developers, meanwhile, include integrated development environments that make workflows more intuitive via advanced controls, a cross-instance repository to share model development and folders to improve project organization and foster more collaboration.
"We believe very strongly in a couple of things," Arellano said. "The first one is that conventional BI is very constraining in the way that it allows people to benefit from data.
"So, continuing to give companies the tools and the inspiration and the confidence to go beyond [reports and dashboards] in different ways is something very important to us," he continued. "The second is the whole idea of being multi-cloud and database agnostic."