Fotolia
Atrium offering combines powers of Salesforce and Tableau
A new offering from the Atrium consultancy hints at how Salesforce's Einstein Analytics and Tableau may complement each other now that Salesforce has acquired Tableau.
A new offering from Atrium hints at how Einstein Analytics from Salesforce and Tableau may work in concert with each other in the wake of Salesforce's acquisition of Tableau last year.
Atrium is a consulting firm founded in 2018 and based in Indianapolis; it helps organizations develop a data-driven decision-making process using augmented intelligence and analytics.
On April 8, Atrium unveiled the Tableau-Einstein Jumpstart Offering, a service that helps Tableau users get started with AI and machine learning by building predictive models in Einstein Discovery and then surfacing those predictions to be viewed in Tableau. The offering comes 10 months after Salesforce agreed to acquire Tableau in June 2019 for $15.7 billion and about five months after the deal received final regulatory approval and the two companies were allowed to start collaborating.
With Salesforce and Tableau still working through the complicated process of integrating Tableau into the Salesforce universe, however, Tableau has not yet released any new tools that show clear evidence of Salesforce's influence.
In the meantime, Atrium, which has partnership agreements with both Salesforce and Tableau, developed the Tableau-Einstein Jumpstart Offering to bring some of the strengths of Einstein Analytics into Tableau.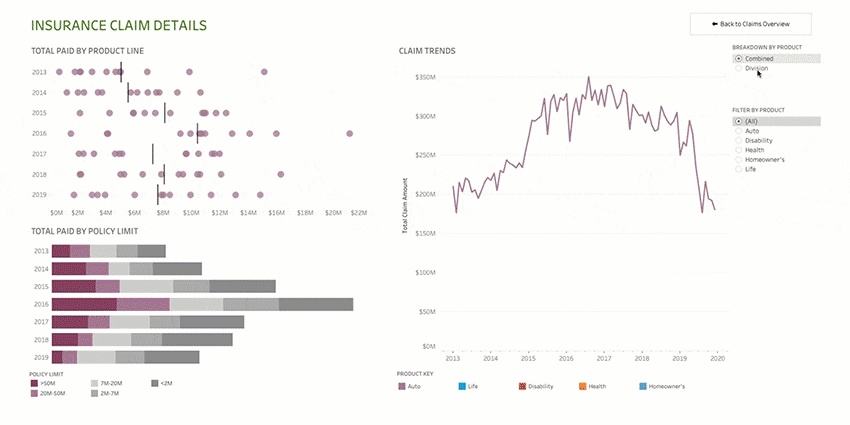 "No doubt we'll soon see product-level integrations between Salesforce Einstein and Tableau directly from these vendors, but consulting firms such as Atrium are in a good spot to provide the education and guidance many firms will need to deliver accurate and trustworthy predictive insights that offer significant business value," said Doug Henschen, principal analyst at Constellation Research.
Meanwhile, David Dixon, director of analytics at Atrium, said he views the Tableau-Einstein Jumpstart Offering as a precursor to what Salesforce and Tableau will eventually develop together as a way to combine the forces of Einstein Analytics and Tableau.
"The way I look at this is this is sort of a bridge offering," he said. "Based on some early conversations I've had [with Tableau], I think in 18 months to two years a lot of the functionality that we're offering in terms of being able to surface those predictions in Tableau will be native to the platform. But it's not there now, and there's a need there."
Beyond just bridging the gap between when Salesforce and Tableau combined forces and when they'll develop new products together, the Tableau-Einstein Jumpstart Offering shows the value the Einstein Analytics platform can bring to Tableau users, said Mike Leone, senior analyst at Enterprise Strategy Group.
This is sort of a bridge offering. ... I think in 18 months to two years a lot of the functionality that we're offering in terms of being able to surface those predictions in Tableau will be native to the platform.

David DixonDirector of analytics, Atrium
"While there are some who believe the companies overlap to some extent, tying together Einstein and Tableau will expose core Tableau users to a whole new world of prediction through Salesforce," he said.
Leone cautioned, however, that because the capability was developed by a third party it's a bit less exciting than it would be had Salesforce and Tableau developed it themselves.
"To some extent it serves as a first reveal, but it's not coming directly from the vendors themselves so it loses some polish," he said. "While this is one of the many ways I'm expecting to see Salesforce and Tableau come together, I'm expecting more direct integrations and solution and service offerings from them in the future."
Atrium originated the idea for the Tableau-Einstein Jumpstart Offering independent of Salesforce and Tableau, but before developing the service the company went to both Salesforce and Tableau and discussed it with them, according to Dixon.
Later, as Atrium neared the end of the development process, it went back to Salesforce and Tableau to make sure the Tableau-Einstein Jumpstart Offering was what the organizations envisioned when Atrium first approached them with the idea.
"They were pretty excited about it," Dixon said. "We're partners with both Tableau and Salesforce -- they're obviously one organization now, but they have their own partner programs -- and I think we were able to basically show how to achieve now, today, what their vision is for their product in 18-24 months, or a component of that. It was well received."
Atrium's plan for the Tableau-Einstein Jumpstart Offering is to provide it as a service.
Atrium will develop and train an initial predictive model in Einstein Discovery and build it so that the model findings surface in a Tableau Dashboard also developed by Atrium.
"It's really a way to get started in terms of your machine learning-AI journey, and consuming those predictions and insights within a Tableau dashboard interface," Dixon said. "We think we can to this in four to six weeks with some guardrail assumptions around the data being prepared and ready to go."
Moving forward, Atrium has ideas for how to build on the initial Tableau-Einstein Jumpstart Offering. While currently only focused on the predictive modeling capabilities of Einstein Discovery, a future iteration could include the ability to explore different scenarios.
And as with the first iteration of the Tableau-Einstein Jumpstart Offering, Leone expects Salesforce and Tableau to be receptive to more from Atrium.
"Building out a professional services organization within a single company is a challenge, never mind building one out across two companies," he said. "This enables the two companies to, for lack of a better term, jump-start professional services through a third party."