hin255 - Fotolia
Acquisition by ThoughtSpot adds data integration capabilities
ThoughtSpot both acquired Diyotta on May 4 to add data integration capabilities and released ThoughtSpot Everywhere, a new embedded analytics platform, for general availability.
Just over a month after making its first acquisition, ThoughtSpot unveiled its second.
The analytics vendor, founded in 2012 and based in Sunnyvale, Calif., revealed that it acquired Diyotta, a data integration vendor founded in 2011 and based in Charlotte, N.C.
Financial terms of the acquisition were not disclosed.
On March 31, ThoughtSpot acquired SeekWell, a vendor whose platform uses SQL code to query data and deliver insights and updated data sets to users back in the business applications where they work, marking ThoughtSpot's first acquisition.
In addition to the acquisition of Diyotta, ThoughtSpot on Tuesday released ThoughtSpot Everywhere, a customizable tool developers can use to embed analytics applications into end users' workflows, for general availability. The vendor first introduced ThoughtSpot Everywhere in preview in December during its virtual user conference.
ThoughtSpot's acquisition of Diyotta will enable ThoughtSpot to better develop integrations -- and develop them more rapidly -- to improve connectivity with other cloud data platforms and expand what customers can do with data in the cloud. The acquisition will add 60 new employees and increase the size of ThoughtSpot's R&D team by about 25%.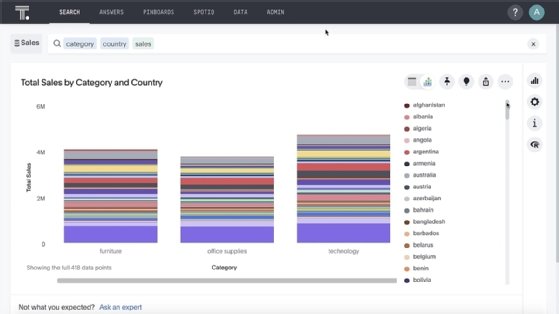 Given the value of integrations, it's a move that adds significant capabilities, according to Mike Leone, senior analyst at Enterprise Strategy Group.
"The Diyotta acquisition makes great sense," he said. "ThoughtSpot is all about enabling an open data ecosystem of dynamic tools to deliver access and insight everywhere, and everywhere is the key here.
"With organizations embracing modern stacks, it means they'll need help integrating tools and services," he added. "Diyotta will enable the level of data integration that organizations require."
Similarly, ThoughtSpot CEO Sudheesh Nair said that will enable greater connectivity.
The Diyotta acquisition makes great sense. ThoughtSpot is all about enabling an open data ecosystem of dynamic tools to deliver access and insight everywhere, and everywhere is the key here.

Mike LeoneSenior analyst, Enterprise Strategy Group
"By bringing Diyotta into the fold with ThoughtSpot, we'll be able to dramatically accelerate the number of integrations and connections with other technologies in the data ecosystem, including cloud [augmented intelligence] and [machine learning] services, cloud data sources and data applications," he said. "It's a central component to the ThoughtSpot Modern Analytics Cloud."
Nair noted that the pandemic has accelerated the pace of digital transformation, and adding agility through integrations will enable organizations to take advantage of new technologies as they are developed and remain competitive with their peers.
"The pace of innovation happening in the cloud data ecosystem is at a breakneck pace, and is only continuing to accelerate," he said. "Bringing [Diyotta] into ThoughtSpot will help us accelerate the number and depth of integrations we can make across this space."
At the time ThoughtSpot acquired SeekWell, Nair said ThoughtSpot's first acquisition wouldn't be its last. Before that acquisition, ThoughtSpot used partnerships to add capabilities. Now, however, acquisitions have become another way for the vendor to expand its breadth of technology offerings.
ThoughtSpot Everywhere, meanwhile, expands capabilities via ThoughtSpot's own development pipeline.
The low-code tool will enable developers to build interactive data applications that can be embedded into organizations' own applications, products and services to deliver analytics capabilities to end users when and where they're most convenient, the vendor said.
ThoughtSpot previously provided embedded BI, but capabilities were limited.
Fueled by AI and ML, ThoughtSpot Everywhere is interactive and enables users to query data and get answers in the middle of their workflows, receive push notifications when a metric of interest changes significantly and ultimately make data-driven decisions without having to toggle between environments.
In addition, ThoughtSpot unveiled a new developer playground in which developers can experiment with ThoughtSpot services.
"Customers are sitting on a goldmine of data, [but] trying to embed traditional analytics tools into their existing offerings, or building net new data apps, has been challenging, time-consuming and complex," Nair said. "Even worse, static dashboards or charts ... limit users, creating poor user experience that fails to maximize the value of these data apps. ThoughtSpot Everywhere solves both these problems."
Leone, meanwhile, said ThoughtSpot Everywhere is yet another substantial move for the vendor as it expands beyond its initial focus of search-driven analytics and becomes a broader cloud analytics company.
"It's quite significant for ThoughtSpot," he said. "This highlights a repositioning of the company, and I think users will welcome the repositioning with open arms as the focus is to better empower more users to benefit from the platform."
Enterprise Strategy Group is a division of TechTarget.