FotolEdhar - Fotolia
ThoughtSpot strategic partnerships help add capabilities
Through its partnership strategy, ThoughtSpot is adding to its capabilities as a BI software vendor the same way others are improving theirs by mergers and acquisitions.
While other business intelligence software vendors have used mergers and acquisitions to expand their capabilities, ThoughtSpot's strategic partnerships are a way for the BI and analytics vendor to achieve a similar end.
ThoughtSpot is a comparatively business intelligence provider, having been founded in 2012 while many of its competitors have been in business for decades.
So without ThoughtSpot's strategic partnerships, the vendor might not have quite the depth within its product line that some of its more experienced competitors possess, particularly the ones that are part of major corporations with their own cloud capabilities.
Until recently, neither did competitors Tableau or Qlik, for example.
To keep up with Microsoft Power BI, which comes with the full complement of Microsoft's office suite products, Tableau recently agreed to be acquired by Salesforce. Qlik, meanwhile, acquired data management vendors Podium Data and Attunity over the past year.
Beyond Tableau and Qlik, another wave of M&A activity rippled through industry in early 2019 as Looker agreed to be bought by Google, Sisense agreed to merge with Periscope Data, and Alteryx reached a deal to acquire ClearStory.
ThoughtSpot's strategic partnerships are the vendor's way of trying to expand the breadth of its capabilities to create the same depth of product others have done through mergers and acquisitions.
Since November 2018, ThoughtSpot has partnered with Google Cloud, DataRobot, Alteryx, Snowflake, Carahsoft and Dell.
I see them having good momentum. They've been disruptive.

Rita SallamVP analyst, Gartner
And according to Toni Adams, ThoughtSpot's vice president of global channels and alliances, other partnerships are in the works.
"You can either build [an analytics stack], buy it, or partner with it, and we've decided to partner," Adams said.
He added, "We're believers in becoming a partner-led organization in order to ensure scale and reach."
ThoughtSpot's strategic partnership strategy was put into motion when the Palo Alto, Calif., vendor formed an alliance with Google Cloud to deliver its product across multiple clouds. Simultaneously, ThoughtSpot partnered with DataRobot, which specializes in AI-driven analytics.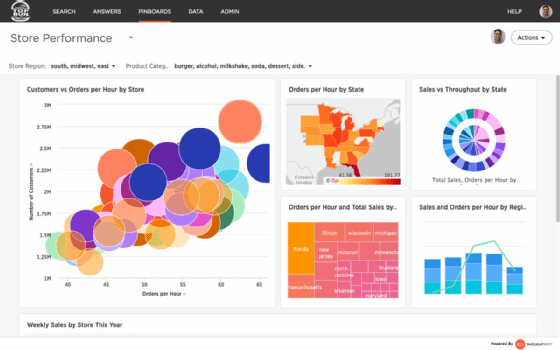 In March, ThoughtSpot and Alteryx, vendor of an end-to-end data platform, formed an alliance.
Finally, in June came partnerships with cloud data warehouse Snowflake; Carahsoft, an IT provider for federal and local government agencies; and Dell Technologies to make ThoughtSpot's platform available on Dell EMC PowerEdge C6420 servers.
"I see them having good momentum," said Rita Sallam, VP analyst at Gartner. "They've been disruptive."
According to Sallam, ThoughtSpot's development of a natural language processing interface that can support complex questions and its progress using augmented intelligence have helped it stand out.
"They're an up-and-coming company," she said.
Though not specifically because of the pace of ThoughtSpot's strategic partnerships, Gartner named ThoughtSpot a "Leader" in its recent report on analytics and BI vendors.
"Their challenge comes from market consolidation with cloud companies investing in analytics and making their products available at a relatively low cost," Sallam said. "They're partnering with cloud vendors because they're viewed as an on-premises platform. They see customers moving data management to the cloud and valuing native cloud platforms, or integration with the cloud."
According to Adams, the NLP and AI capabilities Sallam referred to are crucial to ThoughtSpot's strategy.
But bringing that vision beyond the customer base of a company that's been around just seven years and is competing in a market populated by far more mature vendors comes back to the formation of strategic partnerships.
Without ThoughtSpot's strategic partnerships, given the business intelligence giants being formed in the current wave of mergers and acquisitions, the vendor could have been in danger of getting left behind.
But by forming strategic partnerships, ThoughtSpot is pursuing the same ability to offer what amounts to an end-to-end BI suite.
"They provide a broader spectrum that leads to happy customers," Adams said of the ThoughtSpot partners.