Getty Images/iStockphoto
Alation adds trio of partnerships to improve data insight
The data catalog vendor's connectors to Monte Carlo, Sigma Computing and ThoughtSpot aim to make it easier for users to get insights from data to inform decisions and actions.
Data catalog specialist Alation unveiled new partnerships with Monte Carlo, Sigma Computing and ThoughtSpot aimed at helping customers get deeper insight throughout the data management and analytics processes.
Beyond the strategic nature of the partnerships, unveiled on Oct. 24, Alation now provides connectors to all three vendors' platforms.
Monte Carlo is a data observability vendor whose tools enable customers to monitor data quality throughout the data management lifecycle, while Sigma Computing and ThoughtSpot are both analytics vendors whose platforms are aimed at self-service business users.
Based in Redwood City, Calif., Alation is a data catalog vendor whose platform enables customers to organize data assets such as data sets, dashboards and models in an organized manner so that they can easily be found and put to use to inform decisions when needed.
Recently, Alation launched new generative AI and data maturity benchmarking capabilities.
In addition to Alation, independent vendors offering data catalogs include Collibra and Informatica. Tech giants including IBM, Microsoft and Oracle also provide customers with data catalogs.
Expanded ecosystem
Data is often disorganized and stored in different ways by different departments within an organization. Some use databases to house their data. Others use data warehouses or data lakes. Still others use some combination of data repositories.
In addition, data is often defined differently across departments, with one department using one set of terms to organize data and other departments using different sets of terms.
Meanwhile, data volume is increasing rapidly as organizations ingest data from an increasing number of sources. Simultaneously, data is becoming more complex -- some of it structured, some semistructured and some unstructured.
With all those variables, it is imperative that organizations somehow organize data. If they don't, they risk their data getting isolated and unable to be used across departments or becoming completely lost and unused.
Data catalogs provide a means to organize all that data, both within departments as well as across departments.
Data catalogs, however, don't exist in a vacuum. They need to connect to other tools within the data stack to enable users to easily access data assets organized within catalogs so that they can be used to inform decisions.
The new connectors allow organizations using Alation to access and scan more data sources for metadata, providing broader and deeper intelligence about data within an organization.

Stewart BondAnalyst, IDC
As a result, Alation has more than 100 connectors to a wide variety of platforms offering capabilities ranging from data ingestion all the way through data analysis, each of them aimed at helping customers gain insights from their data and about their data.
Therein lies the significance of partnerships in general, according to Stewart Bond, an analyst at IDC.
Pre-built connectors such as those now between Alation and Monte Carlo, Sigma and ThoughtSpot enable customers to easily build a data ecosystem rather than go through the time-consuming process of developing their own connectors for what can amount to dozens of different data-related platforms across an enterprise.
"The new connectors allow organizations using Alation to access and scan more data sources for metadata, providing broader and deeper intelligence about data within an organization," Bond said. "Data intelligence is necessary in data-driven organizations so that the right data can be used by the best resource at the right time, and assure it is being used for the right reason."
With respect to Alation's three new connectors, Bond added that Monte Carlo, Sigma and ThoughtSpot all make good partners for a data catalog.
"Each one makes sense for Alation," he said. "Data intelligence is used in analytics and business intelligence, which is where Sigma and ThoughtSpot are relevant. The relationship with Monte Carlo ... helps to inform organizations about what and where the best data is, and where to focus data cleansing efforts."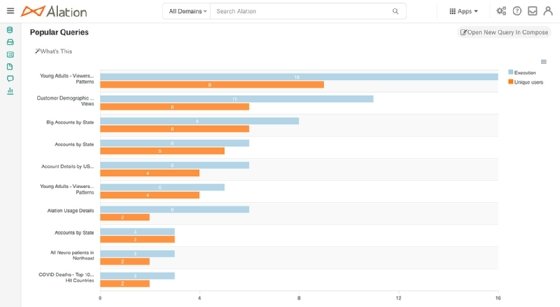 Beyond the new partnerships, connectors in general enable Alation to create a data ecosystem around its data catalog without having to acquire smaller vendors to add capabilities or internally develop capabilities to create a full-featured data platform.
Diby Malakar, Alation's vice president of product management, noted that the vendor's platform is built on an open architecture designed to connect with most other data-related platforms. To enable those connections, Alation provides both an open data quality framework as well as an open connector framework.
The open data quality framework enables connections to partners such as Monte Carlo and Acceldata that specialize in making sure data is of high quality so that bad data doesn't misinform decisions.
The open connector framework, meanwhile, is a network of development partners that now includes ThoughtSpot and Sigma and enables those partners to build their own connectors to Alation that can then be used by joint customers.
Malakar noted that Alation doesn't have the engineering capacity to build every connector it would like, so it instead helps technology partners to take on the task.
"Over time, there will be more development partners that can build connectors," he said. "And in many cases, they will be able to support the connectors themselves."
The impetus for partnering with Monte Carlo, Sigma and ThoughtSpot came largely from customers, Malakar continued.
Data observability platforms are becoming more critical as data volume and data complexity increase. What was once a simple process largely overseen in an on-premises database is now spread across multiple platforms on multiple clouds. Sigma and ThoughtSpot, meanwhile, are maturing analytics platforms attracting new users as they challenge more established vendors such as Qlik and Tableau.
The new partnerships with Monte Carlo and Sigma were each driven by a large Alation customer requesting a connector, while the partnership with ThoughtSpot resulted from multiple customer requests, according to Malakar.
"It's driven by the customer demand," he said. "We work with partners who have proven to be technically capable of understanding Alation and working with the open connector framework. At the same time, we look at emerging technologies in the modern data stack to see if there are connectors that are so critical that we will build them ourselves."
Plans
Now that Alation has established partnerships with Monte Carlo, Sigma and ThoughtSpot, the data catalog vendor plans to continue growing its partnership network, according to Malakar.
Given its open architecture, the vendor will continue to both build connectors with its own engineering team as well as enable partners to develop integrations with Alation through the open connector framework.
Bond, meanwhile, said the roadmap for Alation and all software vendors needs to feature at least one thing in common, which is a plan to incorporate generative AI.
Generative AI has been the dominant trend in analytics and data management ever since OpenAI launched ChatGPT in November 2022, but vendors are still figuring out how to incorporate it into their own platforms and extend it to their customers.
"What's next for Alation is what's next for every software company, [which is] figuring out where and how generative AI will be used in the product, and where and how catalog and governance capabilities can be applied to predictive, interpretive and generative AI," Bond said.
Eric Avidon is a senior news writer for TechTarget Editorial and a journalist with more than 25 years of experience. He covers analytics and data management.