Getty Images/iStockphoto
Acceldata makes acquisition to improve AI, LLM observability
The acquisition will give users more visibility into generative AI and LLM pipelines in addition to the traditional data pipelines already served by the vendor.
Acceldata has acquired Bewgle to enable data observability of generative AI and large language model pipelines.
Financial terms of the acquisition, which closed on Sept. 19, were not disclosed.
Based in Campbell, Calif., Acceldata is a data observability specialist whose platform enables customers to monitor data as it moves from ingestion through the pipeline to the point that it's ready to train models and inform decisions and actions.
Data observability was a relatively simple process when organizations had just a few data sources and stored most of their data on premises.
Now, however, organizations collect data from an ever-growing number of sources; the data being collected is more complex than ever, with much of it unstructured; and data is stored in an array of different cloud data lakes, cloud data warehouses, on-premises databases and hybrid formats.
As a result, data observability is an emerging specialty, with vendors such as Acceldata, Monte Carlo and Unravel making it their focus, and tech giants including IBM -- which acquired Databand to add observability -- also offering observability tools.
Additive capabilities
Bewgle is a 2017 startup whose AI-based platform enables users to analyze and observe unstructured data types such as text, images and audio that are key to training generative AI and large language models (LLMs).
Once integrated into Acceldata, Bewgle's capabilities will expand Acceldata's traditional data pipeline observability capabilities to include observability into generative AI and LLM pipelines, which is key to ensuring accurate model outputs.
Generative AI and LLM models are prone to hallucinations -- which are incorrect responses -- when not trained with high-quality data. Data observability, meanwhile, helps ensure data quality.
Data observability tools ... help find and fix quality issues and make data more trustworthy for AI/ML projects.

Kevin PetrieAnalyst, Eckerson Group
Therefore, as more enterprises develop their own generative AI models to address their domain-specific needs, expanding data observability to include AI and LLM pipelines is a significant step for Acceldata and its peers, according to Kevin Petrie, an analyst at Eckerson Group.
"Companies must feed AI models -- including machine learning models and large language models -- accurate inputs to ensure they have trustworthy outputs. Otherwise, they raise the risk of hallucinations, privacy breaches and compliance issues that damage the business," he said. "Data observability tools ... help find and fix quality issues and make data more trustworthy for AI/ML projects."
Beyond adding tools that will enable users to better observe generative AI and LLM pipelines, Acceldata's acquisition of Bewgle adds AI and LLM expertise, according to Rohit Choudhary, Acceldata's founder and CEO.
Bewgle was founded by Ganga Kumar and Shan Shah, both former Google employees. Kumar and Shah, who have more than 40 years of combined experience, now join Acceldata and will lead the vendor's AI team.
"With the acquisition of Bewgle, Acceldata is adding years of expertise in running foundational models and LLMs, [which will] accelerate our AI roadmap," Choudhary said. "The integration of the product is expected to be complete in the near term, and customers will soon be able to benefit from Acceldata's AI technologies."
Similarly, Petrie noted the importance of adding expertise as well as the technology Acceldata is acquiring. In particular, given its focus on unstructured data, Bewgle will bring expertise in vector search and storage that helps improve the accuracy of generative AI results.
Numerous data management vendors, including Oracle and Neo4j, have prioritized vector search and storage of late as enterprises look to build language models using their own data.
"[Bewgle] provides expertise about generative AI technologies and their data quality requirements," Petrie said. "This can help Acceldata validate, reconcile and detect anomalies within the text files that go into vector databases. Those vector databases then can provide more accurate data to large language models and make their outputs more trustworthy."
Bewgle likely also provides a different approach to observability than the approach Acceldata has historically taken, Petrie continued.
"I expect Bewgle will give Acceldata new techniques for finding issues, isolating root causes and automatically remediating those issues," he said.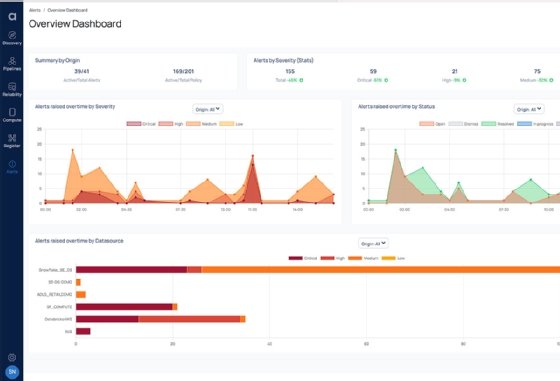 New exposure
Customer growth has been a focus for Acceldata.
In February, the vendor raised $50 million in venture capital funding -- bringing its total funding to more than $95 million -- with a portion of that cash earmarked for a go-to-market strategy designed to add new customers, Choudhary said at the time.
Historically, Acceldata has targeted large corporations that make up the Global 2000 and Fortune 500. In February, the vendor said that strategy resulted in 100% year-over-year revenue growth in 2022, and it planned to continue pursuing large, often multinational corporations.
Now, Bewgle's acquisition also exposes Acceldata to other new customers, the vendor noted.
While not identifying specific users, Acceldata said Bewgle customers include major retail and e-commerce companies, which adds to Acceldata's customer base of companies engaged in financial services, telecommunications, healthcare and data provisioning.
Eric Avidon is a senior news writer for TechTarget Editorial and a journalist with more than 25 years of experience. He covers analytics and data management.