Getty Images
Data catalog expert Alation unveils genAI, benchmark tools
Analytics Cloud enables users to measure the maturity of their data management and analytics operations while new generative AI tools address the efficiency of data workers.
Data catalog specialist Alation on Wednesday unveiled new generative AI capabilities as well as a set of tools designed to help organizations measure the maturity of their data management and analytics operations.
The vendor revealed the public preview of Allie AI, a generative AI copilot designed to make data engineers, data analysts and data stewards more productive.
In addition, Alation launched Analytics Cloud, a set of tools including the Alation Consumption Tracker and Data Catalog Value Index so organizations can benchmark their data initiatives. It is generally available now.
Based in Redwood City, Calif., Alation is a data catalog vendor whose tools enable customers to organize and access their data assets. Data catalogs are essentially repositories where organizations can store data sets and data products such as dashboards and models in an organized format so they can be easily found and accessed when needed to inform decisions.
With worldwide data growing exponentially in volume and becoming more complex as organizations ingest data from an increasing number of sources, organizing data is critical to making in operational. Data catalogs do just that.
In addition to Alation, vendors offering data catalogs include Collibra and Informatica. Tech giants such as Microsoft, IBM and Oracle also offer data catalogs.
New capabilities
While many enterprises understand the value of analytics and regularly use data to inform key decisions, they often operate in a vacuum when understanding how their data and analytics operations compare with other data-driven enterprises.
They may think their data and analytics operations are advanced when in truth they may be rudimentary compared with others. Likewise, organizations that may think their data and analytics operations are simplistic may actually be relatively advanced.
As a result, benchmarks are important tools because help organizations gain deeper insight into their own operations, letting them know whether they need to improve to keep up with competitors or whether they're on the cutting edge.
For that reason, Analytics Cloud is a significant new set of tools for Alation customers, according to Stewart Bond, an analyst at IDC.
Meanwhile, not a lot of vendors offer data management and analytics benchmarking tools. IBM is one, as is Alation rival Collibra, and consulting firms such as Eckerson Group offer benchmarking capabilities. But they are not as ubiquitous as many of the other tools provided by data management and analytics vendors.
"[Analytics Cloud] is a big deal for customers," Bond said. "It will provide insights into what data is used the most, how it is used, who is using it and when it is being used. All these metrics can be used to help organizations understand what their most valuable data assets are, [and] assure the assets are being used appropriately and that the assets are protected with appropriate security controls."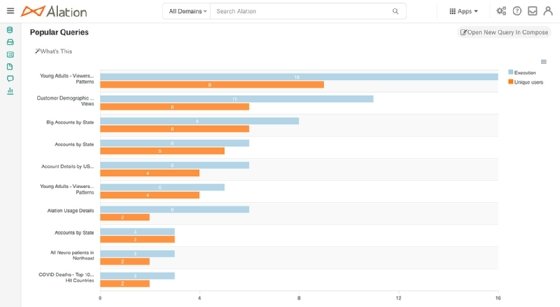 Analytics Cloud includes the Alation Consumption Tracker and Data Catalog Value Index.
Together, they are designed to provide organizations with a framework that shows them the value of their data and analytics operations, provide a visual representation of data consumption across the organization and deliver a numerical score that rates overall data maturity.
The Alation Consumption Tracker aims to provide a view of an organization's data flow -- essentially the efficiency of data's movement to inform decisions. The tool details such metrics as the time it takes to execute queries and who is using which data products to show which models and other data assets advance decisions.
The Data Catalog Value Index, meanwhile, examines metrics such as total data assets curated, total active users and top queries to grade organizations' data maturity.
The tool also identifies strengths and weaknesses so organizations can target areas for improvement and ultimately get a better return on their investments in data management and analytics, which is an important benefit, according to Bond.
"All of the metrics data that Alation is collecting can be used as input to [financial operations], helping organizations make decisions about where best to put data to optimize storage and processing costs," he said.
Jonathan Bruce, Alation's vice president of product management, noted that customers could previously measure the efficacy of their data and analytics operations -- mostly reports and dashboards -- at the departmental level.
Analytics Cloud enables them to scale that out to the entire organization by better understanding new, complex data sources and advanced technologies such as AI and machine learning.
Meanwhile, the impetus for developing Analytics Cloud came from a combination of customer requests and Alation's recognition of a need for benchmarking, according to Bruce.
"[Customers] tell us they have pockets of real success in their initial [data] investments," he said.
[Analytics Cloud] is a big deal for customers. It will provide insights into what data is used the most, how it is used, who is using it and when it is being used.

Stewart BondAnalyst, IDC
But many organizations have departments that barely interact with one another. While some may continue to have success and grow their data and analytics operations, others may begin to struggle after some early success.
Analytics Cloud connects those departments and shows them how success can look, Bruce continued.
"It's in the interest of subsets of [companies] to help other subsets to learn," he said. "To enable to express the value they're getting, we wanted to arm them with a repeatable, scientific way to articulate their journeys."
In addition to Analytics Cloud, Alation revealed that it plans to join the generative AI fray.
In the 11 months since OpenAI launched ChatGPT -- a substantial improvement in generative AI and large language model capabilities over previous generative AI platforms -- many data management and analytics vendors have unveiled plans for incorporating generative AI.
For example, Informatica in May introduced Claire GPT, which combines the vendor's Claire machine learning engine with generative AI to enable customers to interact with data using natural language. Similarly, Alteryx that same months unveiled Aidin, which adds generative AI to the vendor's existing AI and machine learning capabilities to improve efficiency.
Allie AI likewise combines existing AI and machine learning capabilities with generative AI and consists natural language processing and other generative AI capabilities designed to make users more productive by automating certain tasks, generating recommendations and reducing the need to write code.
Specifically, Alation's generative AI suite includes the following:
Intelligent curation to accelerate setting up data catalogs by using AI to suggest data stewards, data descriptions and titles for data assets.
Intelligent search, which focuses on the contextual meaning of a user's search for data and enables those users to find and retrieve semantic data using natural language.
Automatic SQL generation, which lets customers search for data using natural language rather than code by automatically translating a user's natural language query or command to code that computer systems can understand.
Taken together, Allie AI's capabilities should improve productivity, according to Bond.
Automated data descriptions feature will save data stewards time but it similar to tools being developed by other vendors, he noted. The intelligent semantic search capabilities, however, are more advanced.
"We are still in the early days when it comes to the use of generative AI within data intelligence software," Bond said. "For the most part, generative AI capabilities in these technologies will improve use productivity and lower barriers to adoption by making the products easier to use."
Next steps
With Allie AI now in preview, generative AI will feature prominently on Alation's roadmap, according to Bruce.
He noted that while many people have used ChatGPT and other LLMs to help create documents and write summaries, generative AI has not yet been tailored to meet the needs of enterprises.
Features like those included in Allie AI and the similar suites introduced by numerous other data management and analytics vendors aim to change that.
In particular, the combination of Alation's existing data catalog capabilities -- including metadata management -- with generative AI has the potential to help organizations model and analyze their data more quickly while assuring data quality, Bruce said.
Bond, meanwhile, said Alation is on the right path with its generative AI capabilities but noted that vendors are still figuring out how customers will ultimately consume generative AI. As a result, Alation and its peers might need to change course.
"Alation seems to have a good roadmap in place, but as with any roadmap it will be subject to change," Bond said. "We still see a lot of variability in where organizations believe generative AI will have the most impact. I suspect there is still some variability in where and how we will see generative AI applied in data intelligence software as well."
Eric Avidon is a senior news writer for TechTarget Editorial and a journalist with more than 25 years of experience. He covers analytics and data management.