FotolEdhar - Fotolia
ThoughtSpot IPO could be coming after vendor adds first CFO
Hiring of a CFO for the first time signals that ThoughtSpot may be positioning itself for an IPO and comes six months after what was likely the vendor's final round of funding.
Speculation that a ThoughtSpot IPO may be in the works was fueled when the analytics vendor revealed it hired a CFO for the first time, along with adding six other new executives.
ThoughtSpot, based in Sunnyvale, Calif., and founded in 2012, Tuesday named Mohit Daswani its new CFO. Daswani most recently was head of finance and strategy at Square, where he helped the financial services software and hardware vendor triple its revenue. Before that he was at PayPal.
In addition, ThoughtSpot added Seann Gardiner as SVP of business development and general manager of Embrace -- the vendor's service that enables users to run searches in existing databases. ThoughtSpot also named Bob Baxley, SVP of design and experience; Seong Park, SVP of customer success and services; Sumeet Arora, SVP of engineering; Dianne Decena, vice president of partners and alliances for the Americas; and Victor Chang, vice president of corporate development.
"There are two great hires which stand out for me -- Mohit Daswani as CFO and Seann Gardiner as SVP of business development," said Donald Farmer, principal at TreeHive Strategy. "Daswani is not only a first CFO, he's an outstanding hire and a real win for ThoughtSpot. [And] Gardiner's appointment to business development and Embrace is important because it shows how serious the company is about growing partnerships and integration."
The hires come nearly six months after ThoughtSpot raised $248 million in venture capital funding, which increased the company's valuation to just under $2 billion.
That financing round -- ThoughtSpot's fifth -- was seen by analysts as a sign that either a ThoughtSpot IPO could be coming or that the vendor might be seeking a buyer. At the time, Sudheesh Nair, ThoughtSpot's CEO, said that a ThoughtSpot IPO wasn't imminent but that he eventually saw it going public.
The hiring of a CFO for the first time could be a sign that a ThoughtSpot IPO is getting closer.
This seems very much like a building out of the executive and go-to-market ranks. The CFO position, in particular, is seen as money well spent by investors and I'm kind of surprised it's ThoughtSpot's first.

Doug HenschenAnalyst, Constellation Research
"This seems very much like a building out of the executive and go-to-market ranks," said Doug Henschen, an analyst at Constellation Research. "The CFO position, in particular, is seen as money well spent by investors and I'm kind of surprised it's ThoughtSpot's first. Having a dedicated professional in this role helps startups with financial transparency for investors and visibility into revenue growth, cash flow, and how quickly startups are burning through capital."
While the hiring of Daswani most logically points to a ThoughtSpot IPO, with all seven of the new hires considered the vendor could also be positioning itself to get acquired.
Henschen didn't go so far as to say ThoughtSpot is angling for a buyer, but noted that the vendor has taken steps in recent months to improve the ability of its platform to interact with cloud service providers.
"Among the tech hires, I'll be watching Embrace developments in particular, as running on cloud databases such as Snowflake -- the reason they introduced Embrace last year -- has been an important differentiator for Looker, which was acquired by Google in 2019," Henschen said. "Signs of support for and growth on Redshift, for example, could signal efforts to get closer to AWS."
And with AWS the lone major cloud provider that doesn't now have a BI platform, an AWS acquisition of ThoughtSpot -- though purely speculative -- makes sense.
"I'm still expecting AWS to up its game on BI and analytics," Henschen said.
Meanwhile, Boris Evelson, analyst at Forrester Research, noted that the augmented intelligence and machine learning capabilities that initially separated ThoughtSpot from other BI vendors have become more standard.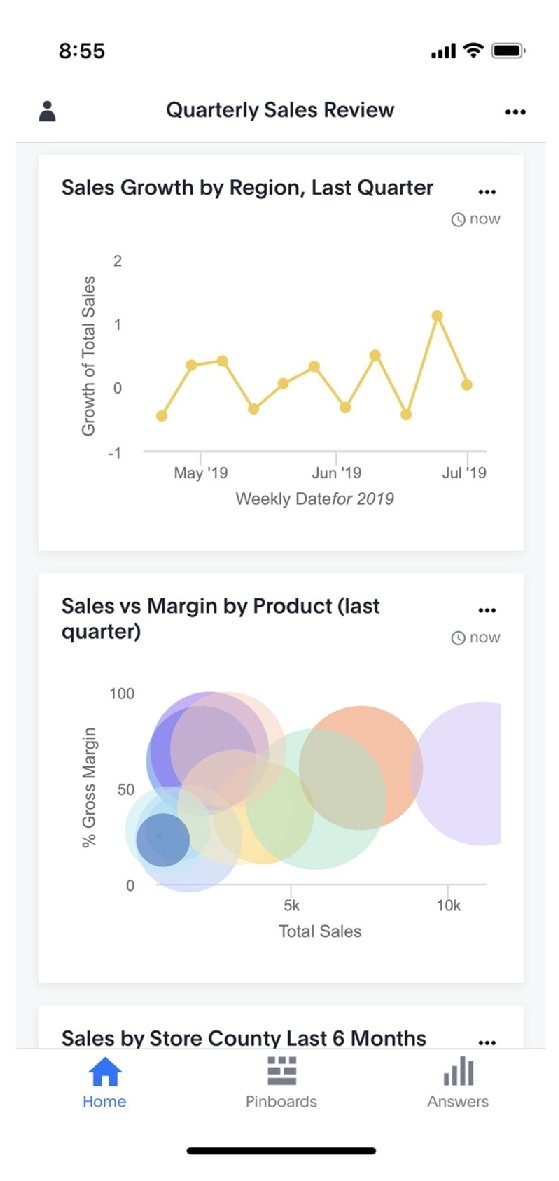 Like Henschen, he didn't say that makes ThoughtSpot ripe for an acquisition, but it makes it more difficult to remain independent.
"Forrester has seen significant interest in ThoughtSpot from our clients," Evelson said. "However, ThoughtSpot's original differentiation -- conversational user interfaces and augmented analytics -- is eroding as most leading BI vendors have introduced similar capabilities."
While the hiring of Daswani in particular could point to a ThoughtSpot IPO, the hiring of seven executives at once could be cause for concern, according to Farmer, who formerly was an executive at Microsoft and Qlik.
Bringing in so much leadership personnel, he said, could be more disruptive than productive if not properly managed.
"Bob Baxley and Sumeet Arora are strong hires, and [current SVP of products] Raja Mukhopadhyay is already doing excellent work, but adding so much high-level talent to an engineering team can be very difficult to manage," Farmer said. "Strategic, tactical and even personal priorities can cause friction."
And beyond the influx of new personnel itself, Farmer wondered whether Nair, who just three months ago got into a public spat with Qlik CEO Mike Capone over non-compete agreements, will be able to manage the integration of seven high-level executives in one at the same time.
Farmer added, however, that given the quality of the hires his concern lies solely with ThoughtSpot's ability to get its new personnel to work well with its existing personnel.
"Had this team grown over time, settling into place, allowing the organization an opportunity to shift its balance to each new hire, I would be much more confident of success," he said. "For now, throwing all this creative and business power together at once brings strategic and management complexity that may be too much. If they get it right, there is an explosive opportunity, but explosives are tricky to handle."