stefanovi - Fotolia
New AI, data management features highlight ThoughtSpot 6.2
The latest version of ThoughtSpot's platform features new capabilities fueled by AI and machine learning along with new data management tools.
New augmented intelligence and no-code data management capabilities in ThoughtSpot 6.2 aim to make the BI tool easier and faster for users to explore data.
ThoughtSpot, a BI vendor founded in 2012 and based in Sunnyvale, Calif., unveiled its latest platform update on Wednesday with 10 new features now generally available.
ThoughtSpot 6.2 includes Answer Explorer 2, a search tool that utilizes AI and machine learning to not only help customers run queries but guide users to questions they didn't think to ask on their own. The feature is able to recommend additional searches based on users' previous activity, and over time continuously improves as it learns more about users' needs.
In addition, DataFlow improves the data management capabilities of ThoughtSpot's platform by enabling customers to simply point and click to load their data into Falcon, the vendor's in-memory database. A second data management feature is the API-Powered Bulk Load Connector, which also enables the simple transfer of data into Falcon by giving users the ability to load data in bulk from ETL (extract, transfer and load) tools and custom applications.
Each of the capabilities in ThoughtSpot 6.2 were designed to empower users with simplicity, flexibility and speed, according to Sumeet Arora, ThoughtSpot's SVP and head of engineering.
"Everything in the release is driven by those," he said. "We want our platform to be used by people on their own -- self-service -- and we want it to be powered by AI so that use is simple and intuitive. We've added a lot of power in the background, but the goal in the front is to make it easier, simpler."
We've added a lot of power in the background, but the goal in the front is to make it easier, simpler.

Sumeet AroraSVP and head of engineering, ThoughtSpot
Arora, who noted that ThoughtSpot 6.2 represents the biggest release in the vendor's history, added that the genesis for the new features came from a combination of conversations with customers along with ThoughtSpot's overall mission of enabling as many knowledge workers as possible.
The economic crisis created by the COVID-19 pandemic played a role in the development of ThoughtSpot 6.2., according to Sean Zinsmeister, vice president of product marketing at ThoughtSpot.
"So many of our use cases have turned into, 'How do we use COVID data and how do we respond?'" he said. "A lot of businesses are approaching us about how to increase their agility. Their static dashboards and reporting didn't stand up to the test of time, so how to increase access to data and make it faster and easier -- that has accelerated a lot of [product development]."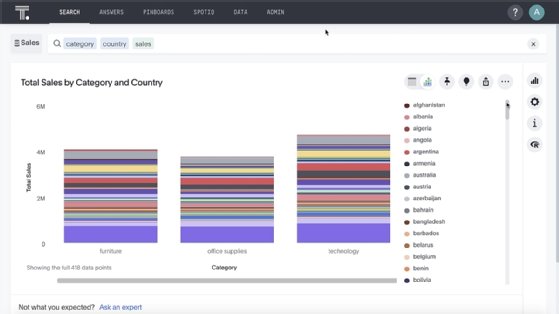 ThoughtSpot 6.2 also includes:
ThoughtSpot Embrace, the vendor's tool for querying data in external databases, for SAP HANA and Teradata (Customers will be able to do AI-driven analysis directly in SAP HANA and Teradata without having to move their data. In June, ThoughtSpot unveiled Embrace for AWS, and the vendor previously offered support for Google BigQuery, Microsoft Azure Synapse and Snowflake.);
a new tool called Caffeine that gives customers the ability to choose which of their dashboards are precached and when to optimize the performance of their most important dashboards;
added support for Worksheets so that filters can be imported and exported within one environment and between environments to improve workflows;
improved data visualizations;
new in-memory data compression that makes it possible to store more data without increasing storage; and
a newly designed administration console that simplifies the user interface.
In its entirety, ThoughtSpot 6.2 accomplishes the vendor's goal of making analytics accessible to more potential users, according to Mike Leone, senior analyst at Enterprise Strategy Group.
"Enabling access, enabling integration, enabling collaboration, enabling the use of next-generation technology, enabling everyone in an organization to bring data to their jobs, whether an expert or a generalist, and enabling faster time-to-value and time-to-insight," he said.
Answer Explorer 2 is of particular interest as it builds on the capabilities of Answer Explorer first introduced in ThoughtSpot 6, Leone said.
"That particular feature has the potential to revolutionize how more people are able to derive insight, especially folks just getting started or looking to close the knowledge gap between generalists and experts," he said. "While using AI as a recommendation engine isn't revolutionary, being a feature within the greater ThoughtSpot ecosystem will yield powerful outcomes."
ThoughtSpot plans to continue advancing the search capabilities of its platform through 2020 and into 2021, Zinsmeister said.
In addition, ThoughtSpot plans to focus on how its platform is delivered to get it in the hands of more people and will borrow concepts from e-commerce vendors and social media apps to make the user experience a familiar one. ThoughtSpot's mobile capabilities will also be in the spotlight, with mobile-first applications now in development.
"Our engineering engine is on fire," Arora said. "Everything we do is driven by our mission of making it easier for people to use data, and that's powered by search."