grandeduc - Fotolia
ThoughtSpot 6 advances AI power of BI platform
New augmented intelligence and machine learning tools, along with a new mobile app, highlight the release of the new update to the ThoughtSpot business intelligence platform.
ThoughtSpot 6, the newest version of analytics software vendor ThoughtSpot's BI platform, was unveiled on Tuesday.
Central to the latest release from ThoughtSpot, founded in 2012 and based in Sunnyvale, Calif., are new augmented intelligence and machine learning features aimed at further easing -- and speeding -- the process of turning raw data into insight.
Included are a tool called Answer Explorer, which helps users find the right questions to ask of their data based on similar queries used with similar data sets throughout a customer's organization, and ThoughtSpot Monitor, a beta tool that will allow users to tell ThoughtSpot to continuously monitor specific information to discover any changing patterns and trends.
In addition, ThoughtSpot 6 includes support for Google Cloud storage, a new chart configuration, added worksheet portability, and the availability of Embrace, ThoughtSpot's service that allows users to run searches in existing databases, for cloud database Snowflake.
"Our end users are primarily nontechnical businesspeople -- they're not data analysts -- so they need a very simple way to be able to get answers to their data questions and everyday business questions," said Andrew Yeung, ThoughtSpot's senior director of product marketing. "With ThoughtSpot 6 our goal was ... leverage our AI engine to get more answers in the hands of these nontechnical business users."
Beyond ThoughtSpot 6, the vendor introduced a new mobile app called ThoughtSpot Mobile, and a new directory of tools built by ThoughtSpot's partners called Atlas Marketplace.
ThoughtSpot's platform at its core is aimed at making the decision-making process easy and accessible to as many customers as possible with a search interface that learns from the actions of its users over time to ultimately give them more informed recommendations, said Doug Henschen, an analyst at Constellation Research.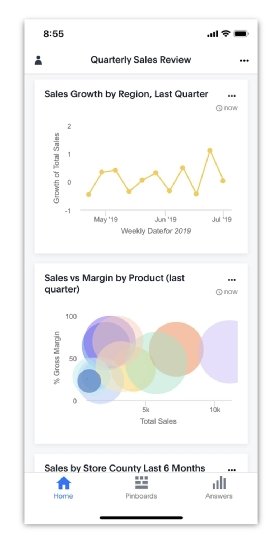 Both of the new tools in ThoughtSpot 6 -- Answer Explorer and ThoughtSpot Monitor -- further that goal, Henschen noted.
"ThoughtSpot was an early mover on deciphering user intent by tracking individual and group interactions with data," he said about Answer Explorer. "This is another feature that draws on the power of learning behaviors and giving users an opportunity to provide feedback and thereby improve future recommendations."
ThoughtSpot Monitor, meanwhile, enables users to highlight and track the specific information they deem most important to their organization, according to Henschen.
"This feature gives subject-matter experts the ability to put a spotlight on measures and data sets that are most important to a department or business unit," he said. "In so doing the system can generate even more data and focus more diagnostic power on those data and measures so organizations can make business-critical decisions sooner and more accurately."
ThoughtSpot Mobile represents ThoughtSpot's first foray into the tricky mobile BI space.
With ThoughtSpot 6 our goal was ... leverage our AI engine to get more answers in the hands of these nontechnical business users.

Andrew YeungSenior director of product marketing, ThoughtSpot
While some vendors have developed effective apps for mobile devices by viewing them as different from their desktop tools -- understanding the limitations of a mobile device compared with a desktop or laptop computer -- others have tried to recreate the desktop experience on the smaller screen of a phone or tablet and often struggled to develop a tool their customers find effective.
"As data access is democratized, [the mobile app] means more folks will have the ability to explore, ask questions, and do so on their terms," said Mike Leone, an analyst at Enterprise Strategy Group, based in Milford, Mass. "Leveraging an AI-recommended question to ask can be an easy button click for a nontechnical user on the go. It comes down to convenience and choice."
Though just seven years old, ThoughtSpot has quickly gained a reputation for innovation in large part due to its early adaptation of AI and machine learning, plus its ease of use aided by natural language query capabilities.
ThoughtSpot 6 seemingly takes ThougtSpot's niche in AI and machine learning to new places within the BI space, and opens up analytics to new audiences with the ease-of-use of its platform, Leone said.
"They rethought analytics and BI to deliver a purpose-built, next-generation platform that truly democratizes data access and insight," Leone said. "ThoughtSpot enables anyone in an organization to ask as many questions as it takes to find the answer. And for the data you don't have time to go deep on, let AI detect the patterns for you."