Fotolia
ThoughtSpot IPO probably still a year away
After hiring a CFO for the first time and making changes to the way it reports revenue, ThoughtSpot is positioning itself to go public in fall 2021.
ThoughtSpot is positioning itself for an initial public offering.
Despite a high national unemployment rate and many industries struggling under the economic impact of COVID-19, Wall Street still loves technology companies. Apple's stock hit its all-time high Sept. 1, and both Microsoft and Google reached their all-time highs the next day.
Meanwhile, on Set. 16, cloud data warehouse vendor Snowflake went public and set a new record for tech companies with its initial public offering (IPO).
The vendor's stock was expected to price between $75 and $110 per share -- after an initial estimate of $75 to $85 per share -- but instead went off at $120 per share. By the afternoon of Sept. 16, it was up to more than $300 per share and nearly two weeks later is valued at more than $250 per share. Ultimately, Snowflake sold 28 million shares in its IPO and raised nearly $3.4 billion, topping the previous record for tech companies held by VMWare, which raised a little less than $1 billion in 2007.
ThoughtSpot, an analytics vendor founded in 2012 and based in Sunnyvale, Calif., could be one of the next tech companies to hit the market.
The vendor offers an analytics platform, available both in the cloud and on premises, that uses augmented intelligence capabilities including natural language processing to fuel its data queries. ThoughtSpot recently unveiled its biggest update so far, with 10 new features all aimed at making its platform easier to use and reducing the time it takes to get from questions to insight.
"I'm not going to be coy about it," said Sudheesh Nair, ThoughtSpot's CEO. "It's a high bar to take a software company in this space public, but this company has the leadership, the market, the structure and the growth so far."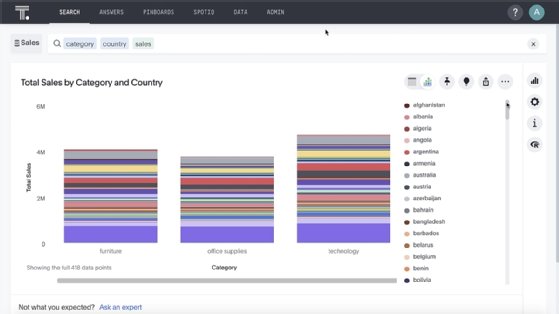 The heat is on
One of the main reasons for Snowflake's overwhelming success is a core business that combines two hot trends -- the cloud and analytics -- according to Dave Menninger, research director of data and analytics research at Ventana Research.
"The data and analytics market has grown continuously for decades, and our research suggests that much of that workload will end up in the cloud," Menninger said. "It's not surprising to see the Snowflake IPO do well, although it was surprising to see how well it did."
Whether the reception for a potential ThoughtSpot IPO would be similar to the reception for Snowflake's, however, remains to be seen.
ThoughtSpot has a presence in both analytics and the cloud, like Snowflake, but the vendors address different needs: Snowflake focuses on data storage, while ThoughtSpot's platform is aimed at data analysis. In addition, Snowflake is entirely cloud-based, while ThoughtSpot is not. And while Snowflake's financial success -- including a customer base that grew from 80 in 2015 to more than 3,400 by the time the vendor filed for its IPO -- attracted investors, ThoughtSpot remains private. As a result, its financial information is also private.
By this time next year, by fall of next year, I want this company to be worthy of public investors.

Sudheesh NairCEO, ThoughtSpot
"They have the potential to do well, since they are also in the data and analytics market, but cloud is only part of their story," Menninger said. "They may not get the same 'cloud multiplier' effect."
Analyst firms, meanwhile, have been bullish on ThoughtSpot's technology since it first emerged from stealth in 2014. Gartner has ranked the vendor a Leader -- its top designation -- in its Magic Quadrant for Analytics and Business Intelligence Platforms each of the past two years, along with Microsoft Power BI, Qlik and Tableau, and Forrester named it a Strong Performer in its 2019 Forrester Wave for Enterprise BI Platforms.
If ThoughtSpot does go public, however, its IPO is still likely about a year away.
"By this time next year, by fall of next year, I want this company to be worthy of public investors," Nair said.
Position game
Nair joined ThoughtSpot in 2018. Previously, he was president of Nutanix, which he helped take public in 2016.
In August 2019, ThoughtSpot raised $248 million in venture capital funding. It was ThoughtSpot's fifth round of funding, raising its total VC investment to $554 million and increasing its valuation to $1.95 billion. At the time, analysts said it likely represented ThoughtSpot's final funding round and that its next major financial move would be to either go public or find a buyer.
Since then, Nair has repeatedly said he hopes a ThoughtSpot IPO is in the future.
But just as it took Snowflake about 18 months to go public after Frank Slootman took over as president and CEO, Nair is working to make sure ThoughtSpot is ready for an IPO. Only then will the vendor file its paperwork with the Securities and Exchange Commission.
One significant step toward an IPO was the hiring of Mohit Daswani in January 2020 to be ThoughtSpot's first chief financial officer. At the same time, the vendor added six other senior-level executives, including Seann Gardiner as SVP of business development and general manager of Embrace, the vendor's service that enables users to run searches in existing databases.
In addition, ThoughtSpot is taking measures to make its balance sheet appealing to potential investors.
To that end, in February the vendor altered the way it reports contract revenue. Rather than report the total cash value (TCV) of a contract all at once -- the full $1.5 million for a three-year contract at $500,000 per year, for example -- ThoughtSpot is now reporting the annual contract value (ACV) over the life of the contract.
It's a seemingly semantic change, and for a temporary period it will actually make it appear as if contract revenue is down, but according to Nair it's key to helping forecast growth.
"It's one thing to start the business with an ACV-only focus, but starting with TCV and then switching to ACV is extremely onerous on a business because the denominator -- revenue -- shrinks during the transition, which makes all the [key performance indicators] appear worse overnight," he said. "Making this shift is important, however, because it gives us a better ability to manage the business, forecast growth and determine where to invest."
In addition, Nair said ThoughtSpot is working toward reaching $100 million in annual recurring revenue and achieving more than 50% in annual growth and a margin higher than 80%.
"I want the company to have a public-ready structure by the fall of next year," Nair said. "Whether or not we can go public will depend on a number of different things, but I want to drive the company, and going public would mean really good things because we sell to really large customers and they really appreciate knowing that this company is going to be there for a long time."
Meanwhile, Menninger said that revenue growth, in particular, will be key to the reception ThoughtSpot receives from Wall Street.
"The companies that do best demonstrate significant growth on a significant revenue base," he said. "It's all a bet on the future because none of these companies are typically profitable when they go public. The other metric that is relevant is how much it costs to generate each dollar of revenue."
To go, or not to go
Despite all the maneuvers ThoughtSpot is making in preparation for an IPO, there remains the possibility that the pieces won't fall into place and the vendor will remain private.
Going public, however, would enable the ThoughtSpot to more easily do certain things than it can while still private. In particular, according to Nair, acquisitions would be easier if ThoughtSpot could use stock rather than cash to purchase another company.
Throughout its lifespan the vendor has added capabilities through a robust array of strategic partnerships, but unlike many of its competitors, it hasn't engaged in mergers and acquisitions.
A public offering could change that.
"Time will tell," Nair said about the possibility of going public, "but I'm pretty optimistic."