WavebreakMediaMicro - Fotolia
Snowflake IPO shows strength of cloud data warehouse
The cloud data warehouse services vendor files for an IPO as it looks to build out and expand its data portfolio to help organizations manage and analyze data assets.
Snowflake's move to go public shows the strong demand for its cloud data warehouse technology.
The cloud data warehouse vendor, based in San Mateo, Calif., officially filed its S-1 initial public offering (IPO) with the U.S. Securities and Exchange Commission on Aug. 24.
Snowflake had already confidentially filed for an IPO in June under a federal law that allows smaller companies to informally file to go public while testing the market.
Snowflake was founded in 2012 and has raised $1.4 billion in funding to date as a private company. Its most recent funding round, in February, raised $479 million and valued the company at $12.4 billion.
The S-1 IPO filing document provides insight into Snowflake's business, reporting that in the second quarter of 2020 the company grew revenues by 121% year over year. Revenue growth is being driven in part by customer growth, with the company reporting that it had 3,117 customers as of July 31, more than double the 1,547 it had a year ago.
Query volume is also on the rise, as use of the Snowflake platform has grown. The vendor reported that it processed an average of 507 million daily queries across all of its customer accounts during July 2020. That's up from an average of 254 million daily queries in July 2019.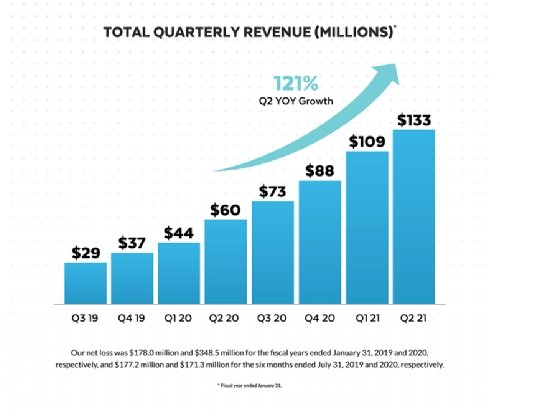 "Our platform solves the decades-old problem of data silos and data governance," the vendor stated in the S-1. "Leveraging the elasticity and performance of the public cloud, our platform enables customers to unify and query data to support a wide variety of use cases."
Snowflake competes in the cloud data warehouse market against multiple rivals, including Amazon Redshift, Google BigQuery, Microsoft Azure SQL Data Warehouse and SAP Data Warehouse Cloud.
Snowflake IPO builds on recent platform updates
Snowflake's most recent platform update was released June 2. A core part of the update was a series of enhanced integrations to make it easier for users to connect to different data sources.
The June release also included a Dynamic Data Masking feature intended to help improve data privacy and reduce risk. The data masking features can hide or "mask" sensitive information based on a set of defined policies and user roles.
Analyst takes positive view of Snowflake IPO
Snowflake declined comment, citing a quiet period before the IPO.
Most enterprises don't want point products, which is what Snowflake is, so I'm glad to see it raising funds to build out its capabilities.

Patrick MoorheadPrincipal analyst, Moor Insights and Strategy
Patrick Moorhead, principal analyst at Moor Insights and Strategy, said the IPO is a positive move for Snowflake and augurs well for its success in the marketplace if it uses new funding to expand its technology range.
Snowflake has done a good job in one area of data management, namely data warehousing, but needs to beyond that core "point product," Moorhead said. Its challenge is to grow its product line to encompass more of the data lifecycle, including ingest, data engineering, database and AI, he said.
"Most enterprises don't want point products, which is what Snowflake is, so I'm glad to see it raising funds to build out its capabilities," Moorhead said.
Snowflake also has many partners that integrate with its cloud data warehouse service. Among them are ETL service vendor Matillion, which initially launched a no-code tool for data ingestion in March. The Matillion Data Loader tool became available in the Snowflake Partner Connect marketplace on Aug. 11.
"Every company today knows that they need to compete with data in the cloud with time to value as the key driver," said Matthew Scullion, CEO and founder of Matillion. "Snowflake has made it incredibly easy and fast to compete with data."