Sergey Nivens - Fotolia
Matillion Data Loader goes GA: No-code tool addresses data ingestion
Matillion's new tool debuts a SaaS approach to help connect and load data from disparate sources without requiring organizations to conduct data transformations.
A key challenge to enable data analytics is the ability to get data from wherever it exists into the right place where it can be useful.
To help overcome that challenge, Matillion Ltd., based in Manchester, England, recently made its data loader SaaS offering generally available. Matillion had already been in market with an extract, transform and load (ETL) tool that also helps with data ingestion, though the Matillion Data Loader serves a different purpose and works in a bit of a different way.
Jesse McCabe, director of product marketing at Matillion, said there are several key differences between the ETL and data loader offerings. The Matillion ETL is a virtual image installed within a customer's virtual cloud data warehouse environment. In contrast, Matillion Data Loader is SaaS, making use of a geographically dispersed, multi-tenant cloud platform. The Matillion ETL provides full data transformation capabilities, as well as complex API-based customer data source integration. McCabe noted that Matillion Data Loader is for simpler use cases that do not require data transformation.
"Users can select from popular data sources and build data pipelines to centralize data in the cloud data warehouse of their choice without needing any code," McCabe said. "It is for a business analyst looking to find answers within certain data sets, without needing to go through IT or a data engineer."
The need for a new tool to help make it easier for users to connect with data is also underscored by a recent survey sponsored by Matillion. The survey found that 90% of organizations consider it a challenge to make data available for insights. The same study also found a rapid rate of data growth of up to 100% per month at some organizations.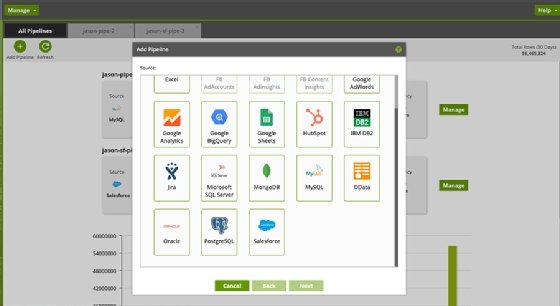 Matillion Data Loader use cases are different than ETL
Among the early adopters of Matillion Data Loader is customer management platform vendor Clutch, in Lafayette Hill, Pa. Edward Hunter, director of business intelligence at Clutch, said his company used Matillion ETL for a while but noticed that many of its own customers did not need to perform really complex data transformations -- they simply weren't at that stage yet.
According to Hunter, Matillion Data Loader is a simpler way for Clutch users to get their data into the cloud and take a look at all of it in one place, without needing to involve IT or other stakeholders.
"Matillion Data Loader will help our clients bring all of the data into one place so that they have a shot at cross-attribution of their customers," he said. "That's going to blow their minds."
Clutch users need visibility into consumers, from point-of-sale data right through to their CRM systems, Hunter said. Enabling marketing cloud data to interact with the CRM system so that enterprises can make sense of all their data is critical.
"Our biggest challenge is helping meet every individual client's different need for analysis," Hunter said. "We need something outside of our own customer data platform that I can give clients permission to connect to those external sources and connect to our internal sources and get the job done."
More connectors on the way
As for Matillion Data Loader, biweekly updates are planned to add new capabilities, according to the company.
"Over the next few releases, we will prioritize new data source connectors based on popular demand and continue to streamline and simplify the user experience with tool tips, help text with useful guidance and definitions for users, and other UI/UX improvements," McCabe said.