Nomad_Soul - Fotolia
ThoughtSpot BI platform gets financial boost, IPO may be near
With its latest round of venture capital funding, ThoughtSpot is planning to invest heavily in product improvement while also pondering a potential initial public offering.
The ThoughtSpot BI platform just got a big financial boost, in what is perhaps a signal that the vendor will soon go public.
On Wednesday ThoughtSpot, based in Palo Alto, Calif., revealed that it recently secured $248 million in venture capital funding. The influx of cash -- the fifth round of financing the vendor has engineered since it was founded in 2012 -- nearly doubles the company's total funding to $554M and increases its valuation to $1.95 billion.
ThoughtSpot, which has engaged in a slew of strategic partnerships over the past year to increase its scope, said it is earmarking the cash for research and development through staff additions to the product and engineering teams -- particularly in India, where ThoughtSpot has operations in Bangalore --adding to the sales and marketing teams based internationally, and perhaps even to acquire other companies.
"We are analyzing companies that will add to what we're looking for," ThoughtSpot CEO Sudheesh Nair said.
Since its start, the ThoughtSpot BI platform has been among the vendors at the forefront of bringing augmented intelligence to business intelligence.
As a result, though ThoughtSpot's client base is relatively small compared with other BI vendors, it's been able to attract significant new customers including Walmart, Hulu and Petco, with users paying an average of $250,000 a year for ThoughtSpot's BI tools, according to the vendor.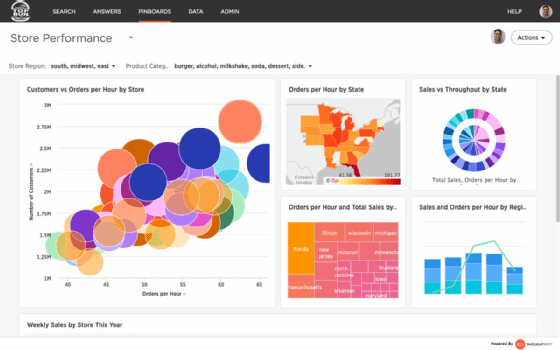 Other ThoughtSpot users include ExxonMobil, Rolls Royce and OpenTable.
Now, however, other BI vendors are also investing heavily in AI, forcing ThoughtSpot to improve its product if it wants to continue to stand apart in a competitive market.
"They were an early player in AI," said Rita Sallam, an analyst at Gartner. "They invested in [natural language processing], and they can use AI to gain insights on that data. Others are trying to catch up, and they have to maintain and defend their position -- $250 million can help."
Similarly, Doug Henschen, principal analyst at Constellation Research, said he sees ThoughtSpot using this latest round of financing to try to maintain the position it's already gained.
They were an early player in AI. They invested in NLP, and they can use AI to gain insights on that data. Others are trying to catch up, and they have to maintain and defend their position -- $250 million can help.

Rita SallamAnalyst, Gartner
"They have to stay ahead in augmented intelligence -- that's the challenge," he said. "Everybody has responded, adding natural language queries. The next rung up is to be more conversational, so that when you ask a question it can figure out what you mean."
For example, a user would be able to ask about sales figures in a given year, and then ask "What about July?" without having to restate the entire query, and the BI tool would be able figure out the meaning of the follow-up question based on the initial query.
To that end, Nair, while not mentioning any specific innovations, said ThoughtSpot is not taking its position as a leader in AI and natural language queries for granted.
"Agility is the only mode that exists," he said. "The moment you slow down and stop innovating, you get passed. I think of ThoughtSpot as a startup, which is a state of mind -- always paranoid, never taking customers for granted, maniacally focused."
Beyond defending and potentially extending the ThoughtSpot BI platform's position as a leader in AI-driven analyses, this latest round of financing may signal that ThoughtSpot's leadership is thinking about the next step for the company.
It almost assuredly marks the end of its fundraising days.
"There should be an end game in sight for them," said Henschen. "The bar is being raised on augmented capabilities, and BI vendors are adding some of their special sauce. ... They've got some impressive customers, so they could be an acquisition target for someone who hasn't done much with AI."
Sallam, meanwhile, pointed out that more than five rounds of financing are rare.
"What does any startup want -- a lucrative exit? And that means being acquired or going public," she said. "After those, what other option is there? I haven't seen Series F, G, H financing, so this is the end of the road for them as far as financing."
Nair said that no IPO is imminent, but did say that going public is something he foresees. Nair, who came to ThoughtSpot in 2018, previously was president of cloud computing vendor Nutanix and helped take that company public.
"ThoughtSpot is focused on large customers, so it makes sense to aspire to go public," he said.
Regardless of what ThoughtSpot's long-term strategy may be, with $248 million in new funding, the ThoughtSpot BI platform just got a big boost.