Jakub Jirsk - Fotolia
$1 billion SAS AI investment recharges vendor's mission
SAS' new AI initiative includes a $1 billion investment and partnership with AI chip vendor Nvidia. The goal is to bring advanced AI tech to end users.
The $1 billion SAS AI investment and partnership with AI chipmaker Nvidia appears to show the 42-year-old advanced analytics vendor is taking significant steps to revivify its focus on AI and AI skills development, which could help distinguish it from competitors.
SAS' newfound commitment to AI is a positive move for the company, one of the biggest privately held U.S. software firms, said Gartner analyst Jim Hare.
"SAS has been a leader in the area of machine learning and advanced analytics for decades, but traditionally hasn't always been at the forefront of investing and supporting cutting-edge innovations," Hare said.
The advanced technology at the forefront of the SAS AI investment and research includes machine learning, deep learning, computer vision and natural language processing (NLP).
"We see tremendous interest from customers in deep learning technologies such as NLP and computer vision, and SAS is focusing on making these capabilities easier to consume for organizations of all sizes," said David Tareen, global director of AI marketing and strategy at SAS, based in Cary, N.C. "[These technologies] hold tremendous potential."
The partnership with Nvidia, which brings powerful GPUs to SAS to speed up AI processing and insight discovery, is just one strategic element of SAS' sprawling AI initiative. The $1 billion SAS AI investment will go toward research and development by embedding more advanced AI capabilities into the SAS Viya platform, as well as skills development with education initiatives.
AI is not new to SAS modeling, but SAS customers have more of a propensity to incorporate machine learning than previously, said Tony Baer, principal analyst at Ovum, based in London.
Baer said he thinks the SAS AI investment is a necessary move.
"Until now, SAS has been less public or formal in its AI efforts," he said. "It makes sense for SAS to redouble efforts, given the well-publicized investments of the Googles, Amazons and Microsofts of the world."
Much of the lack of publicity around SAS' AI offerings has been due to inadequate marketing, Hare said. As a result, many organizations haven't been aware many of SAS' capabilities.
"This announcement reflects a change by SAS to not only better market its existing AI capabilities, but it also highlights its plans and commitment for new R&D investments, partnerships and education to help customers cut through the hype and deploy and operationalize its AI initiatives," Hare said.
SAS' competitors -- including major players, like Google, Microsoft and Amazon, as well as smaller vendors, such as Databricks, Anaconda, H2O.ai and DataRobot -- have put more effort into horizontally focused models, open source and community building. So, SAS has some catching up to do in machine-learning-driven analytics, according to Baer.
"SAS' proprietary heritage, until now, has made its community more of a gated one," Baer said. "Going forward, SAS should not lose focus of its strengths with vertical industry models, but it needs to become more active in open source, putting skin in the game as opposed to just accommodating it."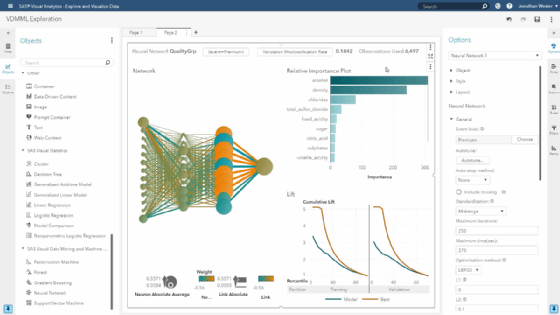 More focus on AI education
What helps differentiate the recent SAS AI investment from similar projects from other augmented analytics vendors is its focus on the education and skills development component of AI -- something for which Tareen said there's a "dire need."
This announcement reflects a change by SAS to not only better market its existing AI capabilities, but it also highlights its plans and commitment for new R&D investments, partnerships and education.

Jim HareAnalyst, Gartner
This focus on AI skills development isn't new. Baer said SAS was already investing considerably on the educational side, "long before it was fashionable."
That investment includes certification programs, e-learning software, and other customer education and development initiatives, such as the new SAS AI Accelerator Program, which helps organizations and employees at any level get AI-ready.
"SAS is now making AI more accessible for mainstream organizations by providing education along with more AI capabilities built directly into SAS products," Hare said. "This means organizations will now be able to more easily build and deploy AI solutions that can benefit from SAS' enterprise-grade platform capabilities, including at the edge."
Amalgam Insights analyst Lynne Baer -- no relation to Tony Baer -- said, as it stands now, SAS users are mainly analytics experts, but most of them don't have deep learning, machine learning or AI skills. SAS' interest in raising their skill level not only benefits the users, but it's also a savvy move for the vendor, she said.
"Training end users in machine learning techniques will enable SAS to sell more AI and machine learning software and will enable SAS users to better execute on machine-learning-based projects," she said. "To supplement this training, improvements in SAS products will help bridge the skills gap, making some level of ML-based workflows available to a wider variety of analytics users."
The SAS Business Analytics Center of Excellence -- a group of doctorates and experts in AI, machine learning, deep learning, NLP, computer vision and related data science skills -- is also a differentiator for the vendor, Amalgam Insights' Baer added. It gives customers access to people with years of experience in implementing complex AI projects and dealing with unforeseen hiccups customers will run into.