Data and analytics strategy: Lessons learned from spy agencies
Analyst Jim Hare of Gartner offers five ways to turn your company's data and analytics strategy into a competitive advantage by studying what our spy agencies do.
GRAPEVINE, Texas -- IT leaders looking to sharpen their data and analytics programs may want to think less like...
Continue Reading This Article
Enjoy this article as well as all of our content, including E-Guides, news, tips and more.
a CIO and more like the CIA, said Jim Hare, research vice president at Gartner.
At this week's Gartner Data and Analytics Summit, Hare detailed four best practices from the U.S. Intelligence Community -- and one caution -- that can improve an enterprise's data and analytics strategy.
"We [at Gartner] always encourage clients to look outside their own industries for new ideas and new ways of innovating," said Hare, who previously worked in the defense industry.
1: Don't make the same mistakes they do
Learning from the 16 agencies that make up the U.S. Intelligence Community doesn't always mean following in their footsteps.
So what's their mistake? They don't like to share data with each other, Hare said -- a problem that exists in businesses as well. Among marketing, sales, HR, IT and other business units, how many really share data and information? Not many, Hare said.
"You want to be thinking about how you break down those barriers and encourage that sharing of information," he said. "Because the more we start sharing, the more efficient we get and [the more] we learn from each other."
2: Tap open source data
Intelligence information comes from many different sources -- including electronic signatures, biometrics, imagery data and human reconnaissance. And about 80% of all that intelligence data comes from open sources. Hare encouraged IT leaders to go beyond their enterprise data warehouses and tap open sources as well.
"There's a lot of other information you might be able to use to augment your existing analytics -- maybe location, weather-related data, firmographics or social data," he said. "These folks have figured out how to take advantage of that."
How organizations collect their data also needs to be safeguarded, he said.
"We don't really do a good job of protecting our own techniques and methods inside the organizations we work in. We don't see them as assets that we should be protecting," Hare said. Data is so valuable to companies now that data collection, mining and safeguarding techniques should be treated as proprietary.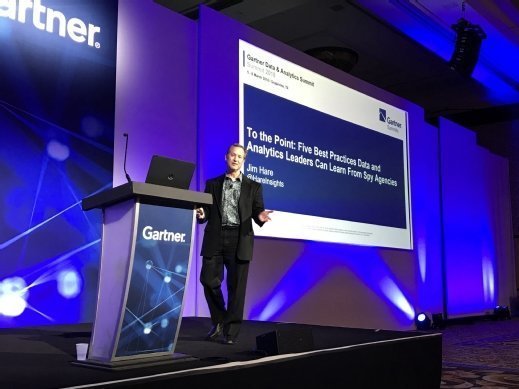 3: Invest in differentiating tech and talent
Intelligence agencies have invested in or had a hand in the creation of technologies like lithium batteries, Google Earth, mammography, the Hubble telescope and relational databases. Hare said business need to invest in next-generation technologies to keep up with and surpass competitors.
"You can definitely partner with vendors that you're already working with today to invest in and generate some next-gen capabilities," he said.
The flip side of this best practice involves investing in your own talent as differentiators, Hare said. The CIA has an entire school -- the Sherman Kent School for Intelligence Analysis -- dedicated to teaching new CIA employees analysis and critical thinking skills. Hare thinks other organizations should follow suit as part of their data and analytics strategy.
"Right now, very few organizations I talk to even think about formal analyst training," he said. "Organizations do all this training on how to use the [analytics] tools, but they don't invest in how to actually analyze the data from the tools," Hare said.
Another data expert's take
Isaac Sacolick, president of StarCIO and author of Driving Digital, agreed that breaking down data silos is probably the biggest step in developing a data and analytics strategy that drives business results. But it won't be easy.
"Most organizations have a landscape of data silos stemming from legacy systems that were developed without a data strategy through today where data is spread across on premises, cloud and SaaS solutions," Sacolick said.
Improving data literacy across the enterprise, not just within IT, is certainly needed. "Most organizations are still learning about data governance, including steps to catalog and classify data sources, address data quality, establish master data sources, and improve data security," he said. "IT leaders should consider bringing in analysts, training, and research to sensitize business leaders on how data governance can enable business opportunities and address risks."
For more from Sacolick, here's an excerpt from his book Driving Digital: The Leader's Guide to Business Transformation Through Technology.
4: Realize the value of 'continuous intelligence'
Intelligence agencies produce five types of intelligence: Current intelligence, estimative intelligence, warning intelligence, research intelligence and scientific and technical intelligence. All of that intelligence is ongoing, a concept Gartner calls continuous intelligence.
As part of a data and analytics strategy, Hare said IT leaders need to be thinking about how their organizations are continuously analyzing data and about developing their own types of intelligence. A type of intelligence organizations should be paying attention to, according to Hare, is competitive intelligence -- finding out what's happening with your organization's competitors.
5: Be aware of your limitations
It's important to know what you don't know -- or may not know for sure, Hare said. Intelligence agencies use an A to F ratings system to rate the reliability of sources and information. They communicate the ratings to analysts, who then can then better determine the best course of action, weighing the source versus the reliability rating.
These types of ratings systems for data are not common in the enterprise. Hare said IT leaders should collaborate with the business to try and establish some kind of ratings system to evaluate the data that's coming into their organization.
"We're not going to always have the best data and we're not always going to have the best analysis, but we need to be sure that we're communicating the information that we know is as good as is possible [while also] communicating that there's some risk and uncertainty in our analysis," Hare said.
Dig Deeper on IT applications, infrastructure and operations