Sergey Nivens - Fotolia
Computer vision, machine learning skills help fuel surge in AI jobs
A report by the world's No. 1 job site, Indeed, finds there are more AI jobs than ever, but job-seeker interest is leveling out. What accounts for the dwindling enthusiasm among job hunters?
There's great news for job seekers with AI skills. Whether there are many such people out there, however, is an...
Continue Reading This Article
Enjoy this article as well as all of our content, including E-Guides, news, tips and more.
open question.
A recent report by job site Indeed that examined job-posting data from 2015 to the present found employer demand for AI jobs has more than doubled over the past three years, with the number of AI-related job postings as a share of all job postings up about 119%.
The report classified AI-related jobs as job titles in which a substantial share of job-posting descriptions include the terms artificial intelligence and machine learning skills.
The same can't be said about job seekers' interest in AI-related roles, according to the report. After "uneven, but substantial" gains throughout 2015 and 2016, job-seeker interest in AI jobs essentially plateaued from the first week of 2017 to the first week of 2018, showing a year-over-year gain of just 1.4%.
AI talent shortage debate
This leveling off surprised Daniel Culbertson, economist at the Indeed Hiring Lab and author of the report, who expected job-seeker interest to remain strong, given the amount of opportunity in the high-paying field.
Is it fair to say there's an AI talent shortage?
"I wouldn't use these data [sets] to conclusively say there is a shortage of AI talent," Culbertson said. "What I can say is the leveling off could be due to the fact that AI is such a burgeoning and high-skilled field. Therefore, there isn't a high volume of workers out there with the required education and skills."
To Forrester analyst Brandon Purcell, the correlation is obvious.
"The data shows a clear gap between the supply and demand for AI-related skills," Purcell said. "Data scientists have long been referred to as unicorns, but specialists in deep learning, NLP [natural language processing], NLG [natural language generation] and other capabilities necessary for AI are like their even rarer winged cousins, the Pegasus."
He added that this is why some AI specialists are fetching $500,000 salaries and big tech companies are ravenously poaching talent, as seen last week with Apple snatching up Google's chief of search and artificial intelligence, John Giannandrea.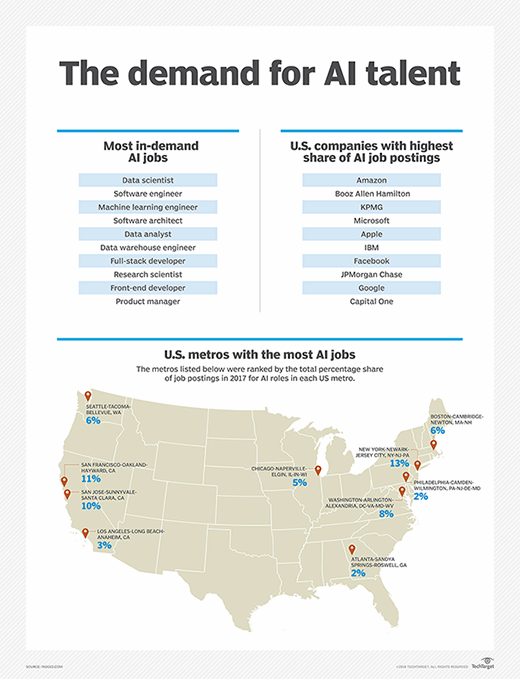 Purcell said he believes the need for AI-related talent is only going to increase and become more specialized.
"While there will continue to be a need for data science generalists, there will be a significant jump in the need for programmers and developers who are proficient in Google, AWS, Microsoft and IBM APIs for computer vision, language and speech," he said. "Further, there will be a whole new class of jobs focused on testing these systems for inaccuracy and bias and for monitoring their impact on the customer experience."
That accelerating demand for workers skilled in AI seemingly makes the plateau in job-seeker interest in AI jobs more disconcerting, but Culbertson said he isn't worried in the long run.
"If the demand for AI skills stays strong and the industry continues to look promising -- as one might expect -- we could see job-seeker interest in AI roles climb again as more workers gain the experience and expertise needed to work in the field."
Culbertson didn't disclose the exact size of the data sets used for the report, but more than 200 million people search for jobs each month on Indeed, and more than nine new jobs are added every second.
Machine learning skills, computer vision
Along with a dramatic jump in AI jobs as a share of all jobs posted, the pace of job growth in AI is accelerating. Year-over-year growth in the volume of AI job postings as a share of all job postings was 31.6% from 2017 to 2018, up from 20.1% in the 2016-to-2017 period.
Culbertson attributed the increased volume in large part to more postings for two AI-related roles: engineers who have machine learning skills and specialists with computer vision experience. Machine learning engineer was the No. 3 job title on the job list, right behind data scientist and software engineer. Computer vison engineer was No. 11.
The big tech players, as one might expect, accounted for the largest share of the U.S. AI job postings. That group includes Amazon, Apple, Google, Facebook, Microsoft and IBM, the report showed. But the big players in the tech industry aren't the only ones seeking those with machine learning skills and other AI-related proficiencies. Also with high shares of AI job postings are the likes of auditing giant KPMG, financial institutions like JPMorgan Chase and Capital One, insurance company Aetna and telecommunications company Verizon.
That's not surprising to Forrester's Purcell, who said most of the top talent is going to tech giants, with "incumbents" fighting for what's left over.
"KPMG and other large consultancies are building out AI centers of excellence," he said. "Banks, insurers and telcos all see a future in which customers interact conversationally with virtual assistants to achieve their goals. They are all trying to scoop up AI talent to craft a disruptive conversational customer experience driven by intelligence."
In terms of which U.S. metropolitan areas had the most AI jobs, the New York, Newark and Jersey City, N.J., metro area topped the list, followed by the San Francisco, Oakland and Hayward, Calif., metro area, and the San Jose, Sunnyvale and Santa Clara metro area. Metros were ranked by the total percentage share of job postings in 2017 for AI roles in each metro.
Dig Deeper on IT applications, infrastructure and operations