Jakub Jirsk - Fotolia
How pay-as-you-go hyper-converged hardware pricing works
With consumption-based pricing, vendors deploy an HCI on premises, while you pay a subscription fee. It promises to lower upfront costs and reduce headaches. But is it right for you?
Purchasing new hyper-converged hardware can be expensive, put a strain on IT resources and exceed many organizations' available budgets. In some cases, IT might turn to the cloud to handle certain workloads, but a cloud platform is not always a suitable answer, despite its many advantages.
To help bridge the gap between these two scenarios, several HCI vendors now offer consumption-based pricing, a delivery model in which a hyper-converged system is installed on premises but offered as a service. This provides the best of both worlds without the capital outlay associated with deploying new hardware into the data center.
Introducing consumption-based pricing for HCI
The consumption-based hyper-converged hardware pricing model works much like a cloud platform. A vendor provides the service -- in this case, a physical hyper-converged infrastructure (HCI) installed on premises -- and the customer pays a monthly subscription fee, often based on the resources they use each month. Although payment structures can vary from vendor to vendor, as can the services included with the hyper-converged systems, the results are the same. The customer gets an on-premises system without the huge upfront costs and deployment headaches typical of a traditional system.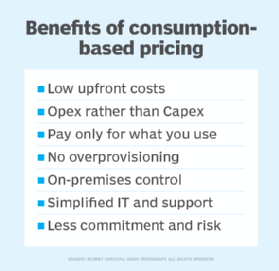 But consumption-based pricing offers more than just an Opex pricing structure. Customers get the security and control that comes with an on-premises system, while paying only for what they use. The vendor typically deploys and maintains the system, helping to simplify IT and reducing internal overhead. The pay-as-you-go model also lets customers scale as they need to, which can simplify capacity planning and avoid overprovisioning. Although vendors usually require a minimum commitment, such as a year's subscription, there is far less risk with lower barriers to entry and faster time hyper-converged implementation for customers.
Organizations interested in consumption-based hyper-converged hardware pricing should compare competing plans from vendors carefully; each has its own take on service delivery. For example, Dell EMC, Hewlett Packard Enterprise (HPE) and NetApp all offer HCI products that are available with some form of consumption-based pricing, but there are significant differences between each of these plans.
Dell EMC HCI
Dell Technologies On Demand is a consumption-based program that offers a range of payment options and services to accommodate varying system requirements. On Demand supports three pay-per-use consumption models: Pay As You Grow, Data Center Utility and Flex On Demand. Of these, the Flex On Demand model includes the Dell EMC HCI offerings.
Customers get the security and control that comes with an on-premises system, while paying only for what they use.
Flex On Demand lets organizations pay only for the technology they need, with payments adjusted to match usage. Users pay a single rate for all deployed capacity and can scale up and down as necessary. They also have immediate access to buffer capacity whenever needed, with payments adjusted accordingly. The program enforces a minimum usage term when enterprises first sign up, but after that they can extend the term, go month-to-month, refresh the equipment or return it.
Dell is a bit vague about which HCI systems qualify for this program. Much of their information simply states that select HCI products are included. However, some Dell sources are more specific, suggesting customers can use Flex On Demand for at least some hyper-converged systems based on VxRail or VxRack, as well as Dell EMC for Microsoft Azure Stack and VMware Cloud Foundation on Dell EMC VxRail. Contact Dell directly to get the most updated information on which HCI products are currently available through the Flex On Demand program.
HPE SimpliVity
Similar to Dell, HPE supports a consumption-based program, called GreenLake. According to HPE, the GreenLake program is the company's fastest growing service, with over $2.8 billion in total contract value and over 600 customers. The program offers customers a choice of subscription and service options for a wide range of purpose-built offerings from HPE and its partners. HPE's Pointnext advisory and professional services take care of planning, implementing, supporting and operating the products available through the GreenLake program.
You'll sometimes see the GreenLake program referred to as GreenLake Flex Capacity. Although GreenLake is generally considered to be a rebranding of GreenLake Flex Capacity, you'll also see it treated as an umbrella program that includes GreenLake Flex Capacity, depending on who you ask at HPE. It is because of this mixed messaging that the HPE SimpliVity HCI platform is described as either a GreenLake offering or a GreenLake Flex Capacity offering.
Regardless of the naming, the end result appears to be the same: an HCI platform available as a pay-per-use, on-premises service. Customers get an infrastructure product with variable payment options based on actual metered usage. They also get technology refreshes and the ability to add capacity at any time, along with enterprise-grade support and 24x7 coverage. In addition, businesses have the option to enter into a multiyear contract with HPE.
NetApp HCI
NetApp offers a consumption-based program called Cloud Consumption for NetApp HCI. The program's stated goal is to provide a simple approach for deploying a private cloud with monthly billing. In fact, NetApp is pushing the cloud angle hard right now, which is why the company often refers to its HCI platform as a hybrid cloud infrastructure.
When organizations sign up for the Cloud Consumption program, NetApp installs a cluster of HCI nodes in their data center (or other specified location). NetApp charges on a per node, per month basis. The cluster must include a minimum of four storage nodes and two compute nodes. Users must also make a 12-month commitment. After that, they can go to a month-to-month plan and can expand nodes at any time.
NetApp offers the Cloud Consumption program for its H400 and H600 line of HCI products. However, NetApp is a little unclear about who administers which components. When the Cloud Volume Services are incorporated into the HCI platform, NetApp fully manages those, but it appears that the customer takes care of the infrastructure itself. As with the other consumption-based programs, enterprises should contact the vendor directly to clarify any vagaries and get the most recent information.
Choosing consumption-based HCI
The advent of the consumption-based, pay-as-you-go pricing model for hyper-converged hardware is yet another indication of how dynamic the hyper-convergence market has become and how it continues to grow and evolve, sometimes with staggering momentum. Given these conditions, it's no surprise that program details for various hyper-converged hardware vendors that support this model can get muddled at times.
Even so, organizations looking for an HCI could have much to gain with this model in terms of savings and flexibility, especially those who support hybrid cloud environments. Because of the rapid changes cited in this article, however, IT teams should thoroughly investigate these consumption-based programs before making any decisions, being sure to read all the fine print they can find.