Petya Petrova - Fotolia
Dell EMC PowerOne, On Demand add cloud-like pricing
Dell EMC expands storage-as-a-service pricing, launches PowerOne converged stack for IT users looking for the "Holy Grail" of cloud pricing and on-premises management.
AUSTIN, Texas -- Dell Technologies today expanded its on-demand pricing program and launched a PowerOne converged infrastructure platform packaging the vendor's storage, compute, networking and virtualization.
Dell EMC PowerOne and On Demand pricing tie into the trend of IT organizations seeking cloud-like Opex consumption and management of resources inside the data center. Neither concept is new to Dell or its competitors.
Consumption-based pricing follows similar programs established by rivals, such as Hewlett Packard Enterprise GreenLake and NetApp Keystone. Dell EMC PowerOne is a twist on converged infrastructure (CI) with the addition of automated management and provisioning. The new system will compete with Dell EMC's own CI and hyper-converged infrastructure (HCI) products, mainly its VxBlock CI stack that also includes technology from Dell rival Cisco.
Dell said On Demand and PowerOne will be available this month. It will presumably make pricing details available this week at the Dell Technologies Summit.
Consumption-based services now part of the landscape
Dell On Demand arrives more than a year after HPE unveiled GreenLake, and comes after NetApp launched Keystone at its Insight conference last month. As Steve McDowell, senior analyst for storage and data center technologies at Moor Insight & Strategy, put it, "Dell is stepping gingerly" into cloud-like consumption.
We're seeing everyone add capacity on demand and consumption-based service that gives IT the economics and simplicity of cloud, but you manage it on-prem.

Steve McDowellSenior analyst, Moor Insight & Strategy
"Dell has been moving into this market slowly over the past 18 months," McDowell said. "But they're stepping up their game and realizing this is part of the landscape. When we talk about private and hybrid cloud, now that includes consumption-based services. We're seeing everyone add capacity on demand and consumption-based service that gives IT the economics and simplicity of cloud, but you manage it on-prem."
Dell Tech on Demand makes all of the vendor's hardware available as consumption-based and as-a-service pricing. Dell EMC already offered Storage as a Service (STaaS). Now Dell is adding PowerEdge servers, all of its personal computers and full-stack offerings such as Dell Technologies Cloud and Unified Workspace. PowerOne will also be offered as a service option.
Sam Grocott, senior vice president of product marketing at Dell EMC, called Pay as You Go pricing, Flex On Demand and Data Center Utility the three pillars of Dell On Demand.
Pay as You Go pricing uses forecasted growth to set billing. Customers can set storage capacity levels to grow at a set rate that they scheduled ahead of time. Or they can use Flex On Demand pricing for storage and servers. Flex On Demand customers buy storage as "committed capacity" that they pay for and use up front, and "buffer capacity" that is installed but not charged for until needed. Users can convert buffer capacity into committed capacity for their next billing period. Flex On Demand for PowerEdge servers charges customers by the hour. Data Center Utility meters usage and bills customers accordingly.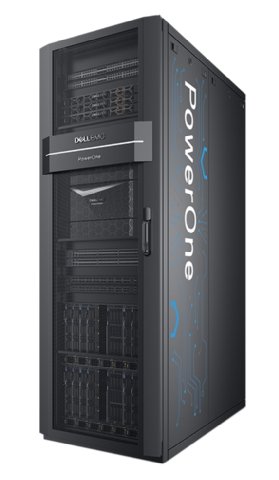 Dell bills PowerOne as autonomous infrastructure. It is CI with an automation controller built on Kubernetes and Ansible workflows that handles configuration, provisioning and lifecycle management of the hardware. Dell EMC PowerOne consists of PowerMax flash storage arrays, PowerProtect data protection software and integrated appliances, PowerEdge MX servers, PowerSwitch open networking and VMware virtualization. The PowerOne controller serves as the automation engine.
Users control resources through the PowerOne Controller API, which can tie into a service portal for as-a-service resource provisioning. Jon Siegal, Dell vice president of product marketing for networking and solutions, said administrators can set a desired outcome -- creation of a VMware cluster, for example -- and the engine will calculate the best way to allocate storage, compute or networking resources.
Dell PowerOne vs. Dell EMC VxBlock
PowerOne is the first engineered full infrastructure stack that Dell has launched since its $67 billion acquisition of storage giant EMC in 2016. It also gives customers an alternative to the Dell EMC VxBlock converged infrastructure, which includes Cisco UCS servers and switching.
"This is the response the market was waiting for when Dell and EMC came together in terms of response to the VxBlock," said Christian Perry, IT infrastructure research manager at 451 Research. "They didn't rush anything to market. They have to be careful with their Cisco relationship because the VxBlock isn't going away."
Like with many Dell EMC storage products, PowerOne competes with other Dell EMC products. VxBlock is the main one. EMC and Cisco have been selling CI systems since 2009.The relationship isn't exclusive, as Cisco has CI partnerships with most of the other large storage array vendors, including NetApp, IBM, Pure Storage and Hitachi.
Perry said he expects Cisco UCS customers to stick with VxBlock if they want Dell EMC storage, while Dell will aim PowerOne at shops that don't use Cisco. But because Cisco customers have other CI options, Dell is likely to continue to update its VxBlock platform.
"There are a lot of Cisco customers on the networking side and UCS side, and UCS customers tend to be loyal to Cisco," Perry said.
CI also competes at times with HCI, where Dell is the market leader according to IDC research. That would make PowerOne competitive in certain use cases with Dell EMC VxRail HCI appliances. CI and HCI are both seen as public and hybrid cloud building blocks, and Dell executives have said many VxRail customers switched over from CI. HCI is considered simpler and easier to manage, but storage must be managed through the hypervisor and scales in the same chassis as compute.
"CI also supports bare metal," Perry said of a CI advantage over HCI. "And you can scale nodes independently, which was always an advantage of converged compared to hyper-converged."
McDowell said PowerOne's self-management features respond to IT administrators' requests.
"IT is saying, 'Give me the tools I can use to manage broad swatches of infrastructure, rather than have to manage storage and service and networking,'" he said. "Everyone's aiming for the Holy Grail of a self-driving data center."