Dell EMC vs. NetApp: Comparing converged infrastructure systems
The Dell EMC VxBlock and NetApp FlexPod converged infrastructure platforms can help IT reduce the complexities of implementing and maintaining data center systems.
Although it seems everything is happening in the hyper-converged infrastructure and composable systems markets, there are still numerous workloads that require a converged infrastructure. Vendors that sell converged infrastructure systems address those needs.
Dell EMC VxBlock and NetApp FlexPod are two leading converged infrastructure platforms. Both are built on Cisco Unified Computing System (UCS) servers and Cisco Nexus switching technologies, and both can scale compute and storage resources independently. Beyond that, these two systems differ in several important ways, however.
One of the biggest differences is that VxBlock is a line of fully integrated composable infrastructure appliances, whereas FlexPod is a set of reference architectures for infrastructure configurations that are pretested and validated to work together in a converged system.
But despite their different approaches, the Dell EMC VxBlock 1000 appliance and NetApp FlexPod reference architecture are striving toward the same goal: provide IT with an integrated system that reduces the complexities that come with implementing and maintaining traditional data center systems.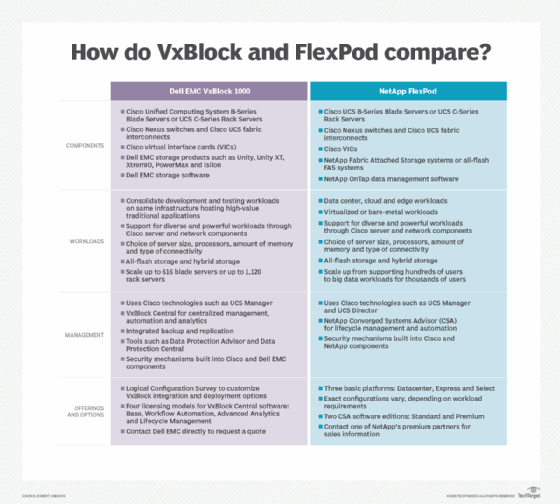 Dell EMC VxBlock vs. NetApp FlexPod components
Both converged infrastructure systems can use Cisco UCS B-Series Blade Servers or UCS C-Series Rack Servers, along with Nexus switches and Cisco UCS fabric interconnects. In addition, both systems support Cisco virtual interface cards to better facilitate server virtualization.
The two systems start to diverge when it comes to storage, though. A Dell EMC converged system supports a range of Dell EMC storage offerings, including Unity, Unity XT, XtremIO, PowerMax and Isilon. In addition, organizations can use different storage systems in a VxBlock 1000 infrastructure, providing greater flexibility for supporting various types of workloads.
Each storage system comes with specialized software for supporting data management. For example, a PowerMax storage system includes PowerMaxOS, a storage OS that contains a built-in machine learning engine. VxBlock also comes with VMware vSphere Enterprise Plus, which includes ESXi, NSX virtual networking, vCenter Server and, optionally, vRealize Log Insight.
The FlexPod architecture uses NetApp storage for its data, either Fabric Attached Storage or All-Flash FAS (AFF). These FAS and AFF systems support multiple storage protocols, such as Network File System and Common Internet File System, as well as different topologies, including NAS and SAN.
In addition, NetApp's OnTap data management software is installed on every FAS and AFF system. The software can help accelerate workload deployments, improve storage efficiency and simplify management operations, while enhancing data protection.
Supported workloads
Both VxBlock and FlexPod offer a great deal of flexibility when it comes to supported workloads. Dell EMC, for example, stresses the ability to consolidate development and testing workloads on the same infrastructure that hosts high-value traditional applications (HVTA). This approach can accelerate development cycles as well as bring more agility to HVTA maintenance and upgrades.
As with VxBlock, FlexPod accommodates a broad set of workload and infrastructure requirements, including cloud and edge scenarios. FlexPod also supports both virtualized and bare-metal environments, making it possible for organizations to run everything from virtual desktop infrastructures to high-performing applications that incorporate AI, machine learning, deep learning and other advanced technologies.
Cisco server and network components, which are available in a wide range of configurations, enable VxBlock and FlexPod to support such diverse and powerful workloads. Organizations can select the resources they need to support their specific workloads. In addition to choosing between rack and blade servers, they can also select the server size, type of processors, amount of memory and type of connectivity, which determines bandwidth and throughput.
Organizations evaluating Dell EMC vs. NetApp systems must consider their current and future workload requirements and determine which product will deliver the necessary performance and capacity within budget.
Cisco components aren't the only driving factor when it comes to supported workloads. The infrastructure's storage offering is also critical to performance, as well as determining the amount of data that users can store. Both VxBlock and FlexPod offer all-flash storage or hybrid storage, which combines SSDs and HDDs into a common system.
Dell EMC might have an edge over NetApp in terms of the number of available storage products, but both vendors have solid reputations when it comes to storage. Organizations evaluating Dell EMC vs. NetApp systems must consider their current and future workload requirements and determine which product will deliver the necessary performance and capacity within budget.
Organizations should also consider the system's scalability. Dell EMC, for example, specifically states that a VxBlock system can scale up to 616 blade servers or up to 1,120 rack servers, with support for up to 88 chassis. NetApp doesn't provide such concrete details but states an organization can scale FlexPod from a system that supports hundreds of users to one that supports big data workloads for thousands of users. Organizations that need specific infrastructure configurations should contact the vendors directly for exact scalability numbers.
Management and security
One of the most important benefits of a converged infrastructure is simplified management, which an organization can achieve by centralizing and automating operations. Both Dell EMC and NetApp offer tools for controlling infrastructure components.
Dell EMC includes VxBlock Central, which provides a single interface and access point for infrastructure-related operations, making it possible to manage the VxBlock environment as a single engineered system. In addition to system-level awareness, VxBlock Central offers deep-context key performance indicators and real-time alerting, as well as asset management based on inventory hierarchy and relationships.
VxBlock Central also provides automation and analytics capabilities supported through its integration with VMware vRealize Operations and vRealize Orchestrator. This partnership enables VxBlock Central to perform daily assessments of the infrastructure and then alert administrators to technical and security issues. The vRealize integration also helps organizations create their own workflows and cloud services blueprint to facilitate self-service.
In addition, VxBlock uses Cisco's UCS Manager, device management software embedded into UCS components. FlexPod also relies on UCS Manager, along with other Cisco management tools, such as UCS Director, which centrally automates and orchestrates operations.
FlexPod includes the NetApp Converged Systems Advisor (CSA), a lifecycle management and automation tool for FlexPod infrastructures. CSA remotely monitors the entire FlexPod converged infrastructure continuously, offering intelligent insights into the FlexPod architecture. This helps organizations ensure systems are always optimally configured based on an automated review of more than 100 best practices.
VxBlock provides integrated backup and replication, as well as such tools as Data Protection Advisor and Data Protection Central, which are in addition to the security mechanisms built into the Cisco and Dell EMC components. FlexPod also uses the security capabilities built into the Cisco and NetApp components. For example, FlexPod incorporates the Cisco Secure Enclaves Architecture, which provides a threat-centric approach to security.
Licensing, pricing and support
Dell EMC offers the Logical Configuration Survey to customize VxBlock integration and deployment options based on collected information such as storage and virtualization configurations. The vendor preintegrates, preconfigures, tests and validates before shipping. Not surprisingly, the price tag for such a system will depend on the selected compute and storage resources. Organizations must contact Dell EMC directly to request a quote.
A VxBlock system requires the VxBlock Central software to perform daily operations. The software is available in four licensing models. The Base license supports basic management tasks and provides inventory reporting and alerting. This license is included with VxBlock at no additional cost. The other three options -- Workflow Automation, Advanced Analytics and Lifecycle Management -- are available as add-on licenses that each provide additional services.
NetApp takes a slightly different approach with its FlexPod composable infrastructure by offering four base platforms as a starting point:
FlexPod Datacenter, which is a massively scalable virtual infrastructure;
FlexPod Express, which is a compact infrastructure that targets remote offices and edge environments
FlexPod Select, which targets high-performance computing and big data workloads; and
FlexPod Modular Infrastructure, which provides an option for quickly accommodating changing business priorities.
The exact configuration and pricing for any VxBlock or FlexPod system will vary depending on an organization's requirements. Also, like VxBlock, FlexPod requires a license for its CSA software, which is available in two editions. The Standard edition includes system, discovery, assessment, monitoring and notifications. The Premium edition adds more advanced options, including self-healing and reporting. Contact a NetApp premium partner for information about pricing.
When comparing VxBlock vs. FlexPod, IT buyers should also consider what types of support each vendor offers. Dell EMC provides 24/7 global support for its VxBlock systems, whereas NetApp offers several options, including support directly from NetApp or Cisco or through the partner that sold the FlexPod system.
Dell EMC vs. NetApp: Not an easy choice
Dell EMC and NetApp both offer converged infrastructures that provide efficient integrated stack systems to meet a wide range of workload requirements. VxBlock and FlexPod are made up of enterprise-level components that are validated to ensure optimal performance and ease of administration.
The choice between these two systems isn't an easy one. Decision-makers who compare VxBlock and FlexPod will need to carefully assess each platform, taking into account their organization's workloads and system requirements in the short term and for the foreseeable future.