VMware vRealize 7.5, 7.6 offer key admin, user enhancements
This hands-on look at VMware vRealize Automation examines the improvements made in versions 7.5 and 7.6 as well the disappearance of other features.
Although VMware provides numerous enhancements in its most recent version of vRealize Automation, version 8, the versions released late last year -- 7.5 and 7.6 -- offer several improvements to help admins who haven't yet considered the move to vRealize Automation V8.
One of the biggest improvements to v7.5 of vRealize Automation (vRA), VMware's cloud automation software, is the new user interface.
IT admins can still find the items they need in the same place, but the UI has been updated to the VMware Clarity Standard. This makes it easier for admins to work with the web-based interface.
The biggest visual change for users is that catalog items have new tiles and are no longer grouped in a menu structure.
Instead, as the image below shows, users can find catalog items by using a filter. They can still group catalog items by the type of service that's defined under catalog management but also in other ways, such as by operating system.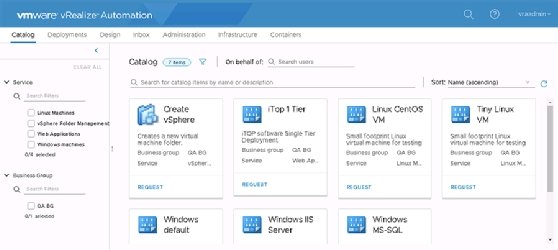 Versions 7.5 and 7.6 of vRA also improved the way end users work with their deployments. There's no longer a separate requests tab, as all requested deployments in the process of being built are now under the deployment tab along with the already existing deployments. As shown below, this new overview also contains a feature for users to filter and find deployments more easily.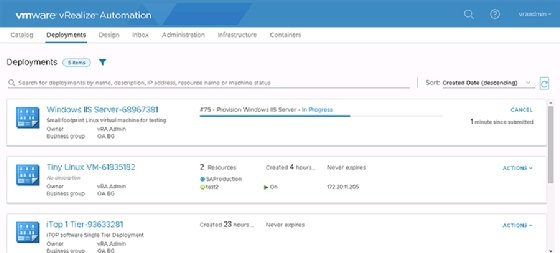 A new integration has been added to vRA back-end software, enabling users to integrate it with vRealize Operations (vROps). Organizations that have licenses for both products can install the agent for vRA in vROps. An admin can also complete the integration by registering vROps from vRA. After this bidirectional configuration is done, admins can access usage data for vROps from within vRA. A monitor tab is added to each machine in a deployment, enabling users to check the statistics of that machine.
But this also works the other way around, as vROps can create and send placement suggestions to vRA to place new machines within the right reservation and, thus, in the right cluster. For this to work, the admin must create a placement policy, like the one shown below.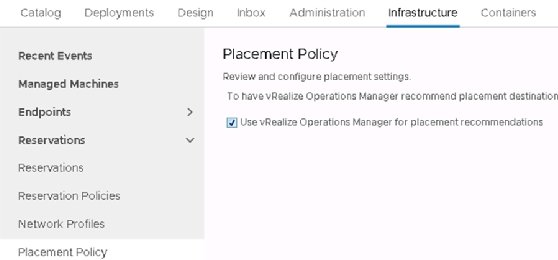 Starting with vRealize Automation v7.5, admins can add NSX-T Data Center components in blueprints. The image below shows an example of a blueprint with VMware NSX components. Currently, admins can add an on-demand load balancer, on-demand routed network, on-demand NAT one-to-many network and an existing security group. These new features will be supported in future releases. Because NSX-T undergoes many version updates, be sure to check the VMware Interoperability Matrices for product compatibility. For example, for vRA 7.6, users must run NSX-T version 2.4 or newer.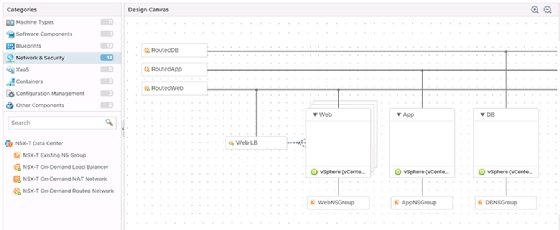 Version 7.6 of vRealize Orchestrator
The vRealize Automation upgrade also includes a new version of vRealize Orchestrator. Although previous versions of the product included an HTML-based user interface that enabled users to run and monitor workflows, in v7.6, the client also contains the functionality for creating and editing workflows. However, there's a caveat: Workflows created in the HTML-based client can't be edited from the legacy or Java-based client, but they can be run from there. The same applies once an existing workflow from the old client has been edited in the new client. Make sure your developers are ready to make the switch to the new client. The development of workflows enables admins to use the same features, but a few things are missing.
There's no feature to check the relationships between workflows, which makes it hard to find which workflow is calling another workflow or action. Also, workflows are no longer placed in folders in the inventory, but admins can search for and locate them by name or tag. A folder named webroot contains all workflows created in the new client.
A substantial improvement in the HTML-based client allows admins to debug JavaScript code. They can click to the left of a line of scripting code to place a breakpoint and the debugger stops there, enabling the admin to investigate the values of variables and the rest of the workflow's environment. The debugger also goes into action elements, enabling the admin to step through the commands in that scripting element, too, as shown in the image below.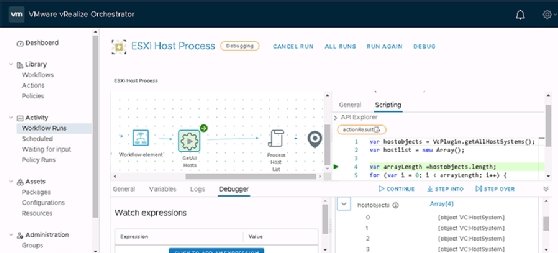 Missing from the debugger in this version -- and v8 -- is the feature that enables admins to place a breakpoint on any type of element in the workflow. The debugger only stops at JavaScript lines. The button is there, but it no longer starts the debugger.
With the new client, users can do version control and display the different versions graphically by presenting all scripting code side by side. The following image shows how the new client highlights changes between versions and how a newer version can be restored to a previous one.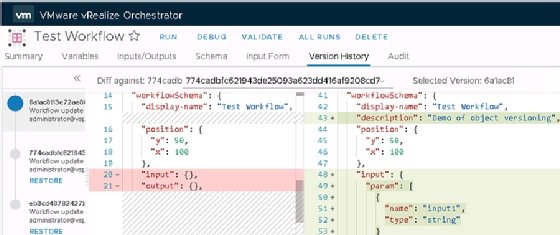 New vRealize Orchestrator functionality
Admins can configure the new group and role-based management only from the HTML-based client, as the permission tab has been removed from the old client. Group management enables admins to assign workflows to user groups so members of the group can run, or run and edit, assigned workflows. For role-based administration, the only two roles in this release are administrator and workflow designer. However, role-based management is only available for vRealize Orchestrator instances authenticated with vRA. Group-based assignments are also available to organizations that use vSphere integrated authentication.
Also, since vRealize Orchestrator's lifecycle is synced to vRealize Automation, VMware advises admins to no longer use an external Orchestrator server but to use the embedded Orchestrator server. This also means that upgrading vRA upgrades the Orchestrator component at the same time.
VMware vRealize Automation is available as part of the vRealize Suite Advanced or Enterprise editions but can also be purchased separately.
VRealize version 7 or 8?
Currently, both versions 7 and 8 of vRealize Automation are available. V8 has been overhauled completely, but not all the functionality of v7 has made it into v8. Users of older versions, such as v7.4, may wish to upgrade to v7.6 and only consider a major upgrade when a newer version with added functionality is released. Also, with v8, there's no in-place upgrade available, but this is expected to be offered in v8.1 later this year.
Dig Deeper on VMware updates, certifications and training