Hyper-converged data center vendors innovate, evolve products
Review notable hyper-converged, HCI 2.0 and composable disaggregated product news to gain insight into data center convergence technology as you make infrastructure decisions.
The hyper-converged data center has been around for years now, going back to at least when pioneer Nutanix helped jump-start the market with its first appliances in 2013. A lot has changed since then. Continued product innovation has advanced hyper-convergence.
Today, hyper-converged technology has gone mainstream, and big and small organizations have adopted hyper-converged infrastructure and its descendants to meet the storage and processing requirements of their data and mission-critical workloads.
For its first few years, hyper-converged infrastructure served a few smaller use cases, mainly virtual desktop infrastructure (VDI). Many viewed hyper-converged systems as a simpler way to scale out VDI resources when expanding virtual desktop implementations. Enterprises started to view hyper-convergence as more of a viable alternative to traditional data center and converged infrastructures, however, as its Capex and Opex advantages became clearer, and hyper-convergence the technology matured as an infrastructure paradigm.
Many enterprises who deploy hyper-converged data center technology today do so to modernize their infrastructure. It makes it easier to purchase, deploy, manage and scale IT resources -- both on-premises and at the edge -- for workloads well beyond its initial perceived strengths. Hyper-converged infrastructure is not perfect, however, particularly for those who would prefer to scale storage and compute resources separately.
Technology doesn't stand still, though.
Hyper-converged infrastructure has evolved, and some hyper-converged vendors have even started to dip their toes into disaggregation to enable customers to scale storage and compute independently. Adjacently, composable infrastructure (or architecture), a spinoff of both hyper-converged and converged infrastructure, holds great promise as a way to even more efficiently allocate and tailor server resources to specific workloads and use cases.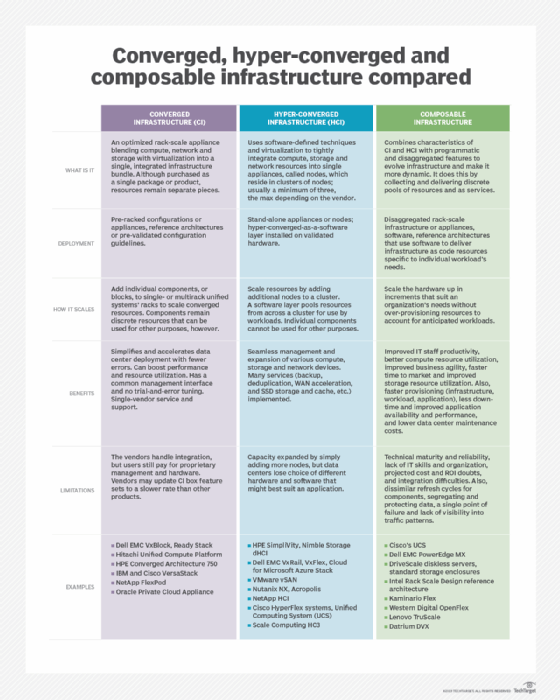 Converged, hyper-converged data center and composable infrastructure vendors released new products -- or added significant features to existing offerings -- over the past year. Let's take a look at some of the most notable to gain insight into where the converged data center market is headed.
The forward march of the converged data center
Dell EMC added predictive analytics to its VxRail hyper-converged appliances -- built on the company's PowerEdge servers and subsidiary VMware's market-leading vSAN hyper-converged software -- in November 2019. Available just a week after rival Hewlett Packard Enterprise (HPE) released InfoSight predictive analytics for its SimpliVity hyper-converged infrastructure platform, Dell EMC's VxRail Analytical Consulting Engine (ACE) monitors and analyzes performance across VxRail clusters to monitor capacity, assist with upgrades and warn of system problems.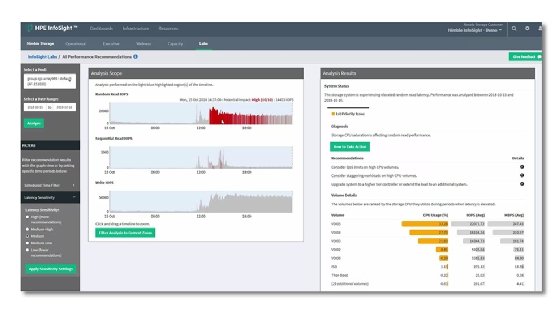 Dell EMC also expanded NVMe support for SAP HANA in-memory databases and AI workloads on VxRail and brought network management to the hyper-convergence platform. The latter by letting administrators manage network switches across multi-rack VxRail configurations in SmartFabric Services, a part of Dell EMC's SmartFabric OS10 networking OS.
On the converged infrastructure front, Dell Technologies added automated management and provisioning to the Dell EMC PowerOne CI stack, which packages the vendor's storage, compute, networking and virtualization technologies into what Dell EMC calls an autonomous infrastructure. PowerOne is an alternative CI option to Dell EMC's own preconfigured and custom-designed VxBlock system.
VxBlock, unlike PowerOne, integrates Dell EMC storage and data protection with Cisco Unified Computing System servers and Cisco Nexus switches. Early in 2019, Dell EMC expanded the cloud functions of the VxBlock 100 systems, which it introduced late the previous year. It also added VMware Cloud Foundation (VCF) software stack as an option for VxRail at that time. VCF merges compute (vSphere), storage (vSAN) and network provisioning (NSX) with a software-defined data center manager to automate lifecycle management so as to breakdown administrative data center silos and facilitate end-to-end application deployment.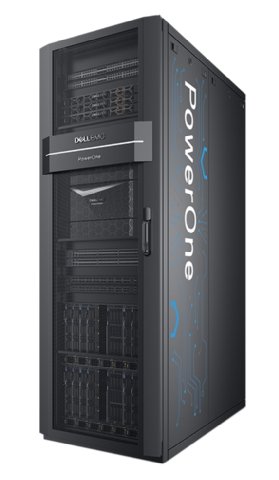 For its part, VMware introduced vSAN 6.7 Update 3 at VMworld 2019 in August. The upgrade improved performance and reliability, as well as capacity management, monitoring and provisioning. It also enhanced support for the Kubernetes open source container management system.
HPE also kept busy with HCI products in 2019. HPE introduced the Nimble Storage dHCI, a disaggregated hyper-converged infrastructure with InfoSight predictive analytics. An HCI 2.0 product, the Nimble Storage dHCI can scale compute and storage independently, unlike HPE's SimpliVity, a standard hyper-converged infrastructure.
In addition to predictive analytics, HPE also expanded SimpliVity with the addition of the SimpliVity 380 software-optimized node. Based on ProLiant Gen10 servers, the new node plays to SimpliVity's usual data reduction and compression strengths, but nixes the GPU the hyper-converged platform usually uses to perform those functions, freeing up a PCI slot.
HPE also introduced the SimpliVity 380 model with bulk storage for backup and archiving and the SimpliVity 325 for remote offices at the network edge. Ctera Networks Ltd. introduced another SimpliVity-based edge computing product, the Edge X Series appliance last March.
The Edge X Series is a hyper-converged cloud gateway that combines HPE's SimpliVity hyper-converged infrastructure software with Ctera Networks' Enterprise File Services Platform for features like local high availability, asynchronous cloud replication and inline deduplication. A Global File System manages the caching of hot data locally for quick access and lower-cost object storage in public and private clouds for tiering colder data, all while creating a single mount point and namespace that spans multiple clouds, on-premises locations and remote office/branch offices.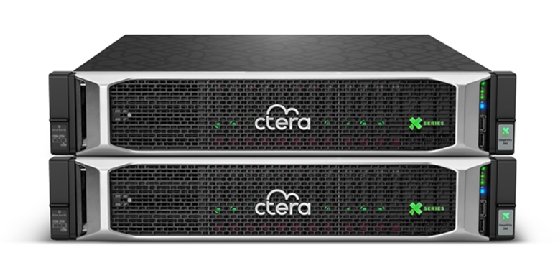 At the HPE Discover show in June, HPE and Nutanix announced an agreement for HPE to rebrand Nutanix hyper-converged infrastructure software on HPE ProLiant servers. The deal, similar to Nutanix deals with Dell, Lenovo and Fujitsu -- and a type of agreement HPE previously bucked against for years -- also allows HPE to bundle the free Nutanix Linux-based AHV hypervisor as an alternative to customers paying a license for VMware. The deal is seen as a bid by both companies to regain market share against rivals Dell EMC and VMware.
Hyper-converged infrastructure has evolved, and some hyper-converged vendors have even started to dip their toes into disaggregation to enable customers to scale storage and compute independently.
Nutanix also added secondary storage capabilities to the Enterprise Cloud Platform -- its hyper-converged infrastructure software stack -- in 2019. Nutanix Mine appliances combine backup software from either Commvault, HYCU, Unitrends, Veeam Software or Veritas with Nutanix's data fabric, which offers tiering and data reduction, and Prism management console to enable data protection in a hyper-converged cluster. The idea is to let users manage backup data in a way similar to primary data.
Other significant new and updated products
At the 2019 Flash Memory Summit in August, Western Digital expanded its composable OpenFlex family with the OpenFlex F3100 Series Fabric Device. The 3U all-flash NVMe-oF array disaggregates compute, storage and network into resource pools administrators can provision on the fly. Western Digital also announced its participation in the new Open Composable Compliance Lab and development of the Open Composability API, which aims to bring product validation and interoperability to the composable infrastructure space.
In December, Scale Computing introduced its HE150 all-flash NVMe hyper-converged infrastructure edge computing appliance for space-constrained edge environments, a compute device that comes in a three-node cluster and doesn't require a server rack. At a mere 4.6 inches wide, 1.7 inches high and 4.4 inches deep, the HE150 is a miniature version of the Scale Computing's HE500 hyper-converged edge appliances released a few months earlier. Scale Computing designed both systems for Kernel-based Virtual Machine, aka KVM, open source hypervisor.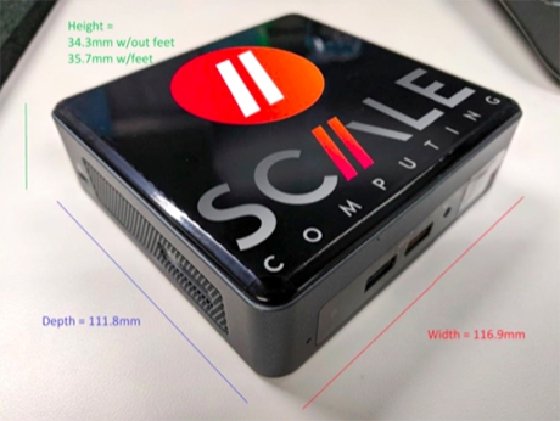 In related news, NEC Corp. partnered with Scale Computing to pre-integrate the latter's HC3 hyper-converged infrastructure OS software to deliver the former's first hyper-converged appliance for remote offices and SMBs. NEC D120h server requires a minimum of two nodes. The NEC HCI appliance has a default configuration of three nodes in NEC's 2U Express5800/D120h server enclosure, with an option to add a fourth node in that enclosure and second enclosure to max out with an eight-node cluster.
Pivot3 added AI-enabled data protection to its Acuity hyper-converged software platform. This addition enables Pivot3 appliances to stream telemetry data to its support cloud for analysis and troubleshooting.
With Hive Fabric 7.3 last May, HiveIO significantly upgraded its hardware-agnostic hyper-converged system. The update added support for GPU acceleration in Hive Fabric-enabled servers, software-defined networking, in-memory storage and support for two-factor authentication. As part of HiveIO support, Hive Sense can send metrics, logs and configuration back to HiveIO to help company engineers resolve problems more quickly. A few weeks ago, HiveIO improved and simplified the hyper-converged system's interface with the release of Hive Fabric 8.0. The company also delivered more insight into infrastructure and application environments, added a cloud backup feature and enhanced data protection for VMs and user data through disaster recovery.
Startup Datrium introduced Automatrix, bringing multi-cloud and cloud-like subscription pricing to its hyper-converged infrastructure platform. Automatrix, which can function as primary and secondary storage, enables users to store and protect data across clouds. Features also include routine administration tasks automation and automatic encryption.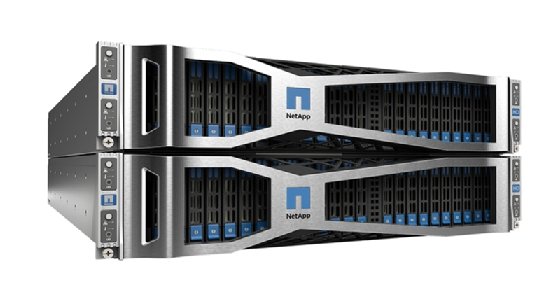 NetApp updated NetApp HCI, its scale-out SolidFire all-flash and Element Software-based disaggregated hyper-converged product for hybrid cloud deployments. NetApp HCI lets users independently scale compute and storage resources across on-premises and multiple clouds, while its control plane enables the managing of resources across clouds using identical interface and procedures.
Convergence vendors kept themselves busy -- and their customers on their toes -- with a range of new products and hardware and software upgrades over the past year. You can expect more of the same in 2020, as the advantages of disaggregation and deploying hyper-converged systems at the network edge become more well known, and as hyper-converged vendors and others fine tune these technologies and products. If you haven't seen the need to adopt hyper-converged data center or related technology yet, these innovations might just sway you to take the plunge in the coming months.
Dig Deeper on Converged infrastructure management