Get to know Nutanix hyper-converged infrastructure products in-depth
Nutanix products are major players in the hyper-convergence market. As a pioneer, Nutanix introduced one of the first HCIs and has modified and expanded its offerings ever since.
Explore Nutanix's hyper-converged infrastructure hardware and software products so you can get up to speed on which options are available as you consider where to take your IT infrastructure next.
Hardware
Nutanix NX is a series of Nutanix-branded HCI appliances built on Supermicro servers that run Enterprise Cloud Platform hyper-convergence software. Nutanix sells a number of versions of its NX HCI nodes targeted at a variety of different use cases and a mixture of configuration options, such as memory, storage and compute. For example, the NX-8155-G6's use cases are database and business-critical apps, whereas the NX-8155-G7 adds files and objects to the mix.
Other examples include the following:
NX-3060-G7 for private cloud, end-user computing (EUC) and virtual desktop infrastructure (VDI), files and objects;
NX-1065-G7 for remote office/branch offices and test and development;
NX-3170-G6 for private cloud, EUC and VDI;
NX-3155G-G6 for EUC and VDI;
NX-5155-G6 for analytics and big data, backup and disaster recovery (DR), files and objects; and
NX-8150-G7 for high-performance computing, databases, files and objects.

OEMs that have partnered to offer Nutanix hyper-converged infrastructure software on their appliances include Hewlett Packard Enterprise (HPE), Lenovo, Fujitsu, Dell EMC, IBM and Inspur (in China). This means customers can purchase HPE ProLiant DX systems or Dell EMC XC appliances built on Dell EMC PowerEdge server hardware with Nutanix Enterprise Cloud HCI software preintegrated, for example. Others include IBM's CS, Lenovo's ThinkAgile HX series and Fujitsu's Primergy appliances.
Major third-party server vendors that offer Nutanix Enterprise Cloud as a software option through resellers include HPE and Cisco. Customers can install Nutanix hyper-converged infrastructure on ProLiant and Apollo servers from the former and Unified Computing System servers from the latter. HPE also offers Enterprise Cloud as part of its GreenLake services program. Other vendors in this hardware category include Intel with its Data Center Block server systems and rugged x86 systems from Klas and Crystal.
A software-defined infrastructure, Enterprise Cloud Platform simplifies the delivery of IT resources by virtualizing and pooling compute, storage and network resources across a cluster of Nutanix-enabled appliances.
Software and services
Enterprise Cloud Platform is Nutanix's HCI software stack. A software-defined infrastructure, Enterprise Cloud Platform simplifies the delivery of IT resources by virtualizing and pooling compute, storage and network resources across a cluster of Nutanix-enabled appliances. Components include the Nutanix Acropolis OS for software-defined storage, virtualization and data protection; Prism for infrastructure and application management; Calm for lifecycle management and application automation; Flow to virtualize networking; Xi Beam for multi-cloud optimization; and Xi Cloud Services, which enables IT administrators to extend Nutanix HCI to the public cloud. Nutanix users can benchmark and evaluate their HCI using the company's X-Ray software.
Acropolis, the OS that runs the Nutanix HCI platform, delivers automated data tiering, scalability, space efficiency, security and data protection. It includes a built-in free AHV hypervisor (aka Acropolis hypervisor), which is based on the Linux-based KVM hypervisor. Nutanix also supports VMware vSphere and Microsoft Hyper-V. There are three tiers of Nutanix Acropolis: Starter for smaller deployments; Pro, which adds resilience, management and rich data services; and Ultimate, the full software suite.
Prism software manages the entire hardware stack and VMs of Acropolis-run hyper-converged appliances. Prism's automated control plane provides predictive analytics and automates data movement using machine learning. With Prism, Nutanix shops can scale, manage and upgrade clusters; manage virtual networking; and fine-tune VM policies for deduplication, snapshots and cloning, compression and DR. Prism also offers customizable dashboards with instant search, as well as predictive storage and CPU behavior trends and optimization recommendations. Prism Starter is free with Acropolis HCI systems. The subscription-based Prism Pro delivers planning and analytics features.
Calm brings application orchestration and lifecycle management to Nutanix hyper-converged infrastructure. With Nutanix Calm, admins can select, distribute, scale, manage, monitor and remediate both multi-tiered and distributed business applications across their whole infrastructure, including on-site private cloud, public cloud and hybrid cloud.
Flow is tightly integrated with AHV and Prism to integrate software-defined networking with Nutanix Enterprise Cloud Platform. It streamlines and automates network and policy management for Nutanix virtual environments and HCIs. For example, Nutanix Flow can automate common network operations, such as modifying configuration settings and deploying application security. Flow incorporates microsegmentation so administrators have granular control over traffic in and out of VMs and can control them independent of their physical environments.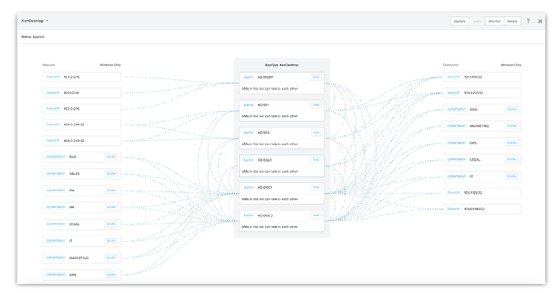 Xi Beam, a SaaS option for optimizing cloud resources, is a tool designed to provide Nutanix customers with a complete multi-cloud management control dashboard for controlling cloud costs and compliance purposes. Nutanix Xi Beam does this by providing visibility into and analysis of applications' consumption of cloud resources and then enabling admins to actively manage those resources. Xi Beam makes cloud redeployment recommendations, for example, and highlights unused cloud resources so admins can take direct reclamation actions.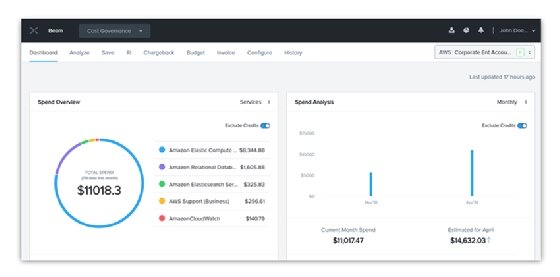 Xi Cloud Services is a set of hybrid cloud services for tying on-premises data to the public cloud for organizations with multi-cloud infrastructure strategies. The idea is to fashion a more unified fabric across diverse cloud environments and disassociate applications from underlying infrastructure. Xi Beam is one of the services in the Xi Cloud Services suite, as is Xi Epoch for monitoring and troubleshooting cloud application health; Xi Leap for cloud-based DR; Xi Frame for running VDIs in the cloud; and Xi IoT for delivering real-time intelligence and analytics to the edge via AI and machine learning.
X-Ray is Nutanix's hyper-converged benchmarking and evaluation software that automates infrastructure analysis to enable more consistent performance and reliability. Its fully customizable tests can simulate system failures and their effects, software upgrades and other common scenarios. So, users can fully evaluate all important areas of the HCI lifecycle under real-world stress and failure scenarios and improve DR planning.
Dig Deeper on Converged infrastructure management