5 hyper-converged infrastructure trends analysts predict for 2023
What's next for hyper-converged infrastructure? We've asked industry analysts and consultants to shed some light on the technology's medium-term prospects.
Hyper-converged infrastructure technology has taken big strides since emerging a decade ago, finding a home in data centers looking to ease procurement headaches and management chores.
Vendors originally positioned the technology as a simple-to-deploy, all-in-one offering that combined compute, storage and networking with a hypervisor. The essential selling points around simplicity remain the same today for this now-mainstream technology. But nothing stays completely the same in IT. We asked a few industry analysts and consultants to share their medium-term outlook for hyper-converged infrastructure (HCI) trends through 2023.
1. The evolution of hyper-converged infrastructure will point to cloud
HCI is making its mark as a way to provide organizations with a cloud-like environment while maintaining closer control over IT resources. That pattern is set to continue into the medium term, as vendors develop closer ties to the cloud computing model.
"The trend will definitely continue and, more than likely, accelerate," said Jeff Mercier, technical solution architect at World Wide Technology, an integrator based in St. Louis. "Most of the HCI vendors are extending their capabilities to the public cloud in order to give seamless integration between the two. This allows customers to use public cloud resources and services while keeping the same manageability across both environments."
Brandon Harris, senior director of business development -- data center at Logicalis U.S., an IT solutions provider and MSP based in New York, said hyper-converged technology was originally data center-centric, competing with cloud infrastructure to a certain degree. Although using HCI to run applications in a data center will continue to be important, hyper-converged vendors "recognize … they need to be able to extend that capability to the cloud" in more of a hybrid model, Harris said.
2. HCI will spark edge computing
"As edge computing grows, HCI will be the catalyst to speed its proliferation," said Ken Nalbone, software-defined data center presales specialist at Ahead, an enterprise cloud solutions provider based in Chicago. "Growth of IoT devices and smart devices will demand processing closer to the endpoint, and the demand for the compute power and storage that HCI can provide rapidly will enable that growth."
"Edge computing is another strong use case for HCI," said Eric Slack, HCI analyst at the Evaluator Group, a research and consulting firm based in Boulder, Colo. He noted growth will occur with the adoption of industrial automation, autonomous vehicles, connected workspaces and smart cites. "Video surveillance is also driving edge computing, and with the current protest climate in the U.S., we see that only accelerating," Slack said.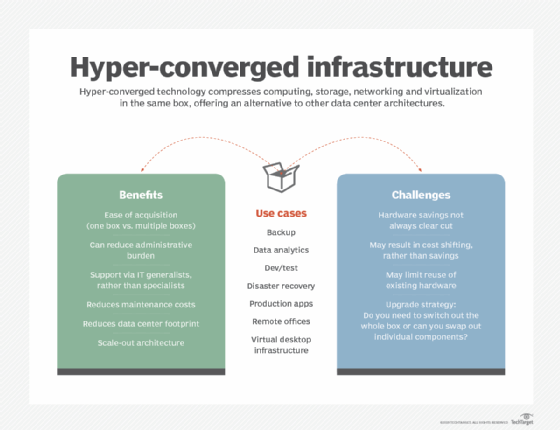 The expansion of edge computing, meanwhile, will contribute to hyper-converged infrastructure trends and product development.
"We're also seeing HCI vendors come out with smaller and ruggedized models for these use cases," Slack said.
Not everyone is sold on hyper-converged technology at the edge, however, particularly when deployments call for numerous nodes. HCI will become costly if organizations need to put compute in a thousand different places, Harris noted. In those situations, customers will gravitate toward compute platforms specifically designed for the edge, he added.
3. New vendors and AWS will take a bite out of traditional HCI -- or not
Vendors relatively new to HCI -- particularly, cloud providers such as AWS and Microsoft -- will challenge the market's established players. AWS Outposts and Microsoft's Azure Stack HCI are among the examples. "The public cloud wants to eat everything, and they'll eat some of HCI's lunch as well," Slack said. "But they're expensive. I see these products appealing to [companies] that have gone all in with the public cloud, but still need a way to support applications that must be on prem."
As HCI vendors continue to mature, it's important for them to focus on the overall story and not a point product in the data center.

Jeff MercierTechnical solution architect, World Wide Technology
But the cloud provider's edge over HCI might prove to be limited in scope.
"AWS Outposts and Azure Stack will be compelling for customers who wish to have a consistent experience for their modern applications, regardless of where they live," noted Nalbone. "They will not, however, be compelling for organizations who wish to have a modern infrastructure for their traditional applications. HCI will deliver a familiar experience on a much more flexible and simpler-to-operate infrastructure."
Harris said customers are still primarily looking at hyper-converged technology vendors rather than cloud providers. He said cloud providers' offerings could become more relevant for born-in-the-cloud workloads that organizations want to bring back to an on-premises platform.
Traditional HCI and cloud providers can both play a role in the data center, Mercier said, but he doesn't see offerings such as Outposts or Azure Stack being positioned as a data center take out or replacement technology. "We see Outposts and Azure as being a fit in fairly specific use cases," he said.
4. Hyper-converged technology will increasingly flow through consumption-based models
Technology OEMs are all working on some form of consumption-based pricing for their hyper-converged infrastructure wares, according to Harris. Customers might find it easier to procure gear through the Opex approach, rather than acquiring systems as a Capex purchase. "We are going to start to see that really take off, not only in HCI, but across the board," he said.
5. HCI will deliver stability and stepwise innovation going forward
Hyper-converged infrastructure technology has been around for more than a decade now, providing a fair bit of stability. And while there's still room for innovation, it will come in diminutive doses.
"HCI has reached maturity as an operating model and will continue to see smaller incremental improvements in the coming years," Nalbone said. "This is not a bad thing but is actually pleasant news to the more conservative enterprise customers who wish to modernize their infrastructure without introducing any new risk."
Nalbone described HCI as a "compelling design decision in the enterprise." That's because IT managers know they can bring the technology into their environments, or expand their existing HCI footprints for additional workloads, with minimal risk and the ability to adopt new technologies such as persistent memory and composable infrastructure.
Relevance to the software-defined data center could prove another important aspect of upcoming hyper-converged infrastructure trends.
"As HCI vendors continue to mature, it's important for them to focus on the overall story and not a point product in the data center," Mercier said. "The idea of the software-defined data center is important to a lot of customers. If HCI vendors can have a good story and product portfolio to create a cohesive experience that is easy to use, [they] can really start differentiating the value add."