5 hyper-converged infrastructure trends for 2024
Hyper-converged infrastructure is rapidly changing. Read what HCI has to offer and what projected growth it may have within the next couple years.
Hyper-converged infrastructure technology has taken big strides since emerging more than a decade ago, finding a home in data centers looking to ease procurement headaches and management chores.
Vendors originally positioned the technology as a simple-to-deploy, all-in-one offering that combined compute, storage and networking with a hypervisor. The essential selling points around simplicity remain the same today for this now-mainstream technology. This article uncovers predicted HCI trends for the next several years.
Benefits to HCI
HCI systems are based on the use of modular nodes. Each node contains dedicated compute, memory, storage and network resources. This reliance on uniform nodes makes HCI easy to deploy and manage. Organizations can also increase their capacity or scale workloads at any time by installing additional nodes.
HCI is more than hardware. It abstracts hardware resources, which enables them to be allocated in a manner like that used by public cloud providers. The architecture can be software-defined and offered as consumable services, making HCI an option for those who want to build private or hybrid clouds.
Additionally, the HCI architecture is designed to be low cost -- you can construct it with inexpensive hardware. The hardware nodes can collectively provide high availability and fault tolerance for mission-critical applications.
Challenges to HCI
There are disadvantages to HCI. For example, a modular design might need hardware that an organization does not need. If an organization purchases a node because it needs additional compute resources, it also pays for the node's storage, which might not be necessary.
Vendor lock-in can be another disadvantage. While it is possible to use a reference architecture to build an HCI deployment from commodity hardware, pre-built systems tend to use proprietary components that are not compatible with other vendor tools.
Another challenge occurs when hardware vendors provide HCI tools that integrate numerous components into a chassis. This can require a significant amount of power, which can be a problem if the chassis deploys in an edge environment. High power usage leads to an increase in heat, so cooling can also be an issue.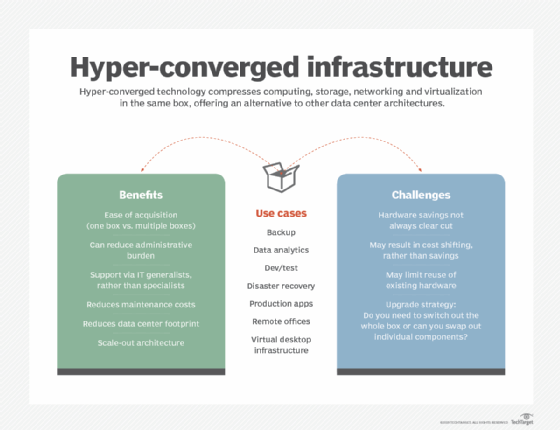 HCI trends
1. The hyper-converged market will continue to grow
The HCI market is expected to continue growing in 2024 and beyond. According to Fortune Business Insights, the HCI market was worth $6.79 billion in 2021 and is expected to grow to $32 billion by 2028. Companies fuel this growth by looking for ways to cut costs and improve operational efficiency.
2. Edge computing will continue to fuel HCI adoption
Edge computing continues to fuel demand for HCI. Edge computing generates vast amounts of data, particularly when it involves IoT devices. The volume of this data often makes cloud computing impractical because it may exceed the network's ability to send that data to the cloud. Even if sufficient bandwidth is available, processing data in the cloud could prove to be costly or result in latency.
While traditional servers can, and sometimes do, support edge workloads, HCI is often a better fit. HCI can be less expensive and complex to deploy and manage than other tools. HCI is designed for clustered operations, thereby making it easier and less costly to provide hardware redundancy for mission-critical applications. For example, it costs less to build a three-node HCI cluster than to mirror a conventional server.
3. HCI remains a preferred tool for hybrid cloud
Organizations adopted a cloud-first approach to IT when public clouds first came out. This adoption led companies to use cloud over physical data centers. However, it became apparent that some workloads need to run on premises. This led to the adoption of hybrid cloud usage.
While there are many ways to create a hybrid cloud, HCI offers a compelling option. It's not just consumption-based pricing that led so many businesses to adopt the public cloud, but also the fact that the public cloud offers on-demand scalability. HCI's reliance on modular nodes enables it to scale in a similar way.
However, there are vendors that offer products for extending software-based HCI to the public cloud. This makes it easier to move workloads between public and private clouds and to monitor the infrastructure.
4. VDI will remain the primary use case
Although HCI supports a number of different use cases, VDI remains the primary application. The days of employees working from company-owned PCs are over, with trends like BYOD and work from home now being the norm. Although end users welcome this flexibility, these trends force IT professionals to look at security in a new way. After all, there is a high likelihood of users attempting to access sensitive data from devices that could have undetected malware or insecure network connections.
In response, IT transitioned to the use of virtual desktops that can be accessed from any device. These virtual desktops can be hardened based on an organization's security requirements. They provide a consistent and secure end-user experience, regardless of physical device.
HCI is a good platform for hosting virtual desktops. Each virtual desktop requires a specific amount of CPUs, storage, memory and network resources. As such, companies can figure out how many virtual desktops an individual HCI node can support and install additional nodes whenever they need more of them.
However, VDI seems to be losing ground to cloud-based virtual desktops. According to a recent Global Market Insights study, approximately 58% of virtual desktops are cloud-based. That number is expected to increase.
5. HCI will help organizations reduce IT complexity
Organizations are increasingly looking for ways to shrink their on-premises IT footprint. While this trend is not new and is often attributed to the desire to be cloud-first, there are other reasons why some organizations are replacing traditional IT systems with HCI.
The move toward HCI adoption often comes down to operational efficiency and ease of management. Organizations struggle with increasing costs and the threat of a serious security breach. As such, organizations are seeking to reduce IT complexity wherever possible.
One of the easiest ways to reduce complexity is through standardization. HCI adoption makes standardization possible as it can drive down management and maintenance costs and make it easier to keep an organization's IT assets secure.
Brien Posey is a 15-time Microsoft MVP with two decades of IT experience. He has served as a lead network engineer for the U.S. Department of Defense and as a network administrator for some of the largest insurance companies in America.
John Moore is a writer for TechTarget Editorial, covering the CIO role, economic trends and the IT services industry.
Dig Deeper on Converged infrastructure management