VxRail vs. Nutanix: HCI heavyweights square off
Learn how leading hyper-converged infrastructure systems from Dell EMC and Nutanix stack up in this in-depth comparison.
The hyper-convergence market isn't showing any signs of slowing down, and with its many benefits, it's no wonder. By combining compute, storage, networking and security into a hyper-converged infrastructure, organizations can save money because they have fewer systems to manage. Hyper-convergence also provides simplicity and ease of deployment and operations.
According to the Gartner 2019 Magic Quadrant for Hyperconverged Infrastructure, by 2023, 70% of enterprises will be running some form of hyper-converged infrastructure (HCI), whether it's an appliance, software or cloud tethered.
This article takes an in-depth look at two leading hyper-converged infrastructure platforms: VxRail from Dell EMC and Nutanix NX.
Hardware specifications
Dell provides five different series of VxRail hardware, each aimed at a different use case:
The E series is a 1U system designed for both machine learning and general use.
The P series is Dell EMC's high-performance VxRail series, which is suitable for demanding workloads such as databases. It uses a 2U configuration and comes with one, two or four sockets.
The V series is a 2U platform for use as a virtual desktop infrastructure It's especially well-suited for graphics-intensive workloads.
The S series is suitable for use with workloads that require large amounts of storage. Dell EMC designed this 2U platform for use with applications such as Microsoft Exchange and Microsoft SharePoint.
The 2U G series general-purpose platform is for hosting compute-intensive
Nutanix follows a completely different HCI hardware model than Dell EMC. Whereas VxRail is based on a tight integration between Dell EMC hardware and VMware software, Nutanix's offerings are all about flexibility. Although Nutanix offers its own purpose-built hyper-converged appliances, appliances made by Cisco, Hewlett Packard Enterprise, Lenovo, Fujitsu, Inspur, IBM, Intel, Klas Research and even Dell EMC can also use its software.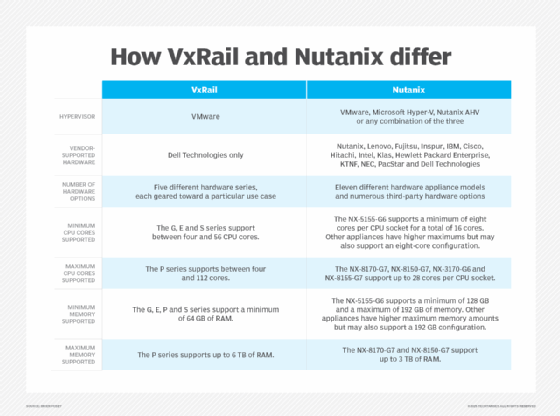 Hyper-converged infrastructure use cases
VxRail is intended exclusively for use with VMware workloads, but it's suitable for more than just basic server virtualization. Additional supported use cases include VMware Cloud Foundation, SAP HANA and Kubernetes. Dell also markets VxRail toward financial services firms and organizations that wish to incorporate machine learning into their business processes, as well as to organizations that need to host virtual desktops.
Although Nutanix provides products for vertical industries ranging from healthcare and retail to financial services and manufacturing, its HCI could be considered a general-purpose offering.
Rather than taking Dell EMC's approach of tightly coupling its hardware with VMware software, Nutanix has adopted a software-defined approach to hyper-convergence. This means organizations can build hyper-converged systems on top of Nutanix appliances or on hardware from several other vendors.
Perhaps more important, Nutanix supports the use of multiple hypervisors, and its deployments can be based on VMware, Microsoft Hyper-V or the Nutanix Acropolis Hypervisor. An organization can also use a combination of different hypervisors per its business requirements.
Performance
VxRail performance varies from one series to the next. Each of the five series discussed previously offers varying hardware options.
The entire VxRail series can use either single or dual CPU sockets, except for the V series, which only supports dual sockets. The P series also supports a quad CPU configuration. The G, E and S series support between four and 56 CPU cores. The V series can use between eight and 56 cores, and the P series supports between four and 112 cores.
Memory support also varies among series. All VxRail series systems support a minimum of 64 GB of RAM, except for the V series, which has a 192 GB minimum. The G series supports a maximum of 2 TB, and the E, V and S series support up to 3 TB of RAM. The P series supports up to 6 TB of RAM.
The number and type of drive bays also vary widely among the various series. The G, E, V and P series only support 2.5-inch disks. The G series includes six drive bays, while the E series has 10. The V and P series both feature 24 drive bays. The S series, which is designed for workloads with high storage capacity requirements, features two 2.5-inch drive bays, but also includes 12 3.5-inch bays.
Whereas Dell offers five different series of VxRail hardware, Nutanix currently offers 11 different hyper-converged appliances in addition to the third-party appliances it supports.
The Nutanix appliances also vary widely in scope. Its most modest appliance is the NX-5155-G6. This device includes two Intel Silver 4108 4108 CPUs, each with eight cores, operating at 1.8 GHz. The appliance can support either 128 GB or 192 GB of memory and be set up with all-flash storage with capacities ranging from 960 GB to 7.68 TB. As an alternative, users can configure the appliance with hybrid storage, which delivers similar capacities as the all-flash option.
Organizations that want a more powerful hyper-converged appliance might consider the Nutanix NX-8170-G7 model, which comes with twin Intel Cascade Lake CPUs. Although Nutanix supports Intel's Silver 4215R CPU, most of this appliance's CPU options are either Gold or Platinum series CPUs. The top-tier option is a Platinum 8280L CPU with 28 cores per socket, running at 2.7 GHz.
The NX-8170-G7 supports a variety of memory configurations with capacities ranging from 128 GB to 3072 GB. Users can also provision the appliance with up to eight NVMe storage devices for a maximum total storage capacity of 7.68 TB.
Cloud integrations
VxRail offers full stack integration with VMware Cloud Foundation. This gives administrators a single set of tools to manage all cloud environments, providing a consistent management experience across both public and private clouds. This approach also allows for a consistent service-level agreement across clouds.
The Nutanix Enterprise Cloud is designed as a single point of control for all applications, regardless of which cloud they're running. Nutanix also supports lift-and-shift migrations of applications between clouds.
Pricing model
Dell sells its VxRail products as a fully integrated platform. It bases VxRail around the use of Dell PowerEdge servers and preconfigured VMware software. The included management software, VxRail Manager, provides native integration with VMware's vCenter Server.
Whereas Dell EMC tightly couples its hardware and software, Nutanix specializes in software-defined hyper-converged infrastructure. The company's offering centers around its Acropolis Operating System software, which provides basic hyper-converged functionality. Add-on server hardware and hypervisors are available from Nutanix or a third-party vendor.
Support
Dell provides support for VxRail through its ProSupport Enterprise Suite. Dell offers three variations of this support suite -- ProSupport, ProSupport Plus and ProSupport One for Data Center. Support contracts are available through Dell EMC sales or Dell EMC partners.
Nutanix offers two levels of support for its hardware and software. Production Support, the lower-tier option, provides 24/7 access to technical support with priority one support available within an hour. For Nutanix hardware, Production Support provides replacement parts on the next business day.
Nutanix's top-tier support option, Mission Critical Support, guarantees priority one support within 30 minutes and offers a four-hour parts replacement option for Nutanix hardware.
Dig Deeper on Converged infrastructure management