Definition
Dell EMC VxRail
What is Dell EMC VxRail?
Dell EMC VxRail is a hyper-converged appliance. Like VSPEX Blue -- the Dell EMC product that it replaced -- and other hyper-converged infrastructure (HCI) systems, VxRail includes compute, storage, networking and virtualization resources in a single device. Specifically, Dell EMC VxRail packages the VMware vSphere vSAN hypervisor and VMware vCenter software on branded Dell servers.
Dell Technologies acquired VMware through its 2014 merger with EMC Corp. Since then, Dell has dominated the market for HCI hardware sales, largely on the strength of VxRail, and VMware leads in HCI software revenue.
The VxRail flagship product is a key component of VMware Cloud on Dell EMC and VMware Cloud Foundation on VxRail. Those Dell cloud services streamline on-premises deployment of VMware infrastructure, offering public cloud-like performance at a lower cost.
Dell EMC also sells PowerFlex, formerly called VxFlex and VxRack, an integrated HCI rack powered by Dell's ScaleIO scale-out storage operating system and the VMware software-defined data center (SDDC). It supports multiple hypervisors and bare-metal options and is used for infrastructure as a service, platform as a service and similar cloud services. Dell EMC has an original equipment manufacturer deal with Nutanix, where Dell servers are optimized to run Nutanix HCI software.
VxRail is designed to meet the needs of virtual desktop infrastructure (VDI) environments, remote and branch offices, private clouds, and distributed small and midsize enterprises (SMEs).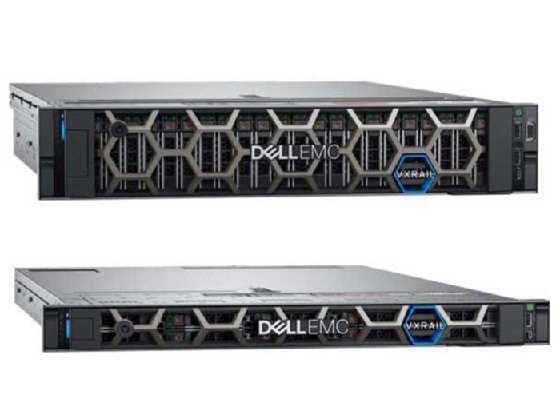 Is Dell EMC VxRail hardware or software?
HCI technology is considered a building block for enterprise clouds because it separates compute and storage resources. This arrangement lets data center admins add physical storage nodes or servers to existing clusters when they need to expand either computer or storage capacity.
VxRail turnkey appliances are designed for VMware enterprise environments. Each VxRail node provides access to the system's drive bays for direct-attached storage. The VxRail appliances combine Dell's networking, server and storage products with VMware storage and virtualization software. The technology behind VxRail appliances includes Dell PowerEdge storage servers with Intel Xeon processors.
Other options are available for non-volatile memory express flash, solid-state drives (SSDs) and hybrid storage, as well as VMware vSAN SDDC, VMware vSphere hypervisor and VMware NSX software-defined networking. VxRail HCI System Software functionality includes enhanced automation, extended lifecycle management and storage pooling across virtualization clusters.
Is VxRail a server or storage system?
In a VxRail cluster, a physical Dell PowerEdge server is the host for VMware ESXi hypervisor. As of April 2023, VxRail products are based on 15th-generation PowerEdge technology.
The storage within each ESXi host is aggregated as a single pool of usable storage. VSAN's policy-driven automation handles tasks for storage management, availability and performance levels, compression, data protection, deduplication and RAID striping.
Authorized users manage virtual machines with vCenter Server. VMware vRealize Operations and vRealize Automation integrate VxRail HCI with existing IT infrastructure.
According to Dell, each VxRail server node is equipped with the following, with some variations:
How is VxRail deployed?
VxRail nodes are enclosed in a 1U single-server system, with each node having up to four multicore processors. The nodes can be configured with SSDs or with a hybrid mix of SSDs and hard disk drives (HDDs). However, Dell requires all nodes within a VxRail cluster to use the same storage configuration.
Also, while VxRail models support Ethernet speeds up to 1 GbE, scaling all-flash configuration beyond eight nodes requires at least 10 GbE.
Customers can start with a minimum of two VxRail nodes and cluster up to 64 nodes. Depending on the use, Dell EMC may recommend starting with a three-node VxRail building block for failover.
Notable Dell EMC VxRail features
VxRail reflects Dell EMC's growing reliance on VMware, particularly vSAN, to support enterprise multi-cloud environments. VxRail features include the following:
Agentless backup and recovery with vSphere Data Protection.
High availability vSAN architecture via active/active stretch clustering and RAID levels.
Integrated storage and data management using the whole VMware tool set.
Multiple hardware configurations for application programming interface-driven automation on Dell servers.
Enhanced VxRail Manager functionality via automation to manage and schedule VxRail node deployments.
End-to-end lifecycle management.
Capability to offload CPU processing of smart network interface cards.
VxRail applications
HCI first emerged as technology to support VDI environments, server virtualization and augmentation of a traditional storage area network. In addition to those early applications, Dell EMC claims VxRail HCI supports the following uses:
Artificial intelligence (AI) and machine learning projects.
Application development and testing.
Big data applications.
Data center modernization.
Distributed SMEs.
Enterprise database applications.
Hybrid and multi-cloud implementations.
Kubernetes automation.
Remote/branch offices.
Workload consolidation.
What models are in the Dell EMC VxRail lineup?
The various configurations of Dell EMC VxRail include the following:
VxRail E Series. These entry-level nodes include hybrid VxRail E560 and all-flash E560F models. E Series appliances have one node per 1U chassis and are suited for use where workspace is limited.
VxRail D Series. These are for use in ruggedized environments.
VxRail G Series. These are dense 2U four-node systems designed for maximum compute power in limited spaces.
VxRail P Series. These high-performance nodes include the P570F all-flash and P570 hybrid models.
VxRail S Series. These 2U appliances are available as hybrid storage for high-capacity workloads, such as AI, data analytics and edge computing.
VxRail V Series. These are designed for graphics-intensive workloads, VDI and 3D visualization. They are available in all-flash or hybrid configurations.
In 2021, Dell EMC introduced compute-only VxRail nodes with VMware HCI Mesh software. These nodes let customers scale compute and storage independently and share vSAN storage across clusters.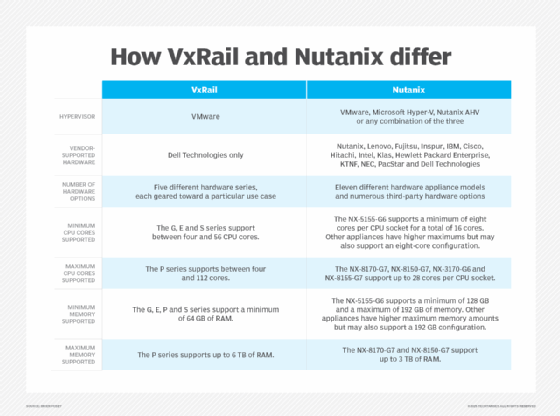 Competitors to Dell EMC VxRail
Some vendors have tried to sell branded HCI software that could be installed on commodity white box servers; however, enterprises generally avoid that implementation in favor of vendor-certified integrated HCI appliances.
VMware also licenses vSAN on competing HCI systems. While Dell leads the market, other vendor HCI products include the following:
Learn more about hyper-converged infrastructure in our comprehensive guide to HCI.
This was last updated in
August 2023
Continue Reading About Dell EMC VxRail