Compare Nutanix AHV vs. VMware ESXi in the hypervisor battle
Though Nutanix AHV and VMware ESXi offer similar feature sets, admins' decisions will depend on several factors, such as virtualizations needs and workload size.
Nutanix AHV and VMware ESXi are top-tier hypervisors and have their positives and negatives. Both are mature enterprise stacks that have everything IT administrators would expect of an enterprise class offering, but understanding the differences between Nutanix AHV vs. VMware ESXi hypervisors comes down to what admins are looking to achieve and at what cost.
VMware ESXi has been around for a long time and supports a wide variety of configurations and technologies. On the other hand, Nutanix AHV differs in its additional requirements and proprietary hyper-converged infrastructure (HCI) technologies. Admins' workloads and specific virtualization needs will help determine which hypervisor better suits their systems.
Nutanix AHV provides HCI and SDS capabilities
Nutanix AHV is the base hypervisor installed on several different hosts. It comes into its own when managed by Prism, which is essentially the vCenter equivalent in the Nutanix world. Without Prism, Nutanix AHV is rather limited.
The biggest selling point for AHV is its HCI and software-defined storage (SDS), which is often required to support a cluster of hosts. There is no requirement for external SAN or significant supporting infrastructure because local internal disks get presented as a cluster-wide, resilient storage infrastructure. The AHV hypervisor management VM averages 32 GB per node. Therefore, in a 10-node cluster, 320 GB of RAM gets consumed purely for the hypervisor and HCI functionality.
There are several use cases for the Nutanix AHV hypervisor. Many admins often deploy AHV in their data centers because the hypervisor helps reduce a data center's footprint significantly. Another common use case includes regional office setups. For example, deploying a three-node cluster provides all the requirements for a resilient cluster without overcomplicating requirements.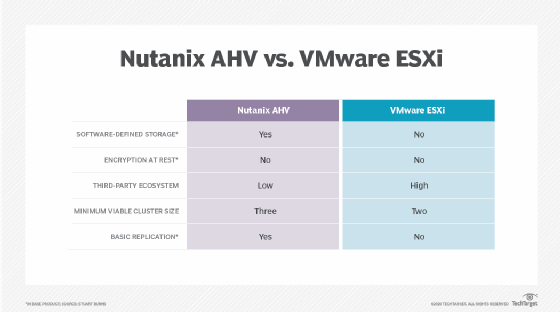 However, admins must be aware that the absolute minimum number of hosts that the AHV hypervisor can support is three because the hypervisor must account for resiliency requirements. In addition, upgrading larger clusters using AHV's built-in tools can take a long time. This is because, in some cases, clusters can get so large that admins can't upgrade the cluster within a normal timespan.
But this doesn't mean VMs become unavailable. Rather, AHV migrates VMs prior to the host in question getting updates.
VMware ESXi offers mature features for larger enterprises
VMware is the most mature hypervisor and helped define the enterprise virtualization market from its inception. A majority of ESXi's features and capabilities comes from vCenter's centralized management. The ESXi hypervisor also comes with a solid virtualization stack that is HCI-capable.
Many admins use HCI in data centers to reduce the cost of very expensive storage networks. In addition, ESXi is compatible with VMware NSX, which admins can use to further compress their enterprise stacks. VMware NSX expands beyond just a virtualization technology by enabling complete network management and microsegmentation of networks, as well as additional security measures. However, VMware NSX is an add-on cost.
Similarly, there is a mature set of orchestration and self-service tools VMware offers that admins can use in conjunction with ESXi, but they are also available at an additional cost. However, these tools can help reduce admins' costs across the board when used properly.
VMware has been the go-to vendor for hypervisors for many years. ESXi is by far the incumbent and the natural upgrade case for larger enterprises. Similar to Nutanix AHV, admins can deploy ESXi in a regional office setting in a two-node configuration with a witness node in the cloud. This can help reduce costs for admins who are extremely cost-sensitive.
One of the biggest advantages of the ESXi hypervisor is third-party support. Specifically, mature enterprises will have a significant amount of resources and money tied up in third-party infrastructure that interfaces with ESXi. In addition, ESXi's management interface is much less complicated in day-to-day management.
Nutanix AHV vs. VMware ESXi: How they stack up
When comparing Nutanix vs. VMware when it comes to their respective hypervisors, admins must determine which feature sets and capabilities better suit their workloads. For example, Nutanix AHV is an HCI-only offering, meaning admins can't add in external storage forms other than Network File System and iSCSI.
Essentially, workloads that require additional hardware such as Fibre Channel cards won't work if the workload relies on AHV. For admins who keep their SAN infrastructure, there is little point considering AHV because of its standalone clusters with no outside hardware dependencies.
Out of the box, AHV and ESXi's feature sets are broadly similar. VMware strips down ESXi to two vCenter offerings and Nutanix offers three through AHV. Nutanix does enable automated workload management across clusters no matter which version of AHV admins use. However, this feature is only available in vSphere ESXi once admins purchase an additional license. Manual management is still available but not as efficient.
In addition, Nutanix doesn't provide data deduplication and compression with AHV unless admins purchase an additional license. Both are critical to achieve optimal storage savings. It also limits how many nodes can participate in a cluster. Similarly, the ESXi hypervisor doesn't come with built-in vSAN, which admins can only purchase as an add-on.
Both AHV and vSAN require upgraded licences to support data encryption at rest, which is essential for many companies given the ever-changing personally identifying information landscape.
Though admins can install Nutanix AHV on white-label hardware, it has a stringent compatibility requirement. Nutanix sells a vast majority of its products with hardware, such as Dell or Supermicro. For many admins, replacing ESXi for Nutanix is a rip-and-replace offering.
Ultimately, the decision between Nutanix vs. VMware isn't a straightforward choice. It all comes down to what admins are trying to achieve. If there are highly trained admins in an existing vSphere ESXi environment, then staying with VMware is a safe bet, especially if there are third-party tools that interface with ESXi or vSphere. Both AHV and ESXi can accomplish many of the same tasks, but admins' workload requirements will weigh in heavily on their final decision.