Hyper-V vs. VMware comparison: What are the differences?
Hyper-V and VMware are in a perpetual battle for supremacy in the virtualization market. Although the two hypervisors have similar features, capabilities are somewhat different.
For years, VMware was the only sensible choice for enterprise-class server virtualization. However, Microsoft made...
Continue Reading This Article
Enjoy this article as well as all of our content, including E-Guides, news, tips and more.
drastic improvements to Hyper-V in Windows Server 2012 and Windows Server 2012 R2. As such, it seems prudent to explore the question of using Hyper-V vs. VMware in your data center and the differences between these two hypervisors.
Both VMware and Microsoft offer highly capable platforms. Both companies have products for small shops but also sell products with features suitable for the largest enterprise environments. In fact, VMware and Hyper-V have an extremely comparable feature set. Both products offer roughly the same core feature set and support capabilities such as network virtualization, VM migration, storage migration and network interface card teaming.
What is the difference between VMware and Hyper-V?
Although the two hypervisors have similar feature sets, their feature capabilities are often somewhat different. Take dynamic memory, for example. Both hypervisors dynamically adjust physical memory usage according to the needs of the guest OS. The difference is that VMware offers dynamic memory support for any guest OS, and Hyper-V has historically supported dynamic memory only for VMs that run Windows. However, Microsoft added dynamic memory support for Linux VMs in Windows Server 2012 R2 Hyper-V.
There are also significant differences in Hyper-V vs. VMware hypervisors in terms of scalability. Hyper-V hosts can support up to 320 logical processors, as opposed to VMware's 160. Similarly, Hyper-V servers can address up to 4 TB of RAM, whereas VMware vSphere 5.1 Enterprise Plus is only able to address 2 TB of RAM.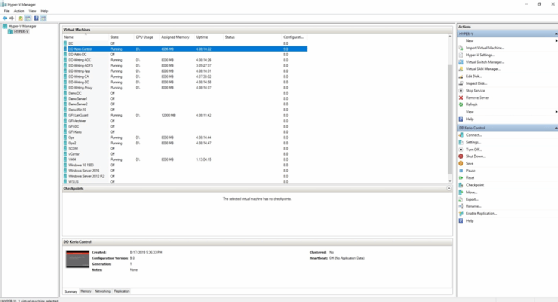 Hyper-V also offers greater scalability at the cluster level than VMware does. A Hyper-V cluster can include up to 63 nodes and support up to 8,000 VMs, with a maximum of 1,024 active VMs on any given host. In contrast, VMware clusters can include up to 32 nodes and support a maximum of 3,000 VMs per cluster, with a maximum of 512 active VMs per host.
Although it's true that Hyper-V has VMware beat in terms of hypervisor scalability, it's important to consider the ways in which organizations use hypervisors in the real world. Many large organizations find it more useful to create multiple clusters of a relatively small size rather than building hyperscaled clusters. Smaller clusters tend to be easier to manage, and having several small clusters rather than a single large one helps mitigate some of the effects of a cluster-level failure. This isn't to say that Microsoft's hypervisor scalability isn't impressive or useful, but rather that, right now, there aren't many organizations taking full advantage of it.
Cost and licensing
Another major difference between VMware and Hyper-V is the way products are licensed. Microsoft includes Hyper-V with Windows Server 2012. A single Datacenter license is valid for up to two CPU cores and allows for an unlimited number of VMs running on the host. As an added bonus, the Datacenter license enables each VM running on the host to run Windows Server 2012 without requiring an extra OS license.
It's also worth noting that all of Hyper-V's core capabilities are included with a Windows Server license. You don't have to pay extra to use features such as Live Migration. In contrast, some VMware features come at a premium price.
Management tools
Microsoft also takes a more simplified approach to its products. As previously mentioned, Hyper-V is included with Windows Server 2012. Larger organizations that require enterprise management capabilities will also likely need System Center Virtual Machine Manager. However, that is pretty much the extent of Microsoft's Hyper-V offerings.
In contrast, VMware offers dozens of different products or product variations. On one hand, this means VMware can offer its customers extreme granularity by giving them the exact features and capabilities they need. On the other hand, there are so many different products to choose from that it can be difficult for an inexperienced IT administrator to know which products to purchase.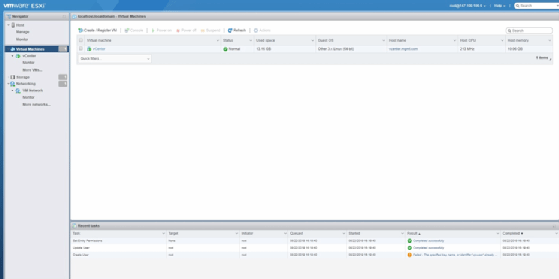 So, which is better: VMware or Hyper-V? Both VMware and Microsoft have compelling arguments as to why their respective products are the best. Feature-wise, the two products are too similar to one another to definitively declare one product as the best. Besides, there are other criteria to consider beyond the feature set. For instance, VMware is a more mature product, and there are more third-party products designed to work with VMware than Hyper-V. Conversely, it's often far less expensive to deploy Hyper-V than VMware -- but not always.
Dig Deeper on Containers and virtualization
While Google Cloud Storage has several limitations, these three are among the most prevalent -- but users have straightforward ways to get around ... Continue Reading
Unpredictable user behavior and boot storms can cause VDI resource usage fluctuations throughout the day. IT can take steps to identify and curtail ... Continue Reading
Determining how to host and manage desktops for an entire organization is a major task, so business leaders need to understand the modern VDI market ... Continue Reading