Getty Images
VMware vs. Citrix: Which is better for your organization?
VMware and Citrix both offer useful virtualization tools, but each one has its pros and cons. Explore the features and other factors that can help you decide between them.
A wide variety of considerations go into choosing virtualization tools for an organization, so it's helpful to know which features set popular vendors such as VMware and Citrix apart.
If an organization has any need for on-premises servers, desktop virtualization software is the default way to optimize the use of hardware and to access convenient options, such as backing up the VM state and migrating virtual servers over different hardware. There are a lot of virtualization products available for IT administrators to choose from, however.
VMware and Citrix are two of the most prominent vendors in the virtualization space, with both providers offering VDI, networking, cloud and infrastructure products. VMware and Citrix both offer VDI platforms -- VMware Horizon and Citrix Virtual Apps and Desktops (CVAD), respectively -- but it can be difficult to determine which one is better suited to your organization's needs.
3 considerations to determine if Citrix or VMware is best for your organization
Both VMware or Citrix have their pros and cons and can deliver the same user experience and levels of functionality. So how should an organization choose between the two? When selecting new software, there are three main things to consider: internal knowledge of the products within the organization, pricing and technical features.
1. Internal knowledge of the products
Both Citrix and VMware offer comprehensive education programs and certifications. If a system administrator is certified in VMware and not in Citrix, VMware tools will likely be a better fit for the organization and vice versa. Organizations can opt to re-educate admins, but it can be difficult for people experienced and certified in one product to get used to a different set of tools. Plus, having years of experience with a product can be very valuable and help with troubleshooting issues. Before deciding on which vendor to go with, organizations should get feedback from their IT administrators, as well as inventory their certifications and years of experience with each vendor.
2. Pricing
Cost is one of the most prominent decision-making factors for many organizations. Citrix and VMware have very complicated licensing schemes, package deals, discounts and trade-ins, which means most organizations receive a custom quote. Citrix sometimes has higher discounts for organizations if they trade in their on-premises licenses for the Citrix Cloud platform. VMware, on the other hand, often combines licenses for its VMware vSphere virtualization suite with Horizon licenses. Organizations should shop around and compare packages and discounts to get the best possible deal.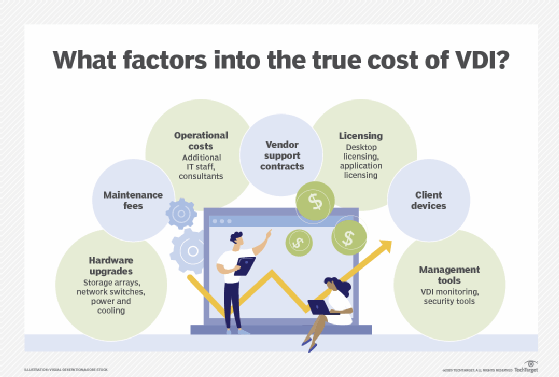 3. Technical features
Technical features can be challenging to assess. Both VMware and Citrix deliver excellent and sound virtualization software and VDI systems. Organizations can choose either one as a suitable technical product, but there are several differences they should take into consideration.
VMware is the market leader in virtualization software with its vSphere virtualization suite. The suite features the VMware ESXi hypervisor, while CVAD comes with Citrix Hypervisor. VMware vSphere is much more feature-rich than Citrix Hypervisor. For enterprise organizations that still use on-premises hardware, the integration with VMware vCenter that lets IT manage giant clusters of vSphere servers is often a must-have. Also, VMware vSphere has more support with backup tools such as Veeam, which can be a significant consideration when choosing virtualization software.
On the VDI side of things, Citrix offers slightly more features than VMware, but the most significant difference between the two is that VMware has an on-premises vendor lock-in. The only hypervisor option for VMware Horizon is VMware ESXi, so if an organization runs Microsoft Hyper-V as a hypervisor, for example, VMware Horizon won't work. The upside is that VMware Horizon comes with a VMware vSphere license.
Additionally, Citrix can deliver image streaming over the network with Provisioning Services, and storage-based image streaming with Machine Creation Services. VMware can only do storage-based image management, but the platform's Instant Clone technology is faster in deploying machines than Citrix's Machine Creation Services.
Both platforms also come with integrated application layering technologies and workspace environment managers. VMware's application layering technology, App Volumes, is better integrated with the management console of VMware Horizon. Still, Citrix Workspace Environment Management is more feature-rich than VMware Dynamic Environment Manager.
For cloud-based virtualization, Citrix offers Citrix DaaS, while VMware offers Horizon Cloud. Both deliver a cloud management plane for VDIs running in different cloud services such as AWS, Google and Microsoft Azure. Organizations can host their own Citrix environment on a public or private cloud, only using the cloud as an IaaS provider. In contrast, vendor lock-in is still an issue with VMware. However, this isn't an ideal use case because organizations lose a lot of cloud benefits by only using the IaaS part of the cloud.
Both vendors deliver state-of-the-art, enterprise-grade virtualization and VDI products, so pricing and knowledge of the products might be more significant factors than technical features for most organizations.