Brian Jackson - Fotolia
Hyper-V vs. vSphere: How do the latest versions stack up?
Microsoft recently released Windows Server 2019, so how do the features in this version of Hyper-V compare to VMware's virtualization platform?
The cost, while important, is only one factor when you compare Hyper-V vs. vSphere to see which is a better fit in your data center.
Microsoft has made significant strides to close the features gap between the Hyper-V server virtualization platform and VMware's vSphere, particularly after the Hyper-V Server 2016 release. The main differences between the two vendors are mainly around licensing, security and how many features come with the standard versions.
The standard version of Windows Server 2019 includes most of the Hyper-V features without an added cost. In VMware, only a vSphere Enterprise Plus license unlocks access to all the hypervisor features, such as VM encryption, live migration between hosts and storage live migration. If you decide to use Hyper-V, there are some cost savings here, because there is no need to purchase the more expensive Windows Server 2019 Datacenter to use the hypervisor features.
Apart from the technical aspects, there are licensing differences between the two virtualization platforms. A few years ago, Microsoft changed its licensing from a per-CPU model to a per-core model for its Datacenter and Standard editions. Each host requires a separate license. With the Datacenter edition, you can run unlimited VMs on the host. You can only run two VMs per host with a Standard license. VMware uses per-socket pricing for its ESXi hypervisor platform.
A straight comparison of both products in terms of licensing is complex due to the differences with how each is licensed and the different license types. For example, some include some management and monitoring features, while others do not.
VMware offers a number of licensing options and types. The company has the following editions: Standard, Enterprise, Enterprise Plus and a relatively new Platinum edition. The options in VMware's vCenter Server Essentials license come in a Standard or a Plus kit, which include vSphere and vCenter licenses.
One way to compare the two companies' hypervisor offerings is to line up the features of two similar products on the same systems. In this case, we can look at the technical and financial differences between Microsoft's Windows Server 2019 Datacenter edition and VMware's vSphere 6.7 Enterprise Plus Acceleration Kit when running on three hosts, with 16 cores across two CPUs on each host.
A Windows Server 2019 Datacenter license includes an unlimited number of virtual operating system environments and Hyper-V containers, which is the big difference between Hyper-V and ESXi licensing.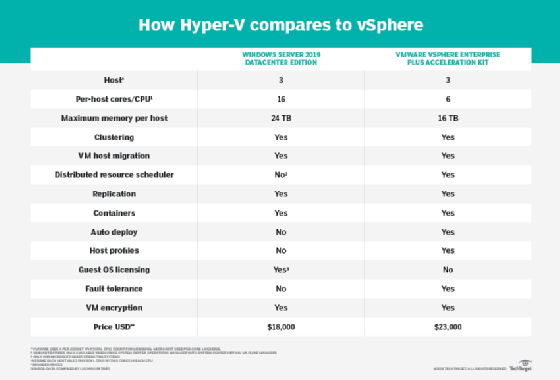 Another significant difference between the Microsoft and VMware hypervisors is how to use clustering and how it is licensed. In Hyper-V, the license for the hypervisor is the same to create a Hyper-V cluster. In VMware, this is not possible with just a vSphere license. You would also need a vCenter license to create an ESXi cluster. In VMware, you also need an additional license to create a clustering virtual environment.
To get the extra management features available in vCenter, a Hyper-V shop would need a management tool such as System Center Virtual Machine Manager (SCVMM), which is part of the System Center suite. However, SCVMM is not mandatory to manage your Hyper-V environment. There are free tools, such as PowerShell and the Windows Admin Center, to run workloads on Hyper-V.
If you get vCenter to manage your VMware environment, then you get access to advanced virtualization features, such as vSphere High Availability, vSphere Distributed Resource Scheduler (DRS), vSphere Storage DRS, vSphere Fault Tolerance, Cross-vCenter with Long Distance vMotion, VMware Host Profiles and vSphere Auto Deploy. These and many other features are either not available in Hyper-V or do not have equivalent functionality, even when using System Center for management.
Dig Deeper on Microsoft messaging and collaboration