Konstantin Emelyanov - Fotolia
How can a VM storage policy improve vSAN cluster redundancy?
FTT dictates how many failures can occur in a vSAN cluster without sacrificing availability. How can you use a VM storage policy to define the amount of Failures To Tolerate?
The Failure To Tolerate feature, which allows the administrator to set redundancy in a cluster, is an integral part of any vSAN configuration. Although you're probably familiar with the standard three-node structure of a vSAN configuration -- which consists of two nodes and a witness node for special use cases -- you might not know exactly how vSAN determines how many failures a cluster can support.
Much like RAID 5-based hardware, vSAN can tolerate up to three hardware component failures across a vSAN cluster. VSAN uses a VM storage policy to define the number of Failures To Tolerate. As mentioned before, the Failure To Tolerate (FTT) feature determines how many failures can occur in a vSAN cluster without compromising data integrity and VM availability. The VM storage policy uses the following formula to define how many failures a vSAN cluster can tolerate:
To tolerate n failures, you need 2n + 1 ESXi host in the vSAN cluster.
This dictates the number of hosts within a vSAN cluster that holds a bare minimum of three hosts/nodes.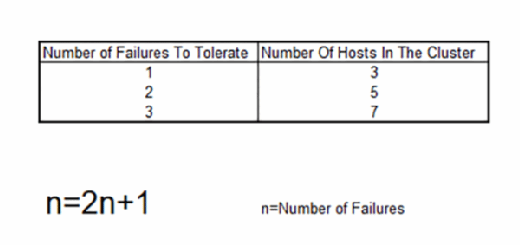 The process of creating a VM storage policy revolves around what the cluster is able to tolerate. You can have several FTT policies within your vSAN cluster because certain VMs are more critical than others. So, for example, you can have a cluster of six hosts in which you have a FTT policy that tolerates one failure (FTT=1) for virtual desktop infrastructure (VDI) workflows. Next to that, you can have another FTT policy that tolerates two failures (FTT=2) for server workflows.
An FTT=2 policy protects against two failures, which means it makes three copies of the data. Previous versions of vSAN had high storage requirements to satisfy FTT=2, but versions 6.6 and later offer erasure coding, which allows you to use RAID 5 and RAID 6 protections and reduces storage requirements.
How to create a VM storage policy
To create a new VM storage policy or edit an existing storage policy, log into the vSphere Web Client, and go to Home > VM Storage Policy > New.
As you can see in Figure B, under Rule-set 1, you can choose either RAID-1 (Mirroring) or RAID-5/6 (Erasure Coding) for the failure tolerance method. You need a vSAN Enterprise license to use RAID 5 or RAID 6 functionality; vSAN Standard and Advanced licenses don't provide this option.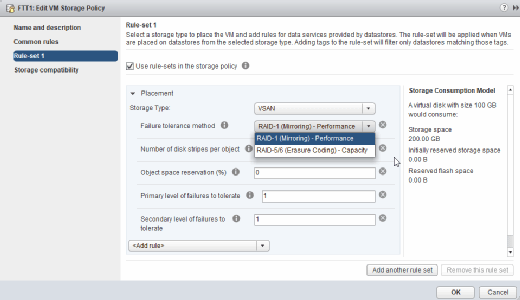 In summation, VM storage policies and the FTT feature are an important part of VMware's hyper-converged vSAN offering. Policy-based management is flexible and can be applied on a per-VM or per-virtual disk basis. You can reduce the storage requirements of a higher FTT policy by implementing RAID 5 or RAID 6 erasure coding. Keep in mind that the higher the number of Failures To Tolerate, the greater the amount of data dedicated to resilience.
Next Steps
VMware focuses on hyper-convergence with vSAN updates
Apply IOPS limits to VMs with storage policies
Policy-based management cuts down on complexity
Dig Deeper on VMware ESXi, vSphere and vCenter
A vSphere administrator can use VMware Remote Console to remotely access a VM's peripherals, configuration and desktop remotely through the vSphere ... Continue Reading
You can set up your infrastructure to better take advantage of new technology in just a few steps. Perform a VM version upgrade to get the most out ... Continue Reading
With access to logs, you can troubleshoot your ESXi host and track issues as they crop up. You can access your logs via the console or a web browser ... Continue Reading