Matthew Bowden - Fotolia
How vSAN hyper-converged infrastructure software works
Delve into important aspects of VMware vSAN to help clarify its features and how it works to see if the hyper-converged infrastructure software is right for your organization.
VMware vSAN hyper-converged and software-defined storage software is a popular platform for building out a hyper-converged infrastructure. It is finding its way into more data centers and clouds all the time.
More than 20,000 organizations -- large, small and everything in-between -- now use VMware vSAN, according to VMware, and the hyper-converged infrastructure (HCI) software leads the market. According to IDC's most recent HCI report, vSAN revenue accounted for 38% of all hyper-converged software deployments during the third quarter of 2019, earning VMware $766 million on 30% year-over-year growth over 2018.
Many organizations are deploying vSAN and it is making VMware and parent company Dell Technologies a lot of money. But what are vSAN's features, how does it work and is the hyper-converged software right for you?
VSAN basics
VMware vSAN hyper-converged software maintains and administrates storage requirements for shared storage capacity it pools from direct-attached storage devices distributed over a network. Users set these requirements, which include factors such as performance and availability.
VMware vSAN runs on standard x86 servers, is part of VMware's ESXi kernel and assembles storage capacity from throughout a VMware vSphere cluster. It can enforce storage policy even with fluctuating demands on VM workloads and in spite of software or hardware failures. It requires no extra software to run and admins can enable vSAN with a few clicks.
Despite its popularity and the simplicity of enabling vSAN in a VMware vSphere environment, the hyper-convergence software isn't for everyone. There are a number of questions you should ask and things you should know before deployment.
Hardware requirements
VMware vSAN supports most compute and memory options in modern servers, but it has specific hardware requirements. For example, vSAN requires at least two server hosts for configuring servers into a hyper-converged cluster. It also needs a 1 Gigabit Ethernet (GbE) or faster network interface card in servers, although VMware recommends 10 GbE networking.
Storage requirements for vSAN include either SATA, a Serial Attached SCSI host bus adapter or RAID controller with one flash disk. It does not support all hard-disk configurations. Although vSAN supports up to 64 host servers, it requires at least two server hosts for organizing servers into a hyper-converged cluster.
Supported cluster types
VSAN supports standard, two-node and stretched types of clusters. Each kind of cluster is made up of multiple individual hyper-converged server nodes.
Standard vSAN hyper-converged clusters are located on a single physical site and must have a minimum of three nodes and at most 64.
Two-node clusters for smaller deployments must have a witness host to serve as a tiebreaker should the two nodes become disconnected.
A stretched cluster exists on two physical sites. Like a two-node cluster, a stretch cluster also requires a witness host for tiebreaking purposes. A stretched cluster requires a single host for each site, but it can support 30 hosts between the two. Users often deploy a stretched cluster for DR and other high-availability purposes.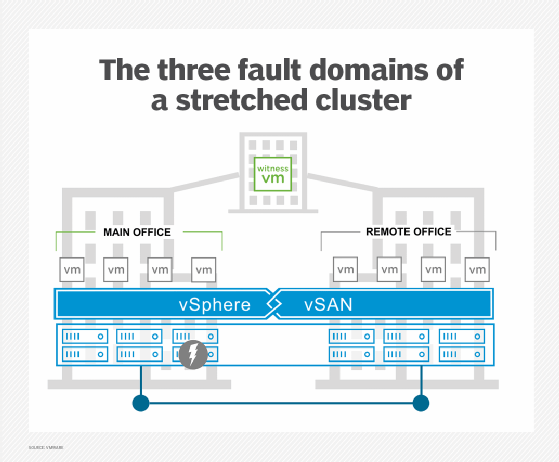 Types of storage media
VMware divides every storage device on all nodes in a cluster into one to five groups. These are in turn split into two tier types: a cache tier or a capacity tier.
The cache tier is composed of one device and the capacity tier seven. Because the cache tier must be all-flash, vSAN does not support HDD-only configurations, just all-flash or SSD/hard-disk hybrid. Users can't mix all-flash and hybrid storage in groups within the same cluster either. This means the type of storage in every group in each node of a particular cluster must be same, either all-flash or hybrid.
Methods of deployment
Users can deploy vSAN hyper-converged software in several different ways. Ready Nodes are hyper-converged x86 server appliances that hardware vendors have worked with VMware to precertify as vSAN compatible. VMware has precertified more than 500 Ready Nodes.
VSAN is also available on fully integrated HCI appliances, for example VxRail from Dell EMC. And major cloud providers such as AWS, Microsoft Azure and IBM offer vSAN as HCI as a service.
VSAN licensing
VMware offers three licensing options for vSAN. These are Standard, Advanced and Enterprise vSAN licenses.
Users get features like replication and all-flash support in all three editions. The Advanced edition, however, also includes features like RAID 5 and RAID 6 erasure coding for all-flash implementations, as well as compression and deduplication.
Support for stretched clusters enters the picture with the Enterprise edition, as does native data-at-rest encryption and local site protection. VMware also offers versions of vSAN's Standard, Advanced and Enterprise licensing for virtual desktop infrastructures and remote/branch offices.
Security and resiliency
Support for multifactor authentication using tokens such as Common Access Card and RSA SecurID authenticates users a step beyond standard usual credentials. VSAN protects data stores at rest through Advanced Encryption Standard-256 ciphers, and it can encrypt data being written on drives used for caching or regular storage purposes.
It also works with the vSphere High Availability and other security and resiliency features such as hardware-agnostic encryption deployable to all host hardware using SSDs or HDDs, vMotion, Distributed Resource Scheduler and Replication. Other resiliency features include the ability to detect when performance of memory modules, SSDs, magnetic drives and other devices degrade to proactively report on and address imminent storage failures.
Admins can also use stretched clusters to implement local and geographically separate site resiliency through data mirroring between site clusters.
Versions
VMware released version 6.7 of vSAN in 2018. It improved cloud application support and enhanced integration with vSphere. It added support for the vSphere HTML5 client as well.
In the latest version of vSAN, VMware also enabled the delivery of vRealize Operations Manager 6.7 diagnostics for a unified view of vSAN hyper-converged systems using a vCenter plugin. Users can now monitor vSAN performance, capacity and alerts without having to obtain a separate vRealize Operations license.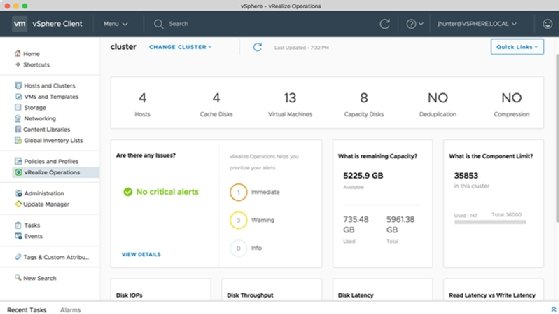 VSAN 6.7 also added iSCSI failover and the ability to pin virtual machines to hosts in a cluster. The former improved data protection for emerging data management applications such as Cassandra, Hadoop and MongoDB. Pinning virtual machines to hosts can facilitate the management of VMware's Distributed Resource Scheduler for high availability of applications bound to hosts.
Introduced during summer 2019, Update 3 of vSAN 6.7 delivered capabilities that enhanced performance and increased visibility into storage consumption. The update also included support for intelligent operations -- rebuilds, upgrades, maintenance and resync operations -- proactive rebalancing, smart policy implementation and workflow-based proactive support activation.
Dig Deeper on Converged infrastructure management